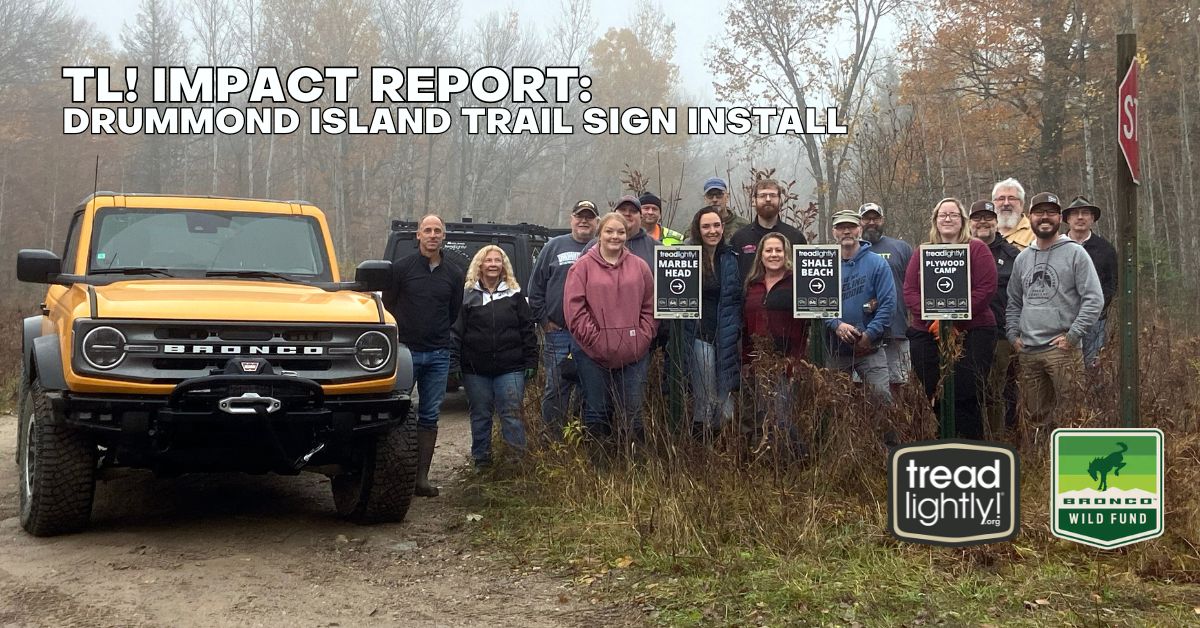 17 Nov

Tread Lightly! Impact Report: Drummond Island Trail Sign Install

Project: Drummond Island Trail Sign Install
Location: Michigan

Description: This project was made possible thanks to the Bronco Wild Fund.

On October 26-28 2023, Tread Lightly! organized a sign installation project on Drummond Island, a popular and unique off-roading destination in Michigan's Upper Peninsula. Together 18 volunteers installed over 60+ signs and markers, improving 60 miles of ATV trails and 40 miles of ORV routes.

Thank you to the partners who made this possible:

"Drummond Island is a hidden gem that attracts visitors from all over the world with its breathtaking trails and untouched scenic beauty. These trails not only contribute to the local tourism industry but also hold immense value in preserving the natural wonders for future generations to enjoy. With the growing popularity of motorized recreation on the Island, it becomes crucial to strike a balance between exploration and conservation. Our partnership with Tread Lightly! plays a critical role in obtaining that balance. Through proper signage and education, this initiative aims to empower the motorized recreation community to tread lightly and protect the trails and scenic areas from any potential damage.

Thanks to a large team of passionate volunteers who participated in the signing efforts we were able to install necessary trail markers and brush existing markers to improve visibility on almost the entire trail system. The commitment of this group is not only greatly appreciated but also crucial in ensuring that future generations can continue to enjoy the untouched splendor of this remarkable destination in Michigan's eastern upper peninsula."-Kristy Beyer, Drummond Island Tourism Association, Trail Coordinator

Want to get involved in your own Tread Lightly! project? Find upcoming activities, events and grant opportunities at treadlightly.org.