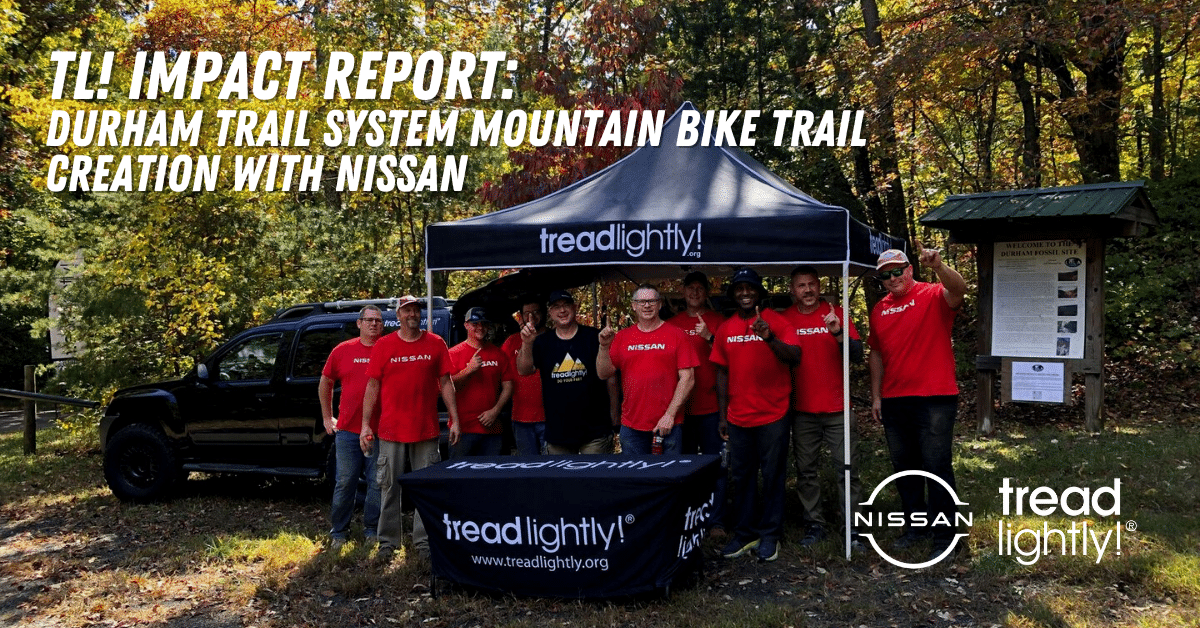 24 Oct

Tread Lightly! Impact Report: Durham Trail System Mountain Bike Trail

Project: Durham Trail System Mountain Bike Trail Creation
Location: Georgia

Description: This project was funded by Nissan North America to help improve public lands with support from volunteers from the Nissan Decherd Powertrain Plant in Decherd, TN.

On October 12 and 13, 2022, Tread Lightly! and volunteer Nissan employees worked together to hand cut a mile of new mountain bike trail on the Durham Trail System in Lookout Mountain, GA.

Together 22 volunteers, 11 each day for two days, from the Nissan Decherd Plant along with two Lula Lake Trust managers and Tread Lightly! created roughly a mile of mountain bike trail using only hand tools. This 15-mile trail system will support a combination of analog mountain bikes, e-bikes and special purpose adaptive mountain bikes for the community.

The manpower from the volunteers helped the Lula Lake Land Trust get "about 10 times" as far in the same amount of time than the regular 2-person team who have been working to create this trail.

Thank you to the volunteers and partners who showed up to do their part to leave this area better than they found it!

"We are grateful for the opportunity to work with Lula Lake Land Trust to help provide access to the beautiful land on Lookout Mountain. As an avid hiker, I have a newfound respect for the amount of work that goes into cutting new trails. It's important to provide access to nature for future generations to enjoy and we're glad we were able to help play a role in this. We had a hard-working team that knocked out a good section of trail over two days and I'm proud of the work we did." – Jeff Younginer, Vice President, Decherd Powertrain Operations, Nissan U.S.

"As a nonprofit, Lula Lake Land Trust naturally depends on dedicated volunteers who believe in our mission statement of conservation, education, and low-impact recreation and Tread Lightly! helped us achieve exactly that. We are extremely grateful for their help organizing a team of hard workers from the Nissan Decherd plant to come out for two full days of digging in the dirt which helped us get closer to being finished with our 15 miles of multi-use trails for future generations to enjoy."–Daniel Roberts, Community Engagement Coordinator, Lula Lake Land Trust

Want to get involved in your own Tread Lightly! project? Find upcoming activities, events and grant opportunities at treadlightly.org.