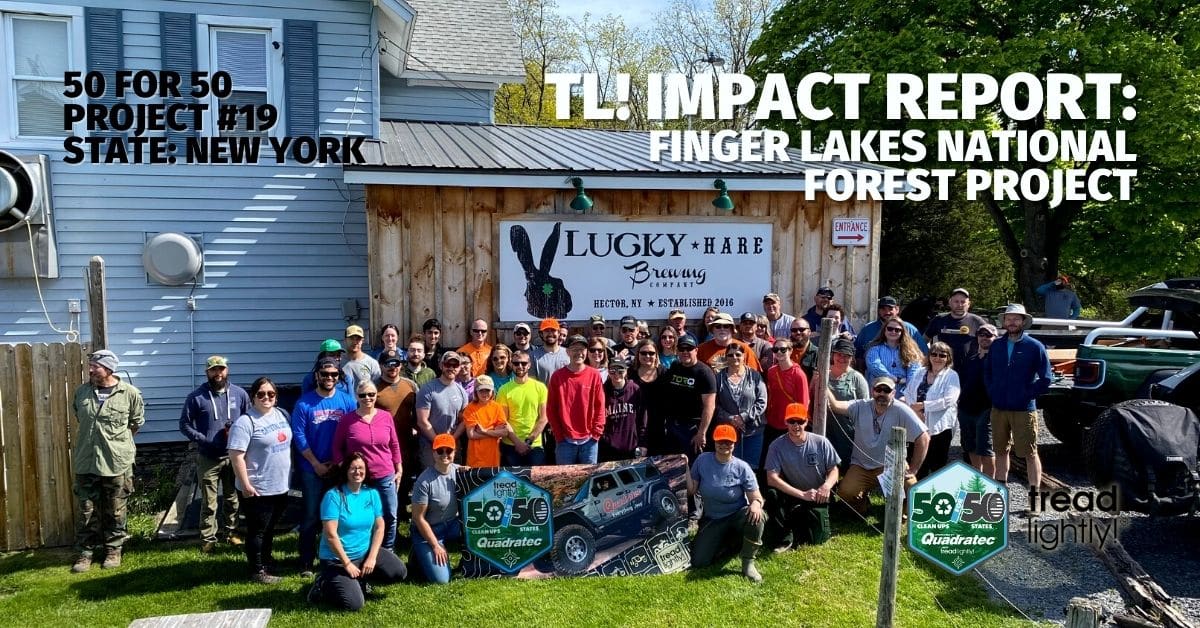 31 May

Tread Lightly! Impact Report: Finger Lakes National Forest Project

Project: Finger Lakes National Forest Project
Project #19/50
State: New York

Description: This project was funded by the Quadratec 50 for 50 Initiative. Together with Tread Lightly!, Quadratec has committed to fund a project to improve off-road trails and public lands in each state by December 2023.

On May 7, 2023, 49 volunteers gathered to clean up trash and improve dispersed camping areas in the Finger Lakes National Forest in New York. In total, volunteers removed 9,380 pounds of trash from the area, improving 30 miles of forest. Volunteers also refurbished tent pads at campgrounds, installed Carsonite posts at 28 dispersed campsites and planted pollinator plants at forest trail sites.

This project was organized by the Lucky Hare Brewing Company in Hector, NY which hosts trail improvement projects several times annually in the Finger Lakes National Forest. After the project, volunteers were invited to meet up at the brewery for a complimentary beer and discounted food to say thank you.

Thank you to the partners who made this possible:
Quadratec
Lucky Hare Brewing Company
Seneca Watershed Intermunicipal Organization (SWIO)
Finger Lakes Trail Conference (FLTC)
Torq-Masters
Fingerlakes 4×4 Club
Dirt Road Therapy
"Lucky Hare Brewing Co. started in the Heart of Hector NY. The Finger Lakes National Forest has been our backyard for the last 7 years, and to our family and employees even longer. We are all passionate about taking care of our forests and nature in general. We knew the hardships that our local forest rangers faced with being short staffed and covering such a large national forest, so we decided to use our business platform to bring awareness and volunteers to the area to help.
We teamed up with the forest rangers 5 years ago and started our first Spring Volunteer clean up- all the volunteers got t-shirts and a free pint of beer afterwards. Currently we do three projects per year; Spring, Summer & Fall. We have removed around 1-2 tons of trash every cleanup in addition to planting new trees, installing new boardwalks, fixing up campsites, and helping wetlands throughout the forest. We were stoked when we learned about Tread Lightly! and what the organization represented and how much more help they could offer these projects. Tread Lightly! was able to cover the cost of a dumpster, new signage for trails & campgrounds and has brought an additional group of volunteers, outreach for awareness and resources for the forest rangers that probably would've taken a few more years to get to. We are so excited for this partnership to grow and what it means for the future of our backyard!"-Denise Purrazzi, Retail and Events Manager for Lucky Hare Brewing Company
"The Quadratec "50 for 50" volunteer event on the Finger Lakes National Forest was a tremendous success. Bringing together 4 partners with the common goal of fostering stewardship of our natural resources, it provided an awesome opportunity for our citizenry to engage in active management of their public lands. The size of the turnout for this event was a testament to the synergy of this cooperation and we were able to accomplish projects in hours that would take weeks of staff time.
Tread Lightly! was integral to the success of this event and we can't thank them enough for their support and advocacy of taking initiative in recreating responsibly. I was excited to hear the enthusiasm among the volunteers' conversations and all that was able to be accomplished with this new partner!"-Matthew Kautz, Forestry Technician (Recreation), Finger Lakes NF
"Fingerlakes 4×4 Club and local manufacturer Torq-Masters Industries joined the 50 for 50 cleanup for the state of New York in the Fingerlakes National Forest. We cleaned up 24 dispersed camping sites and installed Tread Lightly! Carsonite posts with dispersed camping rules on them. With many hands we made quick work of the cleanups. It was a great day in the woods, and we discovered new to us, beautiful, remote campsites to visit again in the future!" -Cora Jokinen, President, Torq-Masters Industries
Want to get involved in your own Tread Lightly! project? Find upcoming activities, events and grant opportunities at treadlightly.org.