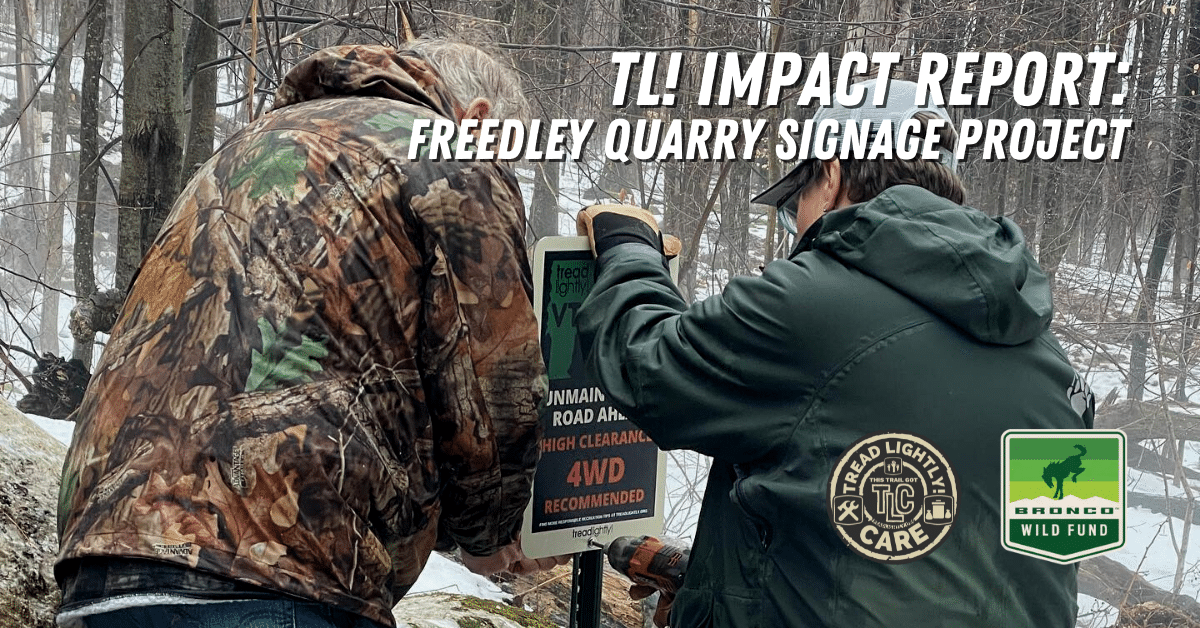 17 Feb

Tread Lightly Impact Report: Freedley Quarry Signage Project

Project: Freedley Quarry Signage Project
Location: Dorset, VT

Description: This project was funded by the Bronco Wild Fund, Ford's initiative to help build a legacy of access, preservation, and stewardship. A portion of the profits of every Ford Bronco sold goes directly to support responsible access and preservation of public lands.


On December 11, 2021, 14 volunteers joined together in Dorset, Vermont to install signage in Dorset's class 4 public road system. Volunteers installed 15 educational signs, including a "high-clearance vehicle recommended" sign, to keep drivers safe and removed 50 lbs of trash from the area.

Dorset, Vermont is a popular off-roading, camping and hiking area located along the Manchester Ranger District in Central VT. The town is friendly to the 4×4 community and has worked with Tread Lightly! to develop a motorized recreation plan to ensure access to this road system for decades to come. Because of the easy access from the New York and Boston Metro Area, and its breathtaking views, the area has become a destination off-road location for locals and visitors alike.

Thank you to the Bronco Wild Fund, the town of Dorset, Go Fox Adventures, Quadratec, Lake Region Jeepers Club, and Ridgeback Guide Service for making this project possible.


"On December 11th, Ridgeback Guide Service organized a Tread Lightly! work day for the installing signs for the Freedley Quarry Trailhead and a nearby trail.  Go Fox Adventures and Lake Region Jeepers joined us to get the work completed in a timely manner.   We were originally scheduled to work on replacing a bridge on the nearby trail but was postponed until spring due to frozen ground and weather conditions.  The signs were installed at both locations in order to inform and educate users of the trail use.

"The Freedley Quarry is the highest elevation marble quarry in the world, opened in 1808 and supplied beautiful white marble during its operations to build many buildings in NYC and other northeast cities.  It is different from the other Marble quarries in the area that are open pit quarries, Freedley marble was dug into the side of the mountain and then down following the beautiful white marble vien.  

It is important to preserve this historically significant quarry from overuse, vandalism and trash dumping.  Not only does it have historical significance but it is also a beautiful resource for hiking, scenic views and recreational opportunities.  

Ridgeback Guide Service, Tread Lightly!, Go Fox Adventures, Hike Dorset and our network of volunteers will be working to clean up, limit overuse and allow the Freedley Quarry to be enjoyed by all recreational users for the future.  All outdoor recreation genres need to work together to keep these places beautiful, open and accessible to all.

It is essential for all outdoor recreational users to come together to work on projects.   This is just the beginning of a project that will bring hikers, motorized recreation and many other recreational users together to keep a wonderful place accessible for all."-Ron Harrington II, Ridgeback Guide Service


"For over a decade, off-road vehicles and 4WD recreators have been coming to Dorset to experience the Freedley Quarry. Although many users are respectful to the land and resources, some are not. There have been more and more instances of littering, trash fires, environmental damage, and unsafe behaviors like drinking and drugs. In addition to these concerning things, the number of vehicles accessing the quarry was increasing at an alarming rate due to social media. Because of this, the Town of Dorset allowed the Class 4 Road leading to the Freedley Quarry to be indefinitely closed in 2021. Not only was the road and quarry being damaged, but private and Forest Service land was being damaged as well. When the road to the quarry was closed, strong reactions came from the 4WD Recreation community and countless emails, and calls came to the office. Most of these interactions were not positive and that only strengthened the case for keeping the road closed. However, ethical users came forward suggesting that the management of the 4WD/Recreational use of the Class 4 Road to Freedley be done in partnership with Tread Lightly!, a non-profit dedicated to ethical 4WD Recreation across the United States. We met with the representatives of this organization and worked hard to create a plan to see if environmentally sustainable management was possible. In 2021, a group of Tread Lightly! affiliate volunteers came to Dorset to help clean up trash along the roads and install signs to help with the illegal access occurring. The volunteers came as far as 6+ hours in order to support this project. The signage is the first stage in a longer-term plan to install surveillance, schedule volunteers for site supervision on weekends, and further trash clean-up. The Town of Dorset supports a partnership that values environmental protection and ethical land use in relation to 4WD Recreation. We are dedicated to inclusion in the Outdoor Recreation Department and the Town as a whole. We have appreciated the enthusiasm and energy from the Tread Lightly! volunteers and action-centric plans presented for management."-Rachel Batz, Hike Dorset

Want to get involved in your own Tread Lightly! project? Find upcoming activities, events and grant opportunities at treadlightly.org.