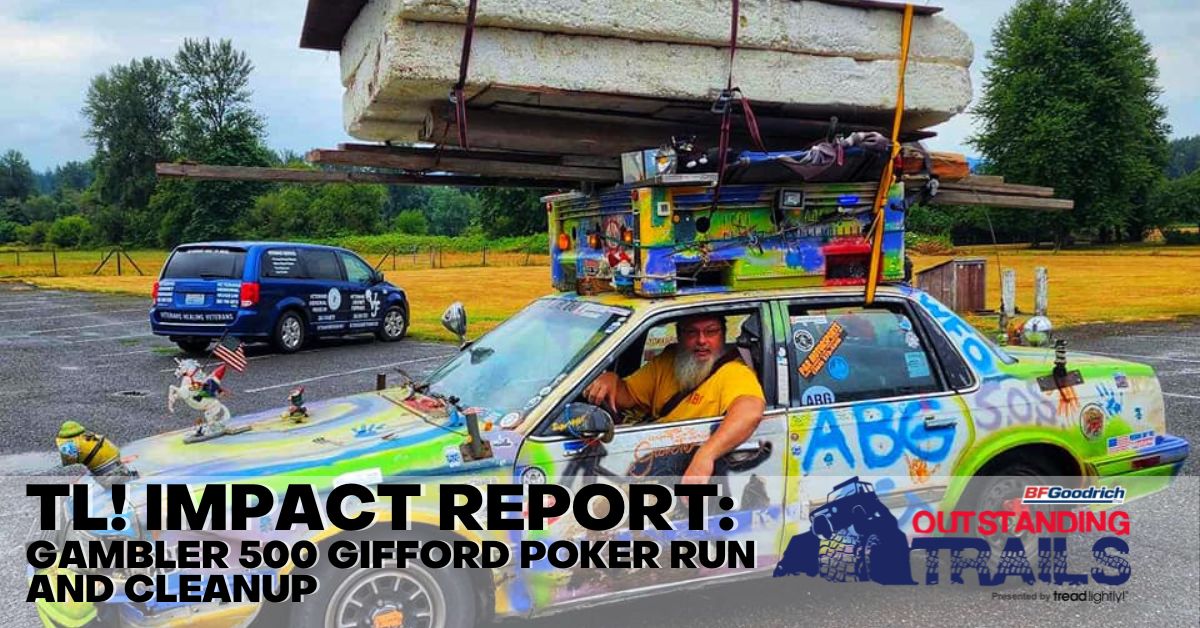 22 Aug

Tread Lightly! Impact Report: Gambler 500 Gifford Poker Run and Cleanup

Project: Gambler 500 Gifford Poker Run and Cleanup
Location: Washington

Description: This project was funded by a BFGoodrich® Tires Outstanding Trails grant awarded by Tread Lightly! Each year the Outstanding Trails program provides opportunities for off-roading clubs across America to nominate trails to receive grants for education and preservation. Since 2006, BFGoodrich has awarded more than $200,000 in grants to support organizations dedicated to conserving off-road trails. Past grant recipients have installed educational signage, improved infrastructure, and repaired local off-roading trails. 

On August 4-6, 112 volunteers converged in Randle, Washington to assist in the Gifford Pinchot National Forest and remove illegally dumped trash.

Participants came from all over the Pacific Northwest to remove the trash from the National Forest as part of the Gambler 500 Poker Run. Two dumpsters were brought in to collect the trash. Approximately one ton of trash was removed from the forest service roads, campsites and shooting pits. Large objects like refrigerators, a hot tub, an illegally constructed dock and lots of tires were removed. In addition, a toxic waste site was identified and the proper authorities notified for removal. In the end, over $4,000 was raised to support veterans in Lewis County.

The project was organized and coordinated by the Veterans Memorial Museum in conjunction with the Washington Gambler 500 and Gambler 500 nationally. Funding was provided by the Veterans Memorial Museum, Lewis County, City of Chehalis and BFGoodrich Tires Outstanding Trails through Tread Lightly!. The logistics of trash removal was coordinated by the Gifford Pinchot Trash Force and the National Forest Service.

Thank you to the partners who made this possible:
BFGoodrich Tires Outstanding Trails
Gifford Pinchot Trash Force
East Lewis County Chamber of Commerce
Sons of Smoky
Gambler 500
The McMann Family
"We are so grateful for the work completed and for all the volunteers who made this project such a success. Our National Forest is such an incredible place for users to enjoy from motorized recreation to camping to shooting. Thank you for helping us keep this beautiful land open and accessible for everyone to enjoy. This wouldn't have been possible without the help and support of great partners like BFGoodrich Tires, Gifford Pinchot Trash Force, East Lewis County Chamber of Commerce Sons of Smokey, Gambler 500 and of course, Tread Lightly!" -Chip Duncan, Director Veterans Memorial Museum
"BFGoodrich is committed to responsible off-roading and protecting public lands. These projects have improved trails across the country, and BFGoodrich is proud to continue our partnership with Tread Lightly! and support our mission."- Harold Phillips, global general manager for BFGoodrich Tires and Tread Lightly! Board Chairman
Want to get involved in your own Tread Lightly! project? Find upcoming activities, events and grant opportunities at treadlightly.org.