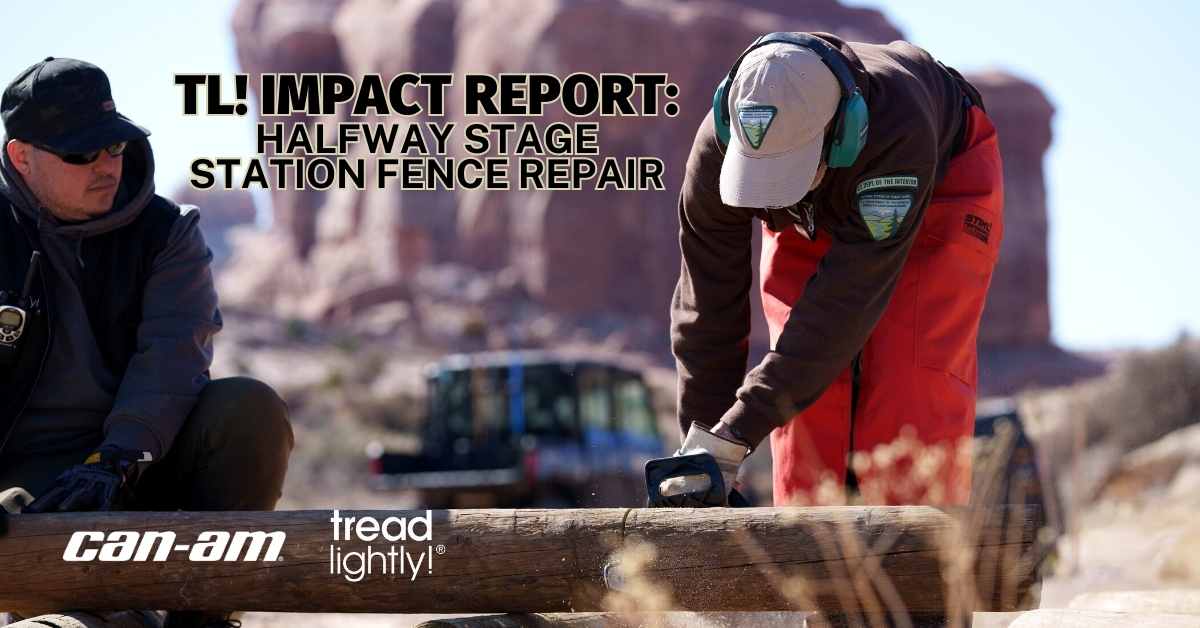 03 May

Tread Lightly! Impact Report: Halfway Stage Station Fence Repair

Project #9/12
Project: Halfway Stage Station Fence Repair
Location: Moab, Utah

Description: This project was funded by Can-Am Off-Road. Can-Am has committed to funding twelve trail stewardship projects in the state of Utah in partnership with Tread Lightly! to help maintain and improve access to public lands and off-road trails.

On April 7, 2023, three Tread Lightly! team members, two land managers from the Bureau of Land Management Moab Field Office, and a group of volunteers worked in the Mill Creek area of Moab, Utah to replace over 250' of fencing that was in disrepair surrounding the Halfway Stage Station House.

The Halfway Stage Station is an important historical site which used to serve as a stagecoach stop for the traveling public between Moab and Thompson beginning in the early 1880s. Halfway House was a place to eat a meal, change horses, rest or sleep overnight on the way to Thompson.

Located near numerous motorized and non-motorized recreation opportunities, the replacement of the old, damaged fence around this historical structure was important not just for the site's protection, but also to keep the trails in the area open for motorized recreation.

Thank you to the partners who made this possible:
Can-Am Offroad
Moab BLM
2 Wolf Foundation
"We are grateful to Tread Lightly! and the volunteers who come out each year to assist with projects during Easter Jeep Safari. This year's Respect and Protect heritage project was another success. The replacement fence built around the Courthouse Wash "Halfway" Stage Station will help protect it for years to come."-Laura Hunsaker, BLM Moab Archaeologist
"Working to ensure that we have trails for the future, many times involves work to protect culture and history from the past. This project is a great example of that. We greatly appreciate the support from Can-Am to make this process possible. And a thank you to BLM for providing the opportunity. And finally, thanks to the amazing volunteers that came out to be the hands and feet for this project."-Matt Caldwell, Tread Lightly!
Want to get involved in your own Tread Lightly! project? Find upcoming activities, events and grant opportunities at treadlightly.org.