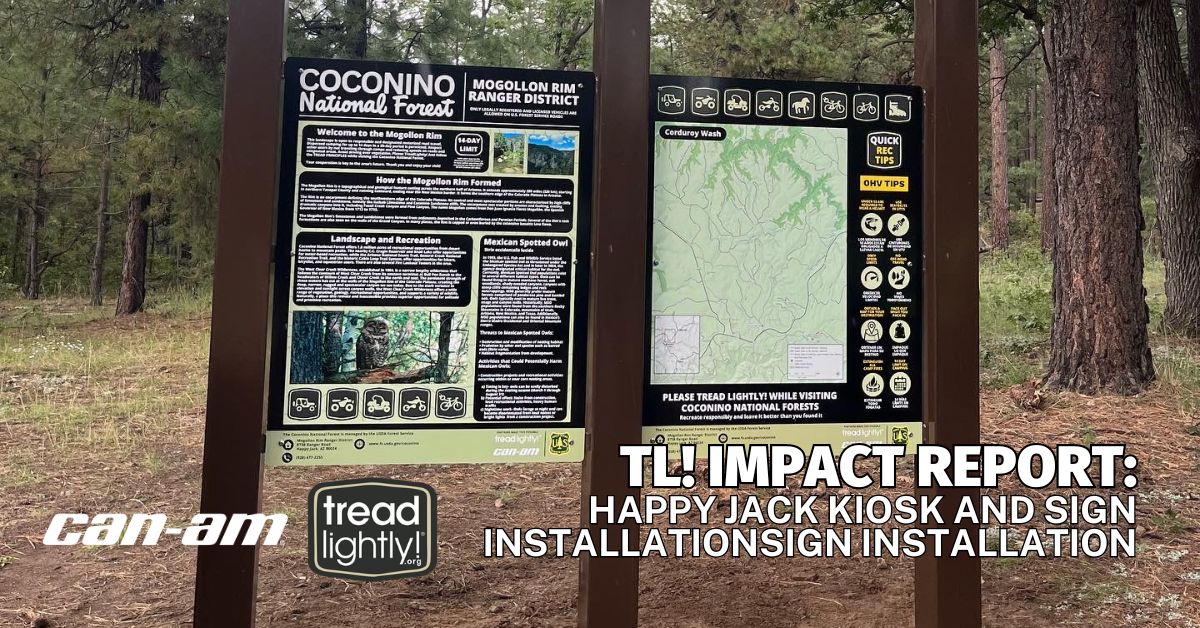 26 Sep

Tread Lightly! Impact Report: Happy Jack Kiosk and Sign Installation

Project: Happy Jack Kiosk and Sign Installation
Location: Arizona

Description: This project was funded by Can-Am Off-Road. Can-Am has committed to funding trail stewardship projects in partnership with Tread Lightly! to help maintain and improve access to public lands and off-road trails.

On September 14, 2023, seven volunteers gathered to install new signs at the Corduroy Wash and Willow Valley in the Happy Jack area of the Coconino National Forest. Together volunteers installed two new two-panel kiosks and bilingual educational signage to help educate trail users on how to ride responsibly.

Thank you to the partners who made this possible:
Can-Am Off-Road
Desert to Pines SxS Repairs & Accessories
AZ Plasma
Coconino National Forest
"It's awesome to see all the information Tread Lightly! is being able to help the Forest Service share with the public. We are thankful for the opportunity to partner with Tread Lightly! and the Coconino National Forest on this kiosk install adventure in Happy Jack."-Katie Hansen, AZ Plasma
"Without the tremendous support of Tread Lightly! and AZ Plasma, these OHV focused educational kiosks would not have happened so quickly and efficiently. The Mogollon Rim Ranger District of the Coconino National Forest is grateful for their dedication and partnership moving forward. Partnerships like these make a positive impact on the forest and the public we serve. From planning to fabrication to installation, this was a great first step for the district."- Brady VanDragt, US Forest Service
Want to get involved in your own Tread Lightly! project? Find upcoming activities, events and grant opportunities at treadlightly.org.