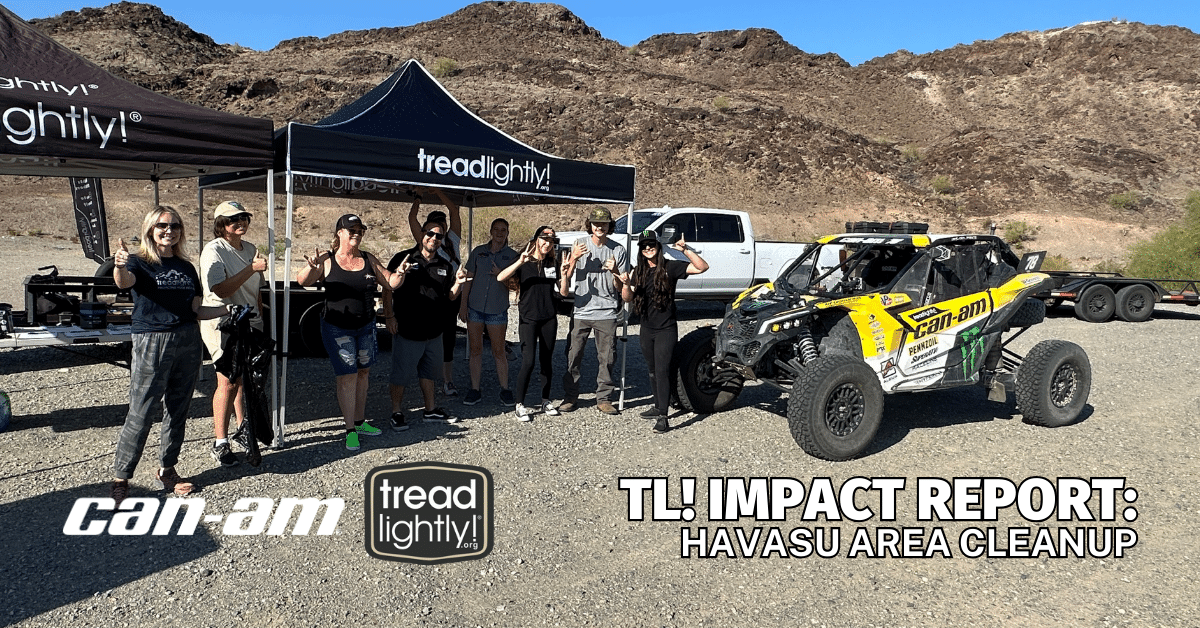 14 Sep

Tread Lightly! Impact Report: Havasu Area Cleanup

Project: Havasu Area Cleanup
Location: Arizona

Description: This project was funded by Can-Am Off-Road. Can-Am has committed to funding trail stewardship projects in partnership with Tread Lightly! to help maintain and improve access to public lands and off-road trails.

Sitting on the Colorado River, just south of Lake Havasu, is Parker, Arizona. Parker offers beautiful desert landscapes full of seemingly endless off-road trails and outdoor recreation opportunities for all kinds of enthusiasts. While some people leave its recreation areas better than they found them, that is not always the case.

On August 25, 2023, volunteers from as far as 200 miles away, gathered at the Cienega Springs Recreation Area to clean up the beautiful desert and off-road trails scattered with trigger trash and illegally dumped items such as a broken oven, mattresses, and even a vehicle. In partnership with Can-Am, Tread Lightly! Ambassador Sara Price, and six volunteers were able to remove over 7,800 lbs of waste from the desert area, an average of 1,300 lbs per person.

Removing the car was no easy feat. When found, the abandoned Ford Taurus barely resembled a car. It was crunched, shot up and resting on its roof. To remove the vehicle from Bureau of Land Management land, a VIN number was needed to ensure the vehicle was truly abandoned, then documented with Arizona Department of Transportation and called-in to a wrecker. Finding a viable VIN proved to be more difficult because of the state of the vehicle. Sara Price came to the rescue and was able to use her Can-Am to flip the remains of the car over and drag it to an easier pick-up location for the wrecker.

This was a great project that connected the racing world with its local community and trails. Thank you to the crew who spent the day improving the desert and helping to Protect the Fun!

Thank you to the partners who made this possible:
Can- Am
Sara Price
Bureau of Land Management
Anderson Powersports
Mcfayden Racing – Michael and Sadie McFayden
"I showed up to the cleanup and everything was very organized and ready for people to help pick up trash. The event organizers were very nice and informative on what their plan was to tackle the trash. Everyone who showed up to the event were very enthusiastic about the cleanup and being good stewards of our public lands. I feel like the event went well I enjoyed my time working with the tread lightly group for the time I was there."-Heather Cesares, Bureau of Land Management
Want to get involved in your own Tread Lightly! project? Find upcoming activities, events and grant opportunities at treadlightly.org.