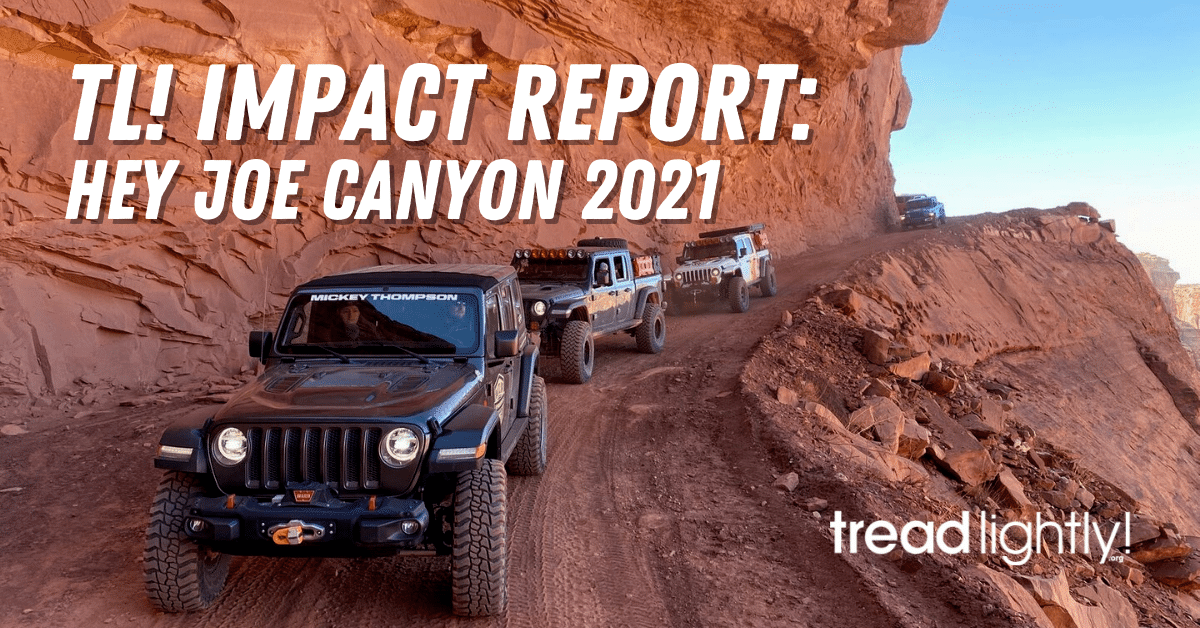 06 May

Tread Lightly! Impact Report: Hey Joe Canyon Trail Clearing

Project: Hey Joe Canyon Trail Clearing
Location: Moab, Utah
Description: On March 29, 2021 Tread Lightly! employees, partners and volunteers completed a trail clearing stewardship project on Hey Joe Canyon in Moab, Utah during the Easter Jeep Safari event.

Thanks to volunteer and partner support, Tread Lightly! was able to clear 11 miles of invasive tamarisk from Hey Joe Canyon, an iconic off-road trail in Moab, Utah during the 2021 Easter Jeep Safari event. Tread Lightly! has completed a variety of projects during past Easter Jeep Safari events to give attendees a chance to give back to these trails. Thank you to the Red Rock Four Wheelers, the organizers of this event, for promoting responsible trail use year after year.

Because trail trash is less of a problem on Moab public land, Tread Lightly! was uniquely suited to support the Moab Bureau of Land Management office to complete this trail clearing project and help keep this trail accessible for full-sized off-road vehicles.

This year, partners Quadratec, KC HiLites, Foundation 1023 and Fieldcraft Survival joined Tread Lightly! on the trail to support the project and ensure future access to Moab trails. The employees of these companies who show up aren't just there for promotional reasons but are active off-roaders who know the value of giving back and keeping trails open.

"All of us at Quadratec look forward to participating in the Tread Lightly! trail clean up each year during Easter Jeep Safari. As part of the off-road community, we definitely want to do our part to properly maintain trail systems in order to ensure access for everyone. For this year's Hey Joe Canyon event, it meant trimming back invasive tamarisk that can quickly scratch up a Jeep top or body. But it also involves collecting any trash we find, repairing damaged sections of the trail or signage, and most important — staying on the trail to protect wildlife and soil from damage. Responsible recreation isn't just a buzz phrase. We all have a responsibility, through our actions, to keep the trails we love open and accessible."—Matt Konkle, Quadratec.

Want to get involved in your own Tread Lightly! project? Find upcoming activities, events and grant opportunities at treadlightly.org.