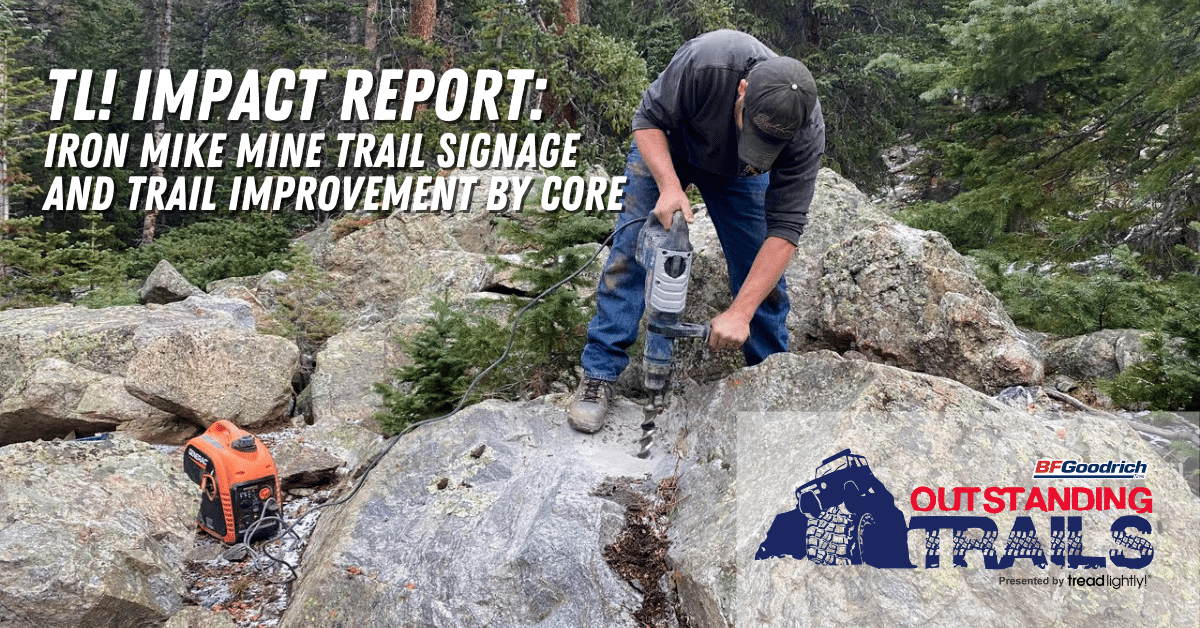 05 Jan

Tread Lightly Impact Report: Iron Mike Mine Trail Signage and Trail Improvement by CORE

Project: Iron Mike Mine Trail Signage and Trail Improvement by CORE
Location: Lake County, Colorado

Description: This project was funded by a 2021 BFGoodrich Outstanding Trails grant awarded by Tread Lightly! Each year the Outstanding Trails program provides opportunities for off-roading clubs across America to nominate trails to receive grants for education and preservation. Since 2006, BFGoodrich has awarded more than $200,000 in grants to support organizations dedicated to conserving off-road trails. Past grant recipients have installed educational signage, improved infrastructure, and repaired local off-roading trails. 


On October 10, 2021, 12 volunteers from the Colorado Offroad Enterprise worked together on the Iron Mike Mine Trail in the San Isabel National Forest. To help protect the Iron Mike Mine Trail from permanent closure, CORE dug holes and cemented a kiosk frame in for a sign panel to be placed next summer and hand cleared water bars and reinforced trail drainage and used a suitcase generator and hammer drill to install a winch anchor. This work allows all users to enjoy the trail but keeps the difficult experience intact. CORE also used a chainsaw to slash and block an off-trail bypass route around the obstacle they placed a winch anchor at. Signs were installed to remind users to use the winch anchor if needed and to stay on the trail. Five miles of trail were improved.

"Tread Lightly! is proud to have awarded the BFGoodrich Outstanding Trails grant to CORE to keep the Iron Mike Mine Trail open and accessible. This is a testament to how well different facets of the off-road community come together to protect public land access. Thank you to CORE for their work and for living the Tread Lightly! ethic while out on your local trails."-Evan Robins, Tread Lightly! Stewardship and Programs Manager

"The Iron Mike Mine Trail was saved from permanent closure and is a great example of how industry, education and ethics, and a local club all worked together to keep a trail open and managed into the future," said Marcus Trusty, Colorado Off-Road Enterprise President. "The BFGoodrich Outstanding Trails Grant funded much needed trail signage and trail infrastructure to maintain the difficult and remote features desired by the motorized community, while still addressing environmental and safety concerns. We were able to define the trail boundary, eliminate off-trail damage and install a winch anchor to mitigate safety issues at a rock obstacle. The grant funding will also allow CORE to continue trail maintenance on Iron Mike Mine into the future."
Want to get involved in your own Tread Lightly! project? Find upcoming activities, events and grant opportunities at treadlightly.org.