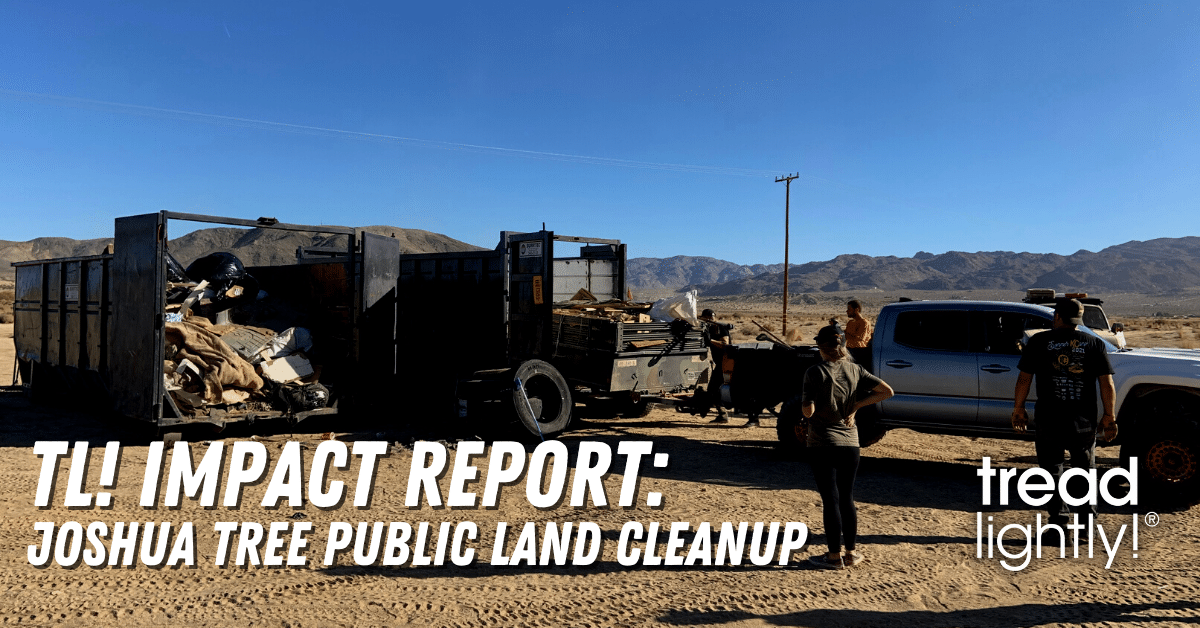 17 Dec

Tread Lightly Impact Report: Joshua Tree Public Land Cleanup

Project: Joshua Tree Public Land Cleanup
Location: Joshua Tree, California
Description: On November 26-28, instead of shopping Black Friday deals, off-road enthusiasts and organizations partnered together for a public land cleanup day in Joshua Tree, California. Together they filled two dumpsters removing nearly 6 tons of trash from approximately 20 square miles near the Joshua Tree Lakeview Lakebed.

Tread Lightly! would like to thank Rigged for Dirt, Our Land, and local group Desert Cleanse Project for their work in bringing together groups like: Stinger Offroad, Eezy Supplies, Milestar Tires, Dang Brothers Pizza, Cross Country Mortgage and Burrtec Waste Management as well as local volunteers. Their hard work and collaboration efforts go a long way in building awareness around what it means to Do Your Part.

"Work like this only "works" when the community takes ownership of the land that they recreate on and comes together to maintain and clean it.
Like any publicly used space it's only as good as the people who use it. We have a responsibility to these areas that bring us joy to ensure that future generations and even our current one can continue to enjoy them.
Thanks to Tread Lightly!, Frank at Rigged For Dirt, Colin & Jill at Desert Cleanse Project, Mark from Cross Country Mortgage, Martin at Milestar Tires, Nathan at Stinger Offroad, Dang Brothers Pizza, Kingston at Our Land and Jaime at Eezy Supplies for coming together for this great cause."-Ali Straightsound, Rigged for Dirt

"Desert Cleanse Project appreciates when groups like Tread Lightly, Rigged for Dirt, Eezy Supplies, Milestar Tires, Stinger offroad, and Our Land support our community with these group cleanup efforts.  DCP was able to connect with local businesses like The Allenbach Group Cross Country Mortgage and Dang Brothers Pizza to support this area with dumpsters and facilities for the volunteers and campers."-Colin Sauter, Desert Cleanse Project

"We are glad to bring our rehabilitation efforts to one of the most unique desertscapes in the Joshua Tree National Park. While the park is well maintained, it is such a big draw that the public land surrounding the park have a large amount of weekend use and long-term campers. Education through demonstration, that's why Milestar Tires is very satisfied with it's Partnership with Tread Lightly! Thanks as well to Rigged For Dirt and Stinger Off Road for showing that the Off Road Community is always willing to step up to keep public lands open."-Martin Castro, Milestar Tire

Want to get involved in your own Tread Lightly! project? Find upcoming activities, events and grant opportunities at treadlightly.org.