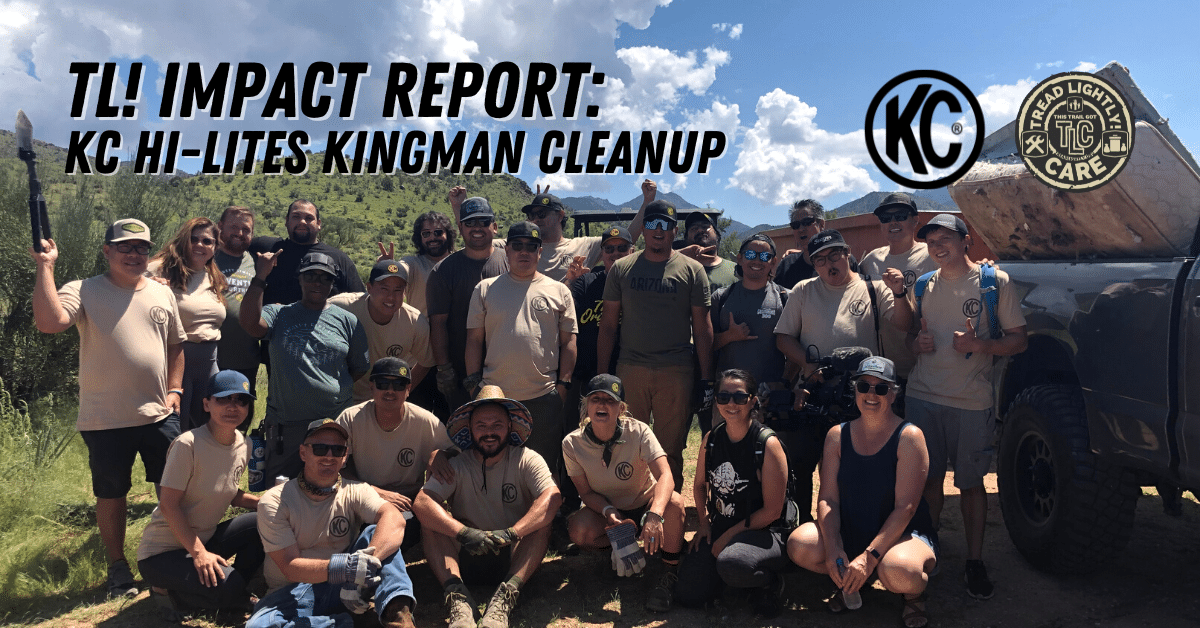 13 Oct

Tread Lightly! Impact Report: KC HiLites Kingman Cleanup

Project: KC HiLites Kingman Cleanup
Location: Kingman, AZ

Description: On August 27, 2022, the KC HiLites team used their company retreat to give back to their public lands through a desert cleanup. Together, the team of 28 removed over 4,000 lbs of trash from the Kingman area in Arizona, improving 10 miles of trail. The trash included appliances, mattresses, tires, camping and household waste, and target shooting debris. A dumpster was provided by Tread Lightly! to support the project. This was a great team effort by the KC team, who has gone above and beyond over the years to leave their public lands and trails better than they found them.

"Building partnerships with organizations like Tread Lightly! is important to the BLM as it increases the agency's ability to partner with a wider array of user groups including corporate sponsors who can leverage their resources to aid both BLM and local volunteer organizations enhancing the management of public lands through a litany of means including providing volunteers, funding, and building collaborative relationships, all of which culminate in completing projects that benefit the American public." –Matthew Driscoll , Outdoor Recreation Planner, Bureau of Land Management, Kingman Field Office


"KC HiLites has been an amazing partner of Tread Lightly! for years. Their focus on giving back to public lands is an incredible example that more organizations should follow."-Matt Caldwell, Executive Director of Tread Lightly!

"We couldn't be happier with how the Kingman area clean up went! Being stewards of our public lands is a huge priority for us here at KC. Keeping the landscape clean and pristine and maintaining the trails to ensure that our kids and future generations can enjoy the lands as much as we do is what really keeps us going. Partnering with great people and great organizations like Tread Lightly! and the BLM facilitate these goals and allow us to have the most impact and fun while we're out in the field."-Taylor Ulrich, KC Brand Marketing Manager & Team Lead

Want to get involved in your own project? Apply for a grant or check out the other projects at treadlightly.org.