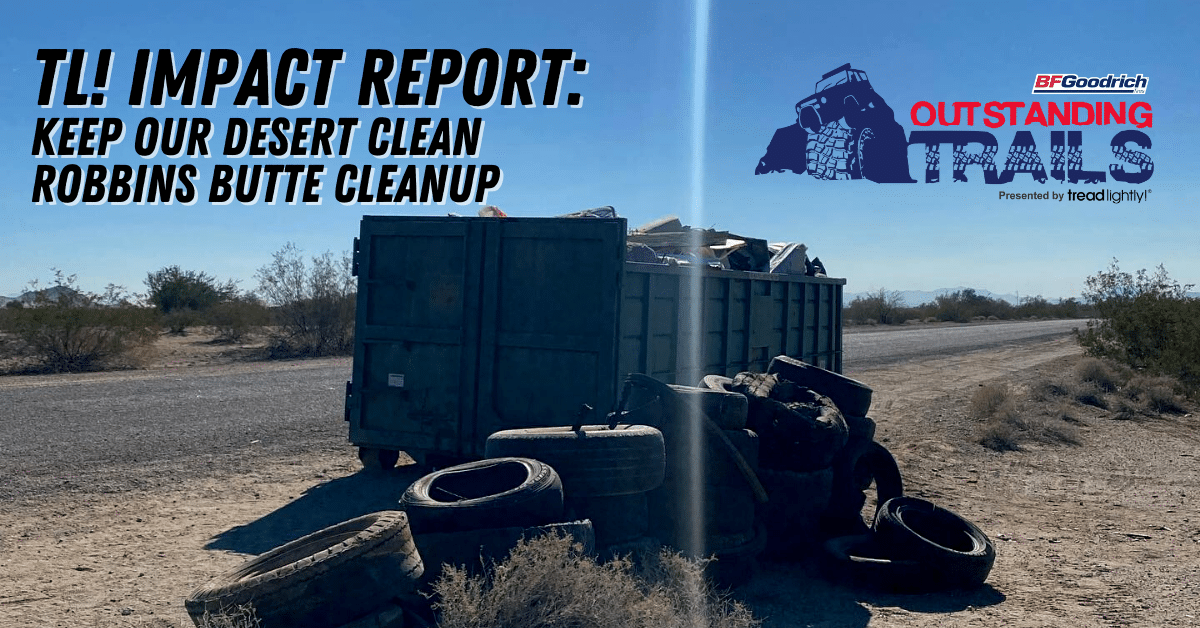 05 Jan

Tread Lightly Impact Report: Keep Our Desert Clean Robbins Butte Cleanup

Project: Keep Our Desert Clean Robbins Butte Cleanup
Location: Robbins Butte, AZ

Description: This project was partially funded by a 2021 BFGoodrich Outstanding Trails grant awarded by Tread Lightly! Each year the Outstanding Trails program provides opportunities for off-roading clubs across America to nominate trails to receive grants for education and preservation. Since 2006, BFGoodrich has awarded more than $200,000 in grants to support organizations dedicated to conserving off-road trails. Past grant recipients have installed educational signage, improved infrastructure, and repaired local off-roading trails.

Robbins Butte is an active target shooting, off-roading and illegal dumping area in Arizona. Despite their efforts, this was Keep Our Desert Clean's third time cleaning this area showing their commitment to keeping this area open and beautiful. The grant funded equipment to remove large items illegally dumped in the area such as abandoned cars, jet skis, boats and more. During the cleanup, 263 volunteers filled six dumpsters, removing 10.23 tons of trash in just 4 hours.

"The project funding we received has allowed us to greatly expand our clean up equipment and supplies which now makes it possible for us to help clean and preserve the 1681 acres known as Robbins Butte," said Dylan Miller, Keep Our Desert Clean President. "This is a beautiful piece of our desert with the Gila River running through it attracting all kinds of wildlife, this funding has provided us with the ability to protect this beauty and wildlife."

Want to get involved in your own Tread Lightly! project? Find upcoming activities, events and grant opportunities at treadlightly.org.