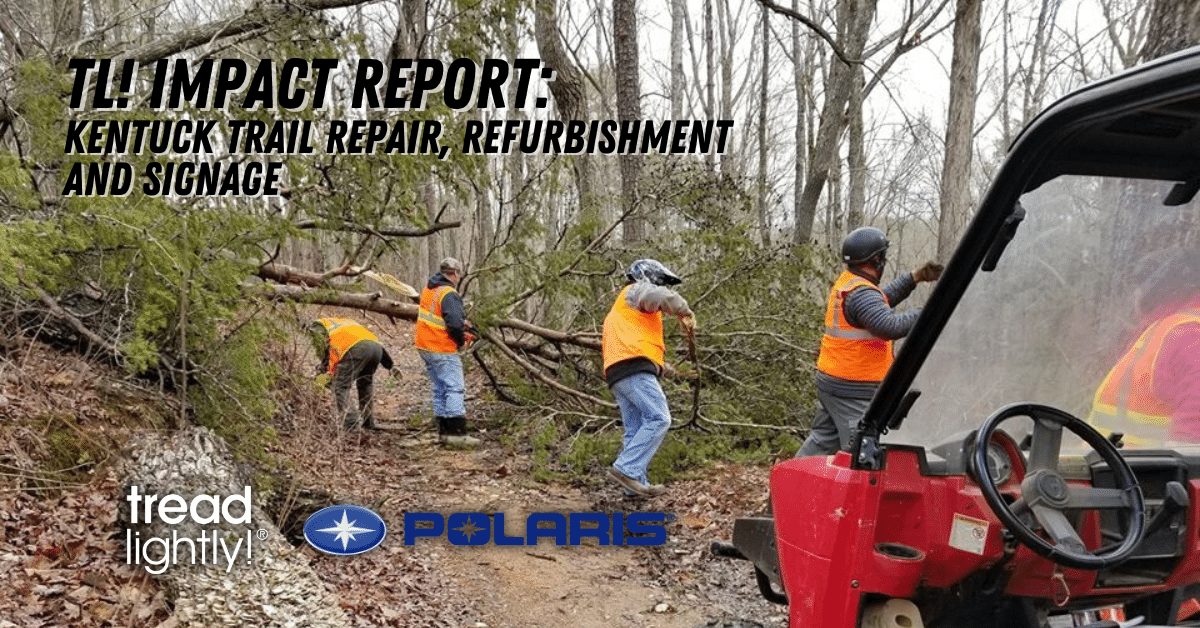 19 Sep
Tread Lightly! Impact Report: Kentuck Trail Repair, Refurbishment and Signage
Project: Kentuck Trail Repair, Refurbishment and Signage
Location: Talladega National Forest, Alabama
Description: With grant support from Polaris T.R.A.I.L.S., Tread Lightly! worked with the team from the Talladega National Forest to restore eroded and overused portions of the Kentuck trail system, unclog culverts to fix drainage issues, and install new informational and educational signage. This project began in January of 2022 and was completed in August of 2022.
The Kentuck Trail is one of two OHV trails in Alabama. The trail is a 23.5-mile OHV trail system through the Talladega National Forest. This trail system suffered from overuse during very wet conditions which caused even greater erosion and low areas for water to lay during heavy rains. In some locations, the trail surface had eroded to the bedrock below. With funding from a Polaris Trails Grant, Tread Lightly! and the USFS team worked to correct these trail issues and install new educational and informational signs.
After seven months of planning, weather delays, contractor work and research on the history of the Alabama National Forests, the project work was finally completed in August 2022. After the trail dried up to allow work, the forest team was able to get in to drain low lying areas as multiple culverts were plugged with debris and beaver dams. The trail system was also heavily overgrown, so the growth was trimmed back allowing greater trail navigation along with allowing more sunlight in to dry the trails after rainstorms. The Cheaha Trail Riders supported this effort as well as ongoing efforts to keep the trail clean and accessible for motorized use.
Thank you to the partners that supported this project:
Polaris T.R.A.I.L.S.
Talladega National Forest
Cheaha Trail Riders
"The Talladega National Forest is very appreciative of the funding provided by Polaris Trails in support of our Kentuck Off Road Vehicle Trail.  The funding enabled us to address multiple erosion and safety concerns along the 23.5-mile trail system. The funding was used to reestablish eroded sections of the trail, unblock culverts, and provide informational and directional signs.  The entire process from grant application to the finished product was seamless.  We are grateful to Polaris Trails and Tread Lightly! for helping reduce our backlog of trail maintenance and provide public users with a more sustainable trail system."– Lesley M. Hodge, Natural Resource Specialist, National Forest in Alabama, Talladega National Forest
Want to get involved in your own project? Apply for a grant or check out the other projects at treadlightly.org.