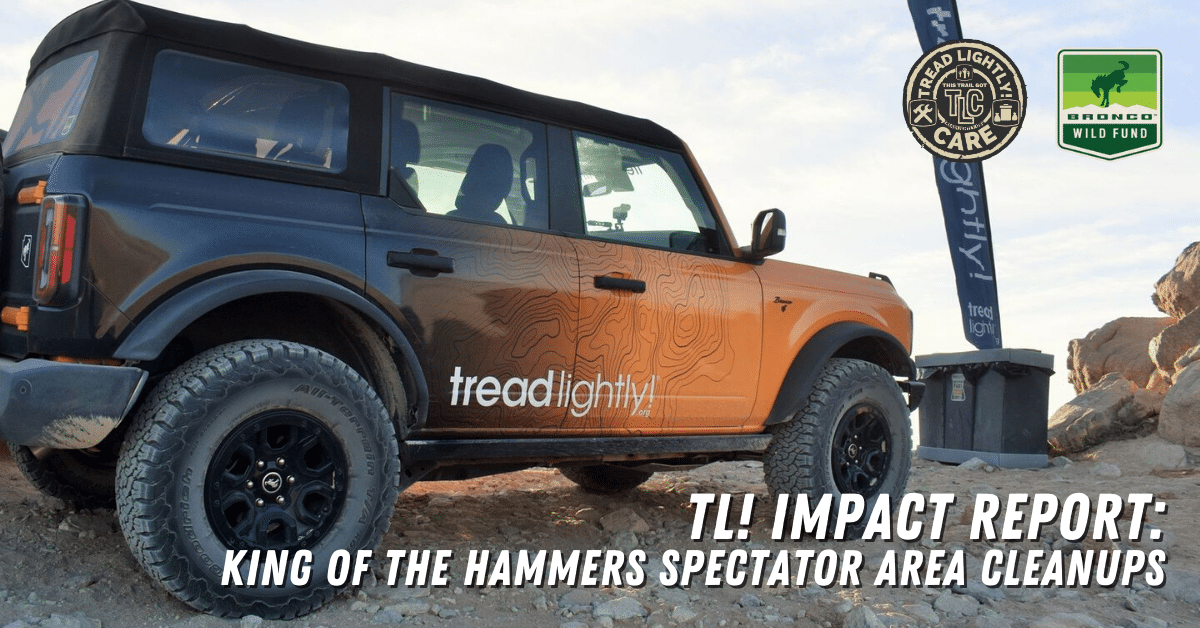 15 Mar

Tread Lightly! Impact Report: King of the Hammers Spectator Area Cleanups

Project: 2023 King of the Hammers Spectator Area Cleanups
Location: Johnson Valley, California

Description: From February 4 through February 12, 2023 volunteers gathered to leave the spectator areas in the desert of the Johnson Valley lakebed during King of the Hammers event better than they found it. For five years, the King of the Hammer's organizers have committed to Protecting the Fun by embedding the Tread Lightly! ethic throughout the event by regularly sharing messaging with participants to do their part to pack out trash, be responsible off-roaders and to join in for the daily cleanups hosted by Tread Lightly!. Thanks to these efforts, the Johnson Valley OHV area is left better after the event than before setup has even begun.

King of the Hammers has historically been known as one of the toughest and most punishing off-road races in North America, drawing spectators and competitors from across the globe. The 2023 iteration of the event was no exception and nearly 1,100 competitors and a crowd of over 80,000 to the Johnson Valley OHV Area, eclipsing the population of nearby Barstow, Yucca Valley and Palm Springs combined. With the influx of wheelers, gear heads, campers, overlanders and racing enthusiasts also came the trash.

This year, with the help of funding from Ford's Bronco Wild Fund and hardworking volunteers, Tread Lightly! was able to collect and properly dispose of 9,050 pounds of trash and 26 used tires. Two of the most popular spectator areas, Backdoor and Chocolate Thunder, were outfitted with branded trash receptacle stations that made it easier for race fans and enthusiasts to Do Their Part and keep our public lands clean.

Over the course of 8 days, 95 volunteers braved the infamous Johnson Valley wind and sand, harsh sun and often precarious terrain to collect trash that failed to make it into the provided trash receptacles. As a reward for their efforts, Baja Designs generously raffled off a series of swag bags as well as two Squadron Pro light sets to participants.

Thank you to the partners who made this possible:
Bronco Wild Fund
Bureau of Land Management
SAK-IT Co
Baja Designs
Ultra4 Racing
Opt Off Road
"Thank you to Bronco Wild Fund for making this year's King of the Hammers desert cleanups possible. With their help, we were able to remove over 9,000 pounds of trash from Johnson Valley and leave the area better than we found. We're so grateful to have the opportunity to work with Ultra4 to bring this community together to Protect the Fun and keep our public lands clean."-Brandon Alvarez, Tread Lightly! California Program Manager
"It was amazing be a part of the 2023 event with Tread Lightly! We'd like to thank Ford and Bronco Wild Fund for supporting all aspects of off-road motorsports and acknowledging that stewardship is integral in utilizing public lands. We love demonstrating that it's possible to do good while having a good time in the desert and that Johnson Valley is a better place than we found it."-Tate Morgan, Gambler 500/Sons of Smokey
"We were happy to be part of the KOH clean ups with Tread Lightly! and do our part to help keep Johnson Valley clean. We feel it is everyone's responsibility to make sure that our recreational areas stay clean and open. We strongly feel that many hands make light work and we want to encourage others to get involved and help spread awareness to pack out what you pack in."-Tyler Kemp, SAK-IT Co
Want to get involved in your own Tread Lightly! project? Find upcoming activities, events and grant opportunities at treadlightly.org.