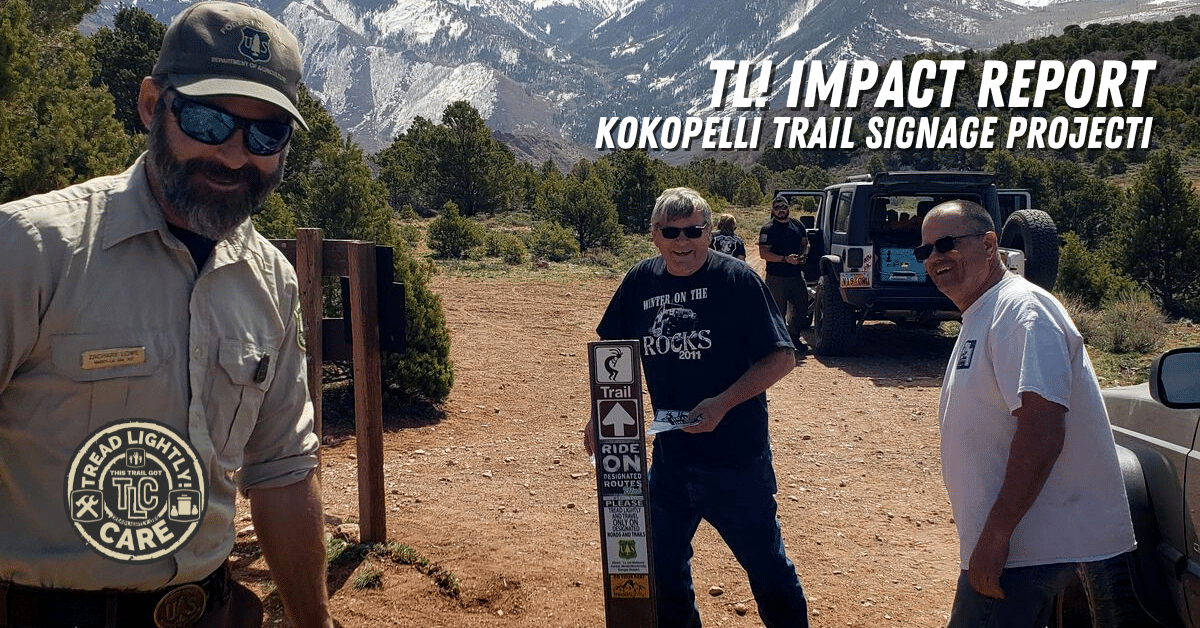 07 Jun

Tread Lightly! Impact Report: Kokopelli Trail Delineation

Tread Lightly! Impact Report: Kokopelli Trail Delineation

Project: Kokopelli Trail Delineation
Location: Moab, Utah

Description: On April 18, 2022, 9 volunteers along with Tread Lightly! and the US Forest Service (USFS) Moab Ranger District worked to delineate the USFS section of the Kokopelli Trail System in Moab, Utah. This mixed-use trail starts in Fruita, Colorado and ends in Moab, Utah. Trail delineation was done with signposts and stickers to help guide and assure trail users that they are on the right route as it weaves though BLM and USFS land. Along with the trail delineation, 20 pounds of trash was removed along the trail.

Thank you to the volunteers and partners who showed up to do their part to leave this area better than they found it.

Thank you to our supporting partners: USFS Region 4, USFS Moab Ranger District, Bighorn Off-Road Club, Ladies Off-Road Network, MileStar Tires, Factor 55, Quadratec, and Fishbone Off-Road

"Huge thank you to the volunteers who showed up to help educate future trail-users on the Kokopelli Trail. Signage and education is a key component to keeping our trail open, healthy and accessible for future use." Evan Robins, Tread Lightly! Stewardship Programs Manager.

Want to get involved in your own Tread Lightly! project? Find upcoming activities, events and grant opportunities at treadlightly.org.