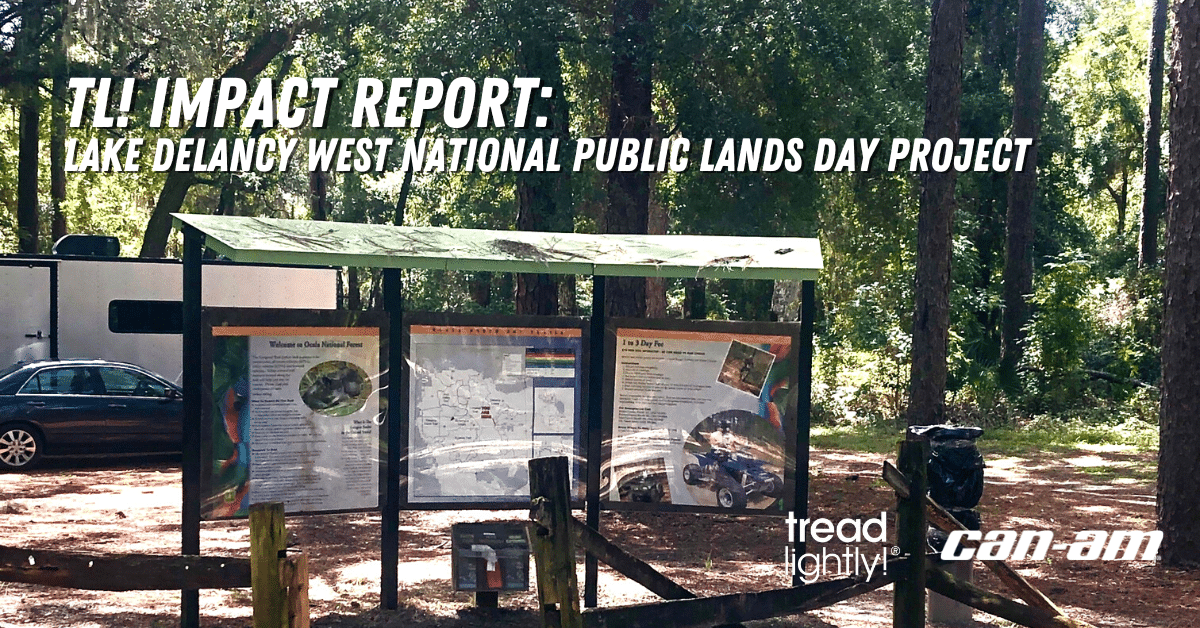 24 Mar

Tread Lightly! Impact Report: Lake Delancy West National Public Lands Day Project

Florida Project #1

Project: Lake Delancy West National Public Lands Day Project
Location: Ocala National Forest, Florida

Description: This project was funded by Can-Am Off-Road. Can-Am has committed to funding four trail stewardship projects in the state of Florida in partnership with Tread Lightly! to help maintain and improve access to public lands and off-road trails.

On September 24, 2022, four volunteers gathered for a National Public Lands Day cleanup and campsite overgrowth clearing project at Lake Delancy West in the Ocala National Forest. Lake Delancy West has 13 dedicated campsites that allow a truck and trailer or motorhome to trailer an ATV or side by side to the campground. The campground has not had routine maintenance for a couple years and the grass and brush was becoming overgrown. The volunteers used weed trimmers to clear overgrowth and removed 45 pounds of trash from the campgrounds.

Thank you to all of the partners that supported this project:
Can-Am Off-Road
US Forest Service
"I'd like to thank Can-Am for helping to support Tread Lightly!'s mission to protect the adventure for off-road trail users. Can-Am's support for this project brought first time volunteers together with the Ocala National Forest team to perform needed maintenance to this dedicated OHV campground. We were not only able to do some much needed campground cleanup, but were also able to foster a new, supportive relationship with the Forest Service and local OHV enthusiasts in order to work together for future trail projects, cleanups and additional campground restoration work. I look forward to our next trip to Ocala to keep this awesome momentum going and to further grow our OHV volunteer base that helps to keep Ocala National Forest clean, open and accessible for future generations of OHV users." – Lowell Eckart, Program Manager
Volunteering in a first time event brings its share of anxieties and unknowns. This was my first time volunteering on public lands day and with the local Forest Service of Florida. There was a third partner called Tread Lightly!, and I didn't even know they existed, let alone what they did.
"Working out in the Ocala National Forest at a campground allowed for wonderful discussion and a beautiful area. I learned a lot about my local Forest Service professionals and I learned about Tread Lightly!. It became very comforting to know that there are people that care as much as I do about the outdoors, our trails and our National Forests.

It was a humbling experience because I have witnessed poor trail and forest conditions in the past two years. Without solid answers I created my own reasons for these "failures". I am pleased to now understand the real reasons, and more importantly, I have learned that we are moving forward with teamwork and solid support from Tread Lightly! and the Forest Service.
Being outdoors and working with new people to improve our Public Lands while we sweat and laugh was a great experience! We reluctantly, but urgently, accepted a Black Bear's unsolicited reminder of who was in charge of Public Lands, and ended our work day a bit short because his interest in our work area became much more important than ours
. We hope he enjoyed our spruce up and cleanup as much as we did!"-Don Schionski, volunteer