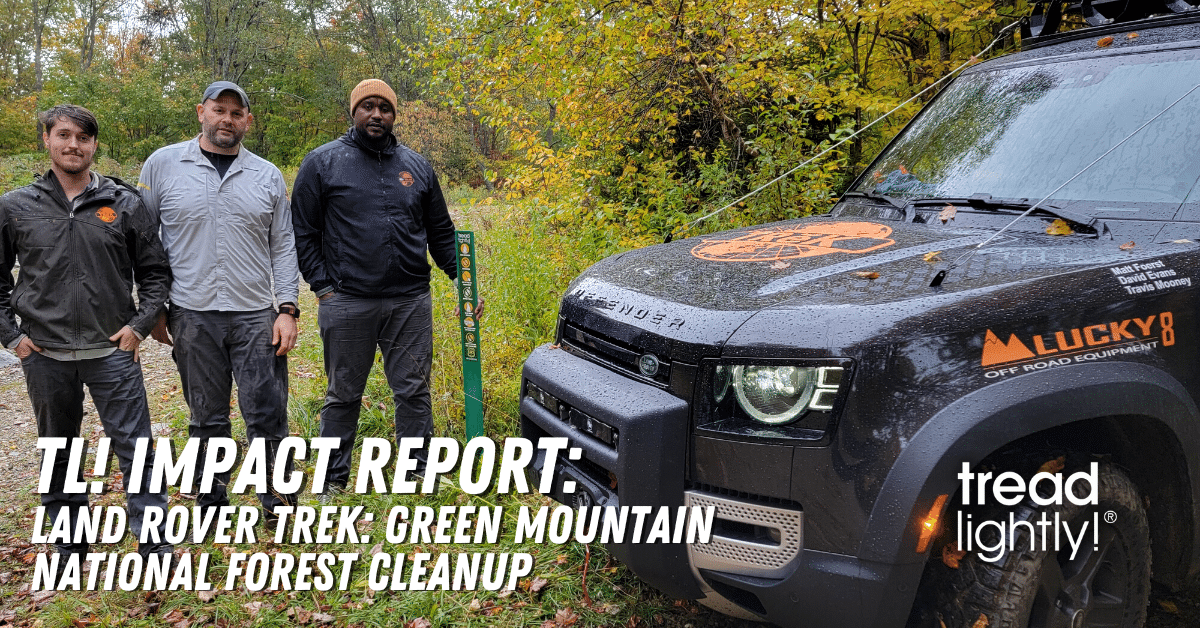 31 Oct

Tread Lightly! Impact Report: Land Rover TReK: Green Mountain National Forest Cleanup

Project: Land Rover TReK: Green Mountain National Forest Cleanup
Location: Vermont

Description: On October 4, 2022, 45 volunteers came together from the Land Rover TReK Offroad Competition to complete a cleanup in the Green Mountain National Forest in Manchester, Vermont. This year, 300 Land Rover retailer employees from around the U.S. and Canada set to compete in the off – road skills challenge at the Land Rover Experience Center to drive the 2023 Defender 110 specially outfitted for the competition.

Together the volunteers removed 3,500 pounds of trash from the forest, improving 28 dispersed campsites. The trash included dumped items like couches, mattresses, tires and car parts. The volunteers also installed 28 Carsonite dispersed camping markers all along three forest roads in the Manchester District.

Before the cleanup, Land Rover Freeport signed up as Tread Lightly!'s first Land Rover Dealer Member in New York state, helping to continue the mission of cleaning up public lands and improving access nationally.

Thank you to the partners who made this possible:
Land Rover North America
Land Rover TReK
Land Rover Experience
Go Fox Adventures
Ridgeback Guide Service
"Teaming up with Tread Lightly! was an amazing experience to have been a part of. Team Freeport can't wait to spread the word and get people aware on what's going on and how they can help. We just want to thank Tread Lightly! again for what they do to help our environment."- Michael Fiore, Land Rover Freeport
"It was awesome being involved in this project with Tread Lightly!, having the opportunity to explore the Green Mountain National Forest, see the beautiful landscape, and have an opportunity to make an impact was an amazing experience. I know my team left it a better place. Now I'm hoping to get involved in some projects local to me to continue the mission!"-Eric Bennett, Land Rover Roaring Fork

"I have spent lots of time in the woods off-roading, but this was my first time with Tread Lightly!  The trails and campsites we visited were littered with large debris, including baby diapers, buckets of human waste, tractor tires and normal bottles and cans. It disgusts me that people leave our public land in this poor of a condition, but what really bothers me is no one that frequents these areas cares enough to just stop and take some time and help out. Our group was able to remove mattresses, couches, tractor tires, and TVs. Without Tread Lightly! These items could have remained in the woods for generations."– Michael Warman, Land Rover Freeport
Want to get involved in your own Tread Lightly! project? Find upcoming activities, events and grant opportunities at treadlightly.org.