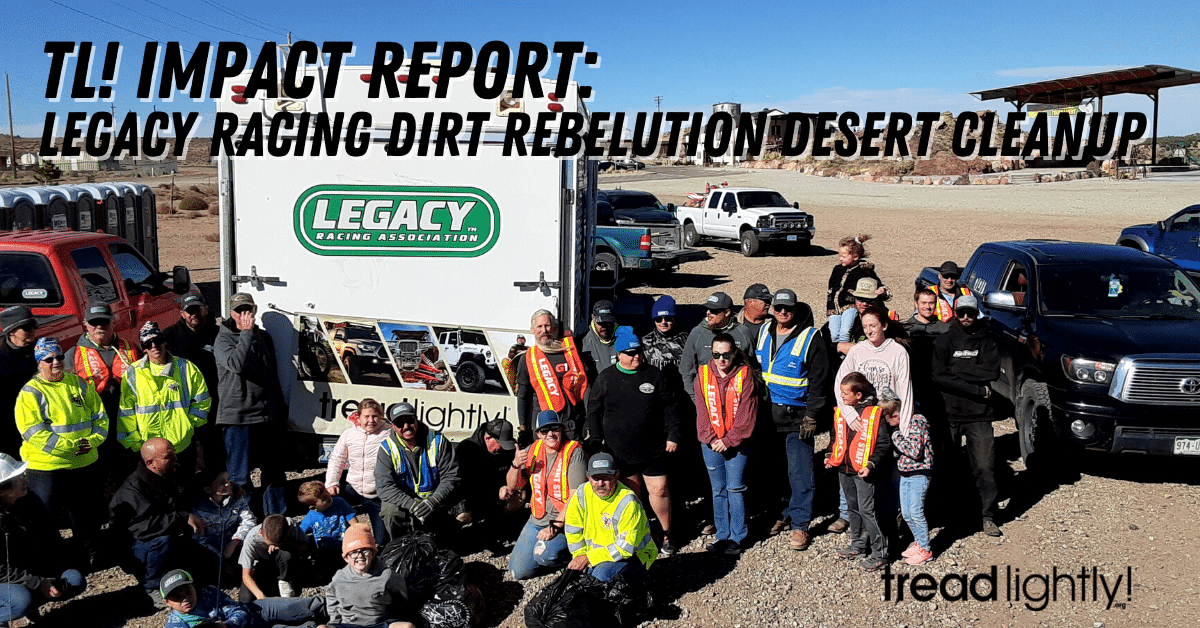 23 Nov

Tread Lightly Impact Report: Legacy Racing DIRT REBELUTION Desert Cleanup

Project: Legacy Racing DIRT REBELUTION Desert Cleanup
Location: Cedar City, Utah
Description: On November 7, Legacy Racing's Dirt Rebelution racing event wrapped up and volunteers from the event stayed on site to help clean up the desert and leave the area better than they found it. Several dozen volunteers from across the nation met at the finish line to remove roadside litter on Iron Springs Road in Cedar City, Utah. Together, the 30 volunteers removed trash from 2 miles of road. Thank you to the organizers and volunteers who committed to do their part.

"The Spit Shine cleanup was a great success. With over 30 volunteers showing up, donating their time to give back to the areas we race in. With their help we were able to clean 2 miles of Iron Springs Road just off of Hwy 56 and all around the Iron Springs Resort properties.  Race volunteers, event staff, race teams and their families including kids of all ages pitched in to make light work of the task at hand. What a great way to finish out the weekend of racing with class wins, class championships and class act people giving back to the Iron County community."- Legacy Racing Team; Liz, Kristy and Donald

"It is events like these that allow the motorized off-road community to give back some of their time to protect the resources that call us to the back country" said Mathew Giltner a Tread Lightly! Volunteer. "Without the support of groups like Legacy Racing Association, providing a positive stewardship message of responsible off-road recreation your right to access your public lands, would become increasingly difficult."

Want to get involved in your own Tread Lightly! project? Find upcoming activities, events and grant opportunities at treadlightly.org.