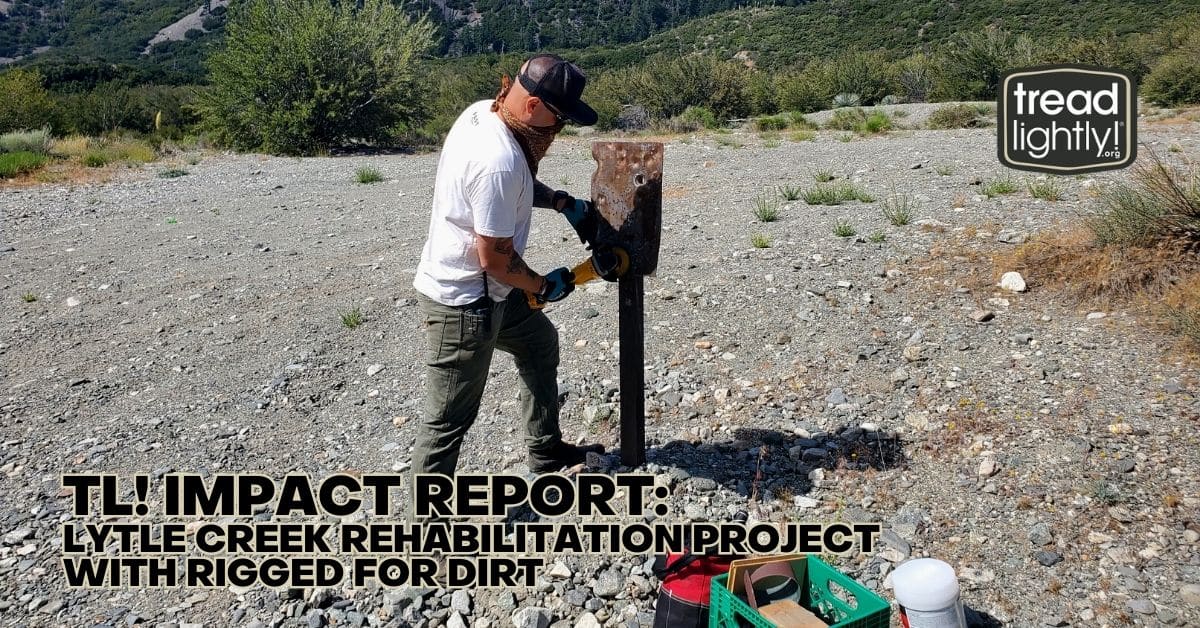 17 Jul

Tread Lightly! Impact Report: Lytle Creek Rehabilitation Project

Project: Lytle Creek Rehabilitation Project
Location: California

Description: On June 24th, 12 volunteers gathered at the entrance to the Lytle Creek Recreation Area in California ready to do their part. Lytle Creek, like many of California's public lands, sustained substantial damage from the fierce storms that rolled through the 2022 winter, and one of the yellow post camping sites was still underwater when volunteers got to work. Under Forest Service direction, volunteers set to a variety of tasks, including rehabilitation of bullet-ridden signs, installing Carsonite signage, and winching boulders to close off user-created trails. Along with that hard work, volunteers removed 300 pounds of trash, improving 12 miles of trail in the area.

Thank you to the following partners for their support:
Rigged for Dirt
United States Forest Service
"With an unprecedented amount of closures and length of closures this past year due to the massive amounts of snowfall, combined with reckless and uneducated offroad recreation, it became important to once again get out to the trails and make sure we assisted the USFS as soon as possible to help get the work they needed doing, done. It's important to remind everyone that though there are those who fail to "tread lightly" there are just as many of us ready and willing to do our part. Given that Lytle Creek is Rigged for Dirt's adopted trail, it was only fitting that our work would start there. We're looking forward to more projects ahead and getting some of our members certified in various competencies with the Forest Service in everything from chainsaw use to heavy machinery training so that we can do even more in the future."-Ali Sedaghat, Rigged for Dirt
Want to get involved in your own Tread Lightly! project? Find upcoming activities, events and grant opportunities at treadlightly.org.