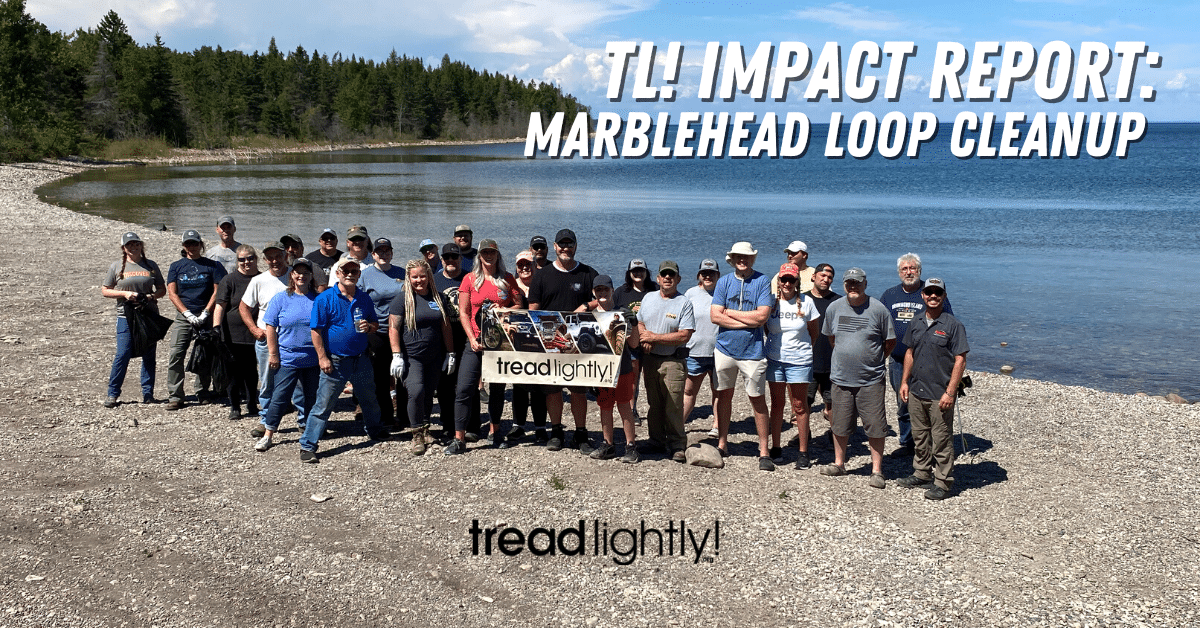 26 Aug
Tread Lightly! Impact Report: Marblehead Loop Cleanup with Rancho Suspension
Project: Marblehead Loop Cleanup
Location: Drummond Island, MI
On August 18, 2022, Tread Lightly! and Rancho Suspensions organized a cleanup of the South Marblehead Loop area on Drummond Island, a popular and unique off-roading destination in the Upper Peninsula in Michigan. Together 31 volunteers, including participants from the Great Lakes 4 Wheel Drive Association and Mud, Sweat and Gears 4×4 club, cleaned up 253 lbs of trash from the trail, improving 25 miles. The cleanup kicked off the 2022 Drummond Island Offroad Adventure event. Thank you to Rancho Suspensions for funding this cleanup effort and helping protect the adventure for future generations!

Thank you to the following partners for their support: Rancho Suspensions, Great Lakes 4 Wheel Drive Assoc., Mud, Sweat and Gears 4×4 Club, Pete Dugan
"What a great time working with Tread Lightly! and all the volunteers to clean up the Marblehead Loop on Drummond Island!! The event was a huge success. Thank you to everyone involved, we were able to make a huge impact on the trail!"-Mike Sype, Rancho Suspensions
"This cleanup is a great example of industry and enthusiasts coming together to leave it better for future generations. Thank you to Rancho, the event organizers and all the amazing volunteers for taking the time to protect the fun."-Matt Caldwell, Tread Lightly!
Want to get involved in your own Tread Lightly! project? Find upcoming activities, events and grant opportunities at treadlightly.org.