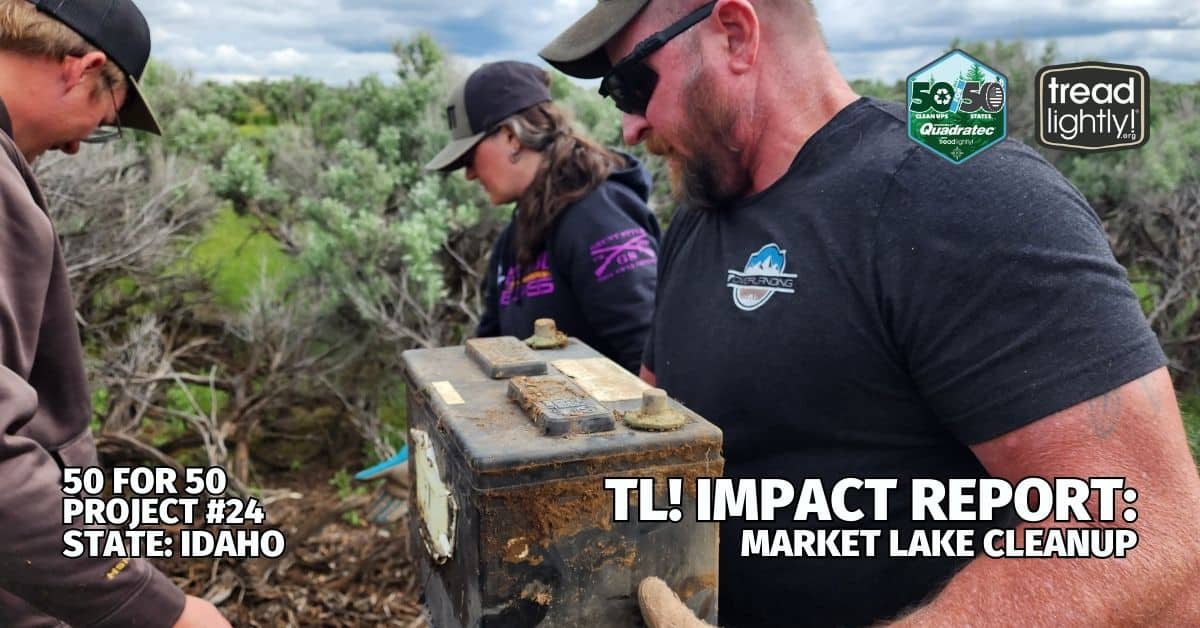 18 Jul

Tread Lightly! Impact Report: Market Lake Cleanup

Project: Market Lake Cleanup
Project #24/50
State: Idaho

Description: This project was funded by the Quadratec 50 for 50 Initiative. Together with Tread Lightly!, Quadratec has committed to fund a project to improve off-road trails and public lands in each state by December 2023.

On May 19, 2023, 30 volunteers from the Idaho Overland Association gathered for a group overlanding trip and cleanup around the Market Lake Recreation Area, north of Idaho Falls. Together, they removed approximately 2,000 pounds of trash from this beautiful mixed-use recreation site.

Thank you to the following partners for their support:
Quadratec
Idaho Fish and Game
Idaho Overland Association
"This project was a great example of how riders and recreation clubs can intermix conservation and fun. By adding a cleanup element to their overlanding trip, the Idaho Overland Association was able to make a positive impact on the natural areas they use and love."-Evan Robins, Tread Lightly! National Stewardship Programs Manager
"Having Quadratec's 50 by 50 program support the Idaho Overland Association's Market Lake Service Project was absolutely amazing. Over 20 volunteers spent the day exploring & cleaning the Wildlife Management Area with Tim Fitzgibbons from Idaho Fish & Game. This was the first time we didn't have to ask for volunteers to help with supplies because Quadretec provided everything we needed. This particular project was extremely unique for us because not only did we haul so much garbage from this area, we were able to learn about the history as well as various animals and plants that typically reside here. Afterwards Teton House in Menan graciously provided lunch to all volunteers. It was truly wonderful seeing multiple organizations come together to support our volunteers and our public land." -Alexandria Lewis Rove Backcountry Outfitters
Want to get involved in your own Tread Lightly! project? Find upcoming activities, events and grant opportunities at treadlightly.org.