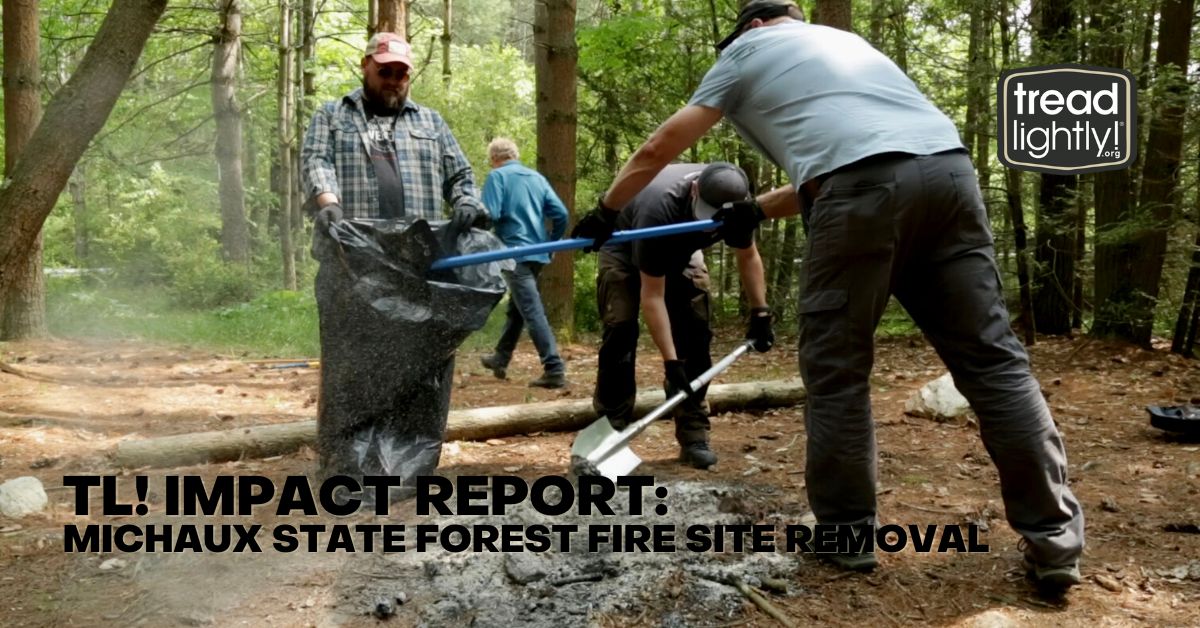 03 Jul

Tread Lightly! Impact Report: Michaux State Forest Fire Site Removal
Project: Michaux State Forest Fire Site Removal
Location: Pennsylvania
Description: On May 23, 2023, seven volunteers gathered in the Michaux State Forest in Pennsylvania to remove trash and firepits from unauthorized campsites in the forest. In total, volunteers removed eight firepits and re-naturalized these areas with brush. Along with the firepit removals, volunteers also packed out 80 pounds of trash.
This project was funded by Main Line Overland, with support and maps of the area supplied by Purple Lizard maps. Together, Main Line Overland and Tread Lightly! worked to produce educational video content about responsible fire use on public lands.
Thank you to the following partners for their support:
Main Line Overland
Ridgeback Guide Service
Purple Lizard Maps
Quadratec
Want to get involved in your own Tread Lightly! project? Find upcoming activities, events and grant opportunities at treadlightly.org.
"We were thankful for the help Purple Lizard and Ridgeback Guide Service could offer on this project- and Main Line Overland has been doing a great job getting the word out about responsible fire use!"-Scott Ammerman, Southeast Program Manager, Tread Lightly!
"Here on the east coast, we've been pretty sheltered from the effects of wildfires that are all too common on west coast. That was until the most recent Canadian forest fires that spread smoke down into Pennsylvania just a few weeks ago. Experiencing those impacts firsthand really made me aware how important it is to do everything possible to prevent forest fires. I feel that our work cleaning up unauthorized firepits in Michaux State Forest reduced the risk of fires starting in our area. I also hope that the video we made will help spread awareness on fire safety and educated folks on the proper thing to do if they come across unauthorized fire pits."-Joe Kolarik, Main Line Overland
"The rules are different in a National Forest, they're different in a State Forest, they're different in a State Park. We certainly recommend that you carry a solid map to help you determine where the legal spots are."-Mike Hermann, Purple Lizard Maps