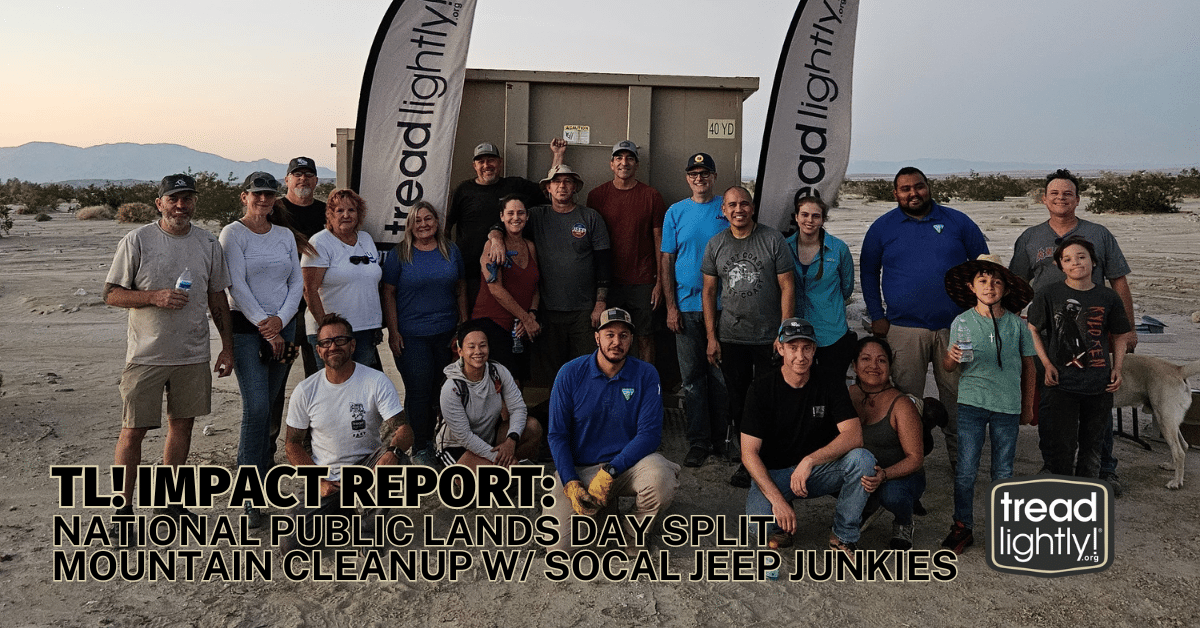 03 Oct

Tread Lightly! Impact Report: National Public Lands Day Split Mountain Cleanup w/ SoCal Jeep Junkies

Project: National Public Lands Day Split Mountain Cleanup w/ SoCal Jeep Junkies
Location: California

Description: On National Public Lands Day, September 23, 2023, 22 volunteers gathered near dusk at the Split Mountain Shooting site just south of Ocotillo Wells with the goal of leaving it better than they found it. The Split Mountain area is host to several recreation opportunities including dispersed camping, recreational shooting, and moderate OHV trails. Over the course of several hours the volunteers set to work collecting trigger trash, managing to nearly fill a 40-yard dumpster in two hours. In total, the volunteers removed 5,000 pounds of trash.

Thank you to the partners who made this possible:
BLM El Centro
SoCal Jeep Junkies
Want to get involved in your own Tread Lightly! project? Find upcoming activities, events and grant opportunities at treadlightly.org.
"Teamwork equals dreamwork! Once again, the Tread Lightly! and BLM partnership has accomplished what could not be done without a strong partnership. On September 23, 2023, National Public Lands Day, we worked together with volunteers from SoCal Jeep Junkies to clean up a popular target shooting area and filled a 40-yard dumpster. These volunteers care about public lands, take action to make a positive difference and are an inspiration to us all. Thank you to Brandon at Tread Lightly! for coordinating the event and to all the volunteers!" -Neil Hamada, Assistant Field Manager BLM El Centro
"I am happy to report the successful cleanup, alongside BLM and SJCC in celebration of National Public Lands Day. With the participation of 22 dedicated volunteers, a section of the Split Mountain firing range was thoroughly cleaned and much progress was made.
The event not only achieved a significant milestone by engaging a large number of volunteers, but it also provided a unique opportunity for families to introduce their children to the T.R.E.A.D. principles.  Educating the younger generation about these principles is crucial for the long-term preservation of public lands. By involving children in the cleanup event, we aim to instill a sense of responsibility and appreciation for the environment in the next generation.
I am thrilled with the outcome of the September 23rd cleanup event; the enthusiasm and dedication shown by the volunteers is truly commendable.  The success of this event has paved the way for future clean-up initiatives.  I look forward to our next clean-up event scheduled for November. With the continued support of the community, we aim to achieve even greater success in our ongoing mission to preserve and protect public lands.
I extend my gratitude to all the volunteers, for their valuable contributions. Their combined efforts have made a significant impact in ensuring the sustainable future of our public lands.  
Additionally, it's always a pleasure working with Brandon Alvarez and Tread Lightly! I look forward to our continued successes."-Jeremiah Ayers, SoCal Jeep Junkies