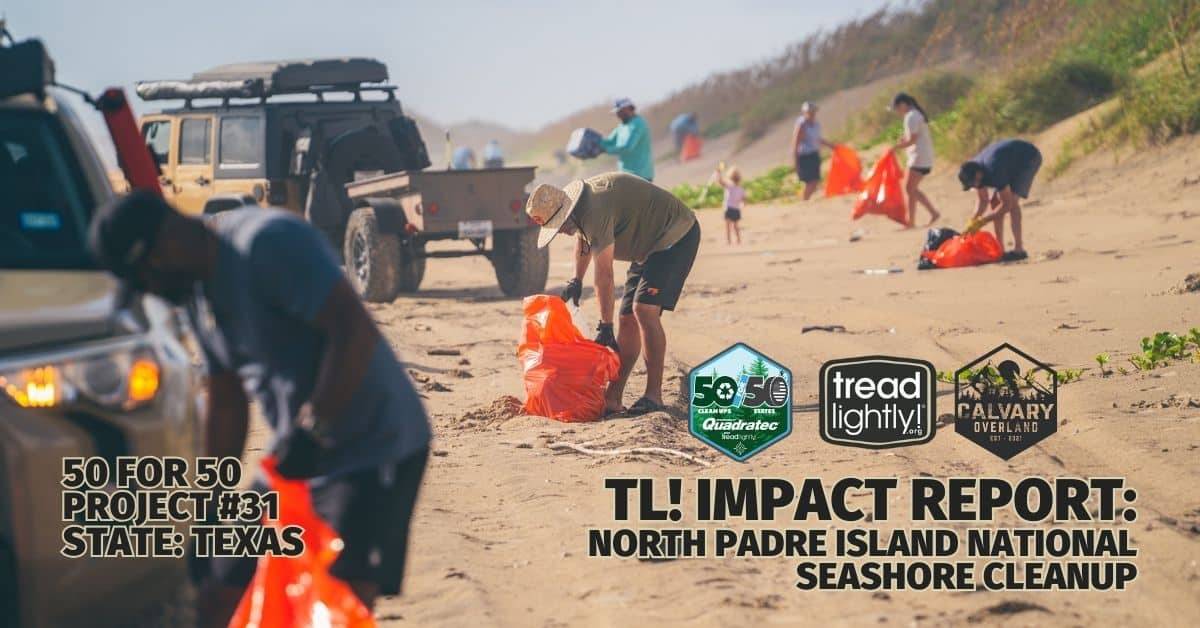 01 Nov

Tread Lightly! Impact Report: North Padre Island National Seashore Cleanup

Project: North Padre Island National Seashore Cleanup
Project #31/50
State: Texas

Description: This project was funded by the Quadratec 50 for 50 Initiative. Together with Tread Lightly!, Quadratec has committed to fund a project to improve off-road trails and public lands in each state over 24 months.

On Sept 28-Oct 1, 2023, 28 volunteers from Calvary Overland camped and cleaned 15 miles of the hard-to-reach portions of North Padre Island National Seashore in Texas. This area requires a well-equipped 4×4 vehicle so as not to get stuck in some of the more challenging portions of the North Padre Island Beach. This project, as part of the Quadratec 50 for 50 grant support, provided funding to help clean this difficult to reach beach area. The 20-vehicle team of 28 volunteers removed 125 bags of trash along with construction materials, 55-gallon drums and other large items. In total, 3,125 pounds of trash were removed.

Thank you to the following partners for their support:

-Quadratec 50 for 50
-Calvary Overland
-National Park Service
-Mike Shaw Toyota
-Embassy Suites
-Outdoor x4

"I would like to express our sincere gratitude for your invaluable support of our 2023 conservation project. It's with immense pleasure that I can share the resounding success we achieved. We sincerely thank you for your unwavering support, which made our 2023 project a great success. Looking ahead, we're excited to increase our impact and involvement in 2024. Your partnership with Calvary Overland has been invaluable, and we hope you'll join forces with us again next year. Together, we can achieve even more in our mission to protect our natural treasures. Thank you for being a crucial part of our conservation efforts, and we look forward to a brighter future in 2024 and beyond" -Brandon Darwin, Owner and Founder of Calvary Overland

Want to get involved in your own Tread Lightly! project? Find upcoming activities, events and grant opportunities at treadlightly.org.