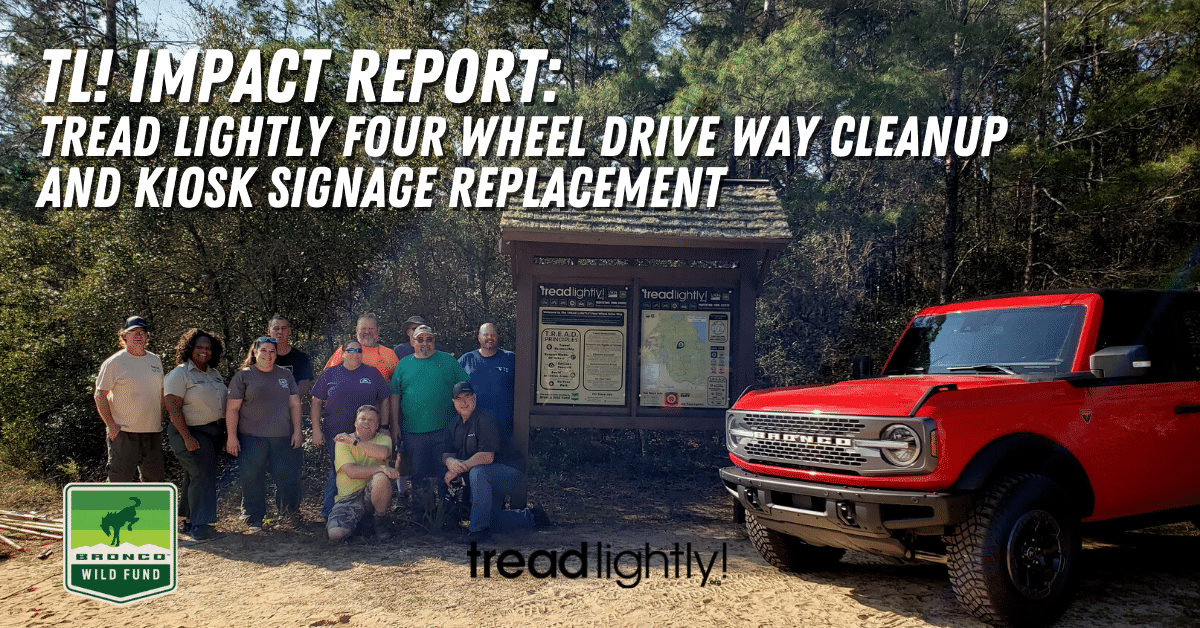 10 Jan

Tread Lightly Impact Report: Ocala National Forest Tread Lightly Four Wheel Drive Way Cleanup and Kiosk Signage Replacement

Project: Tread Lightly Four Wheel Drive Way Cleanup and Kiosk Signage Replacement
Location: Ocala National Forest, Florida

Description: This project was funded by the Bronco Wild Fund, Ford's initiative to help build a legacy of access, preservation, and stewardship. A portion of the profits of every Ford Bronco sold goes directly to support responsible access and preservation of public lands.

On December 11, 2021, Tread Lightly! along with 12 local volunteers from the Florida Jeep Coalition and Ocala National Forest rangers worked to install new signage along Tread Lightly Way, a 4×4 trails system in the forest. Due to vandalism, the existing signage needed to be redesigned and replaced. Volunteers installed four new panels and repainted the kiosk and removed shrubbery and trees that were blocking the kiosk, making it easier to see and read. After the signage installation, the volunteers cleaned up trash along the trail, removing two pickup beds worth of trash from the area.

"We are very grateful to the Florida Jeep Coalition and Forest Service for their work on Tread Lightly Way. The work they've done on this trail was not just this one-day project, but many months of planning and work to get to this point. Thank you for doing your part to keep your trails open and protecting access to this unique trail."-Lowell Eckart, Tread Lightly! Program Manager

"The partnership between the Florida Jeep Coalition and Tread Lightly! along with the USDA Forest Service will continue to be an ongoing joint front to keep improving the forests and showing that the Offroad community loves the land and will continue to work to keep it open for all to enjoy."-James Stevenson, Florida Jeep Coalition

"The Tread Lightly! Four Wheel Drive Way kiosk restoration project was a significant step for the Florida off road communities efforts to establish a partnership with the Ocala National Forest Service, the USDA and Tread Lightly. I am very honored to have seen this project go from a suggestion on a conference call to an actual finished project. The importance of this project cannot be emphasized enough, this accomplishment has brought our community together even more and is fostering more stewardship project ideas. I look forward to working on more projects and helping to educate outdoor recreationists in responsible behavior." Don Cox, Tread Lightly! Master Trainer and Volunteer

Want to get involved in your own Tread Lightly! project? Find upcoming activities, events and grant opportunities at treadlightly.org.