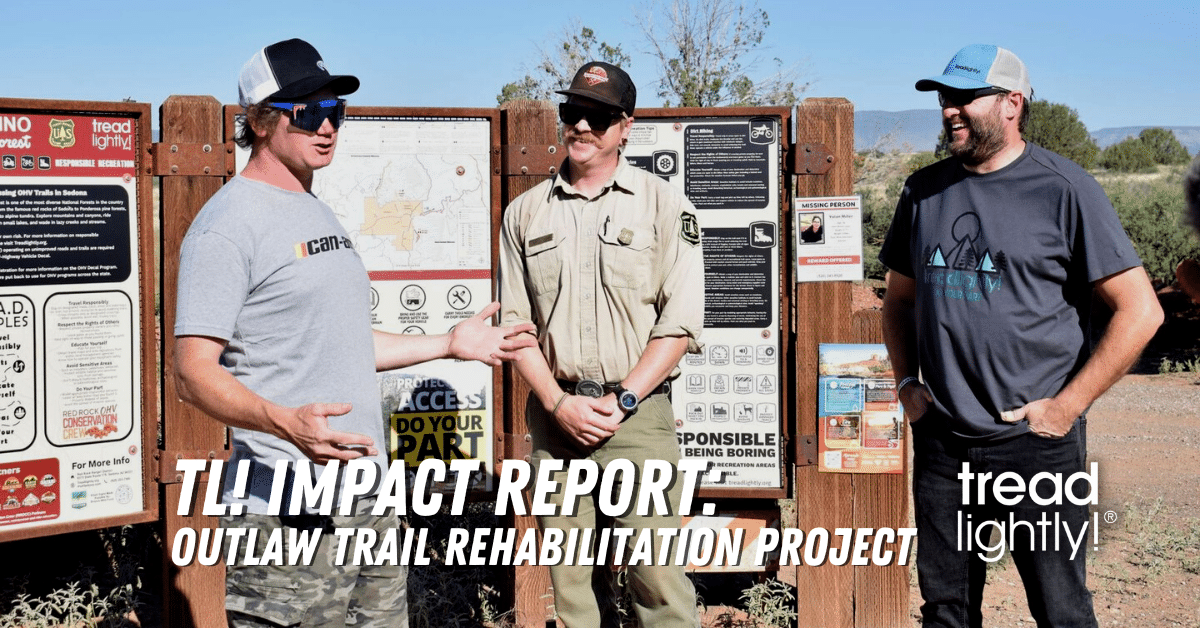 20 Oct

Tread Lightly! Impact Report: Outlaw Trail Rehabilitation Project

Project: Outlaw Trail Rehabilitation
Location: Sedona, Arizona

Description: On September 30, 2022, in collaboration with agencies and industry partners, Tread Lightly! and volunteers worked to close an illegal route in the Coconino National Forest to help rehabilitate damaged areas in the forest. Together 13 volunteers worked to restore 3.1 miles of trail and installed "Healing in Progress" signage to help direct riders to designated routes.

Thank you to the following partners for supporting this project:
Coconino National Forest
Outback ATV
Pink Jeep
Barlow Adventures
Red Rock OHV Conservation Crew
Nitro Circus
RideSafe
Hubert Rowland
Can-Am
Power Plus!
Drone30
"This project was a great opportunity to showcase the hard work our partners have been doing in the greater Sedona area and bring a whole new stakeholder to the table. We were able to continue on the important resource protection work while still striving to maintain and protect public access. Every group that comes out to help do this valuable work brings a different set of perspectives and adds to the collective knowledge of how we manage public lands for all. I look forward to future opportunities to work with groups like this and it was a pleasure getting to know everyone at the volunteer project."-Kevin Kuhl, US Forest Service
"Tread Lightly!, through its industry partnerships and the Red Rock OHV Conservation Crew, has brought financial and "boots on the ground" resources to support motorized recreation in Sedona for over a year. This project is a continuation of those efforts and brought influencers like Hubert Rowland and brands like Can-Am, Power Plus and Nitro Circus to the Coconino National Forest to get positive work done and make people aware of that work."-Matt Caldwell, Tread Lightly! Executive Director
Want to get involved in your own project? Apply for a grant or check out the other projects at treadlightly.org.