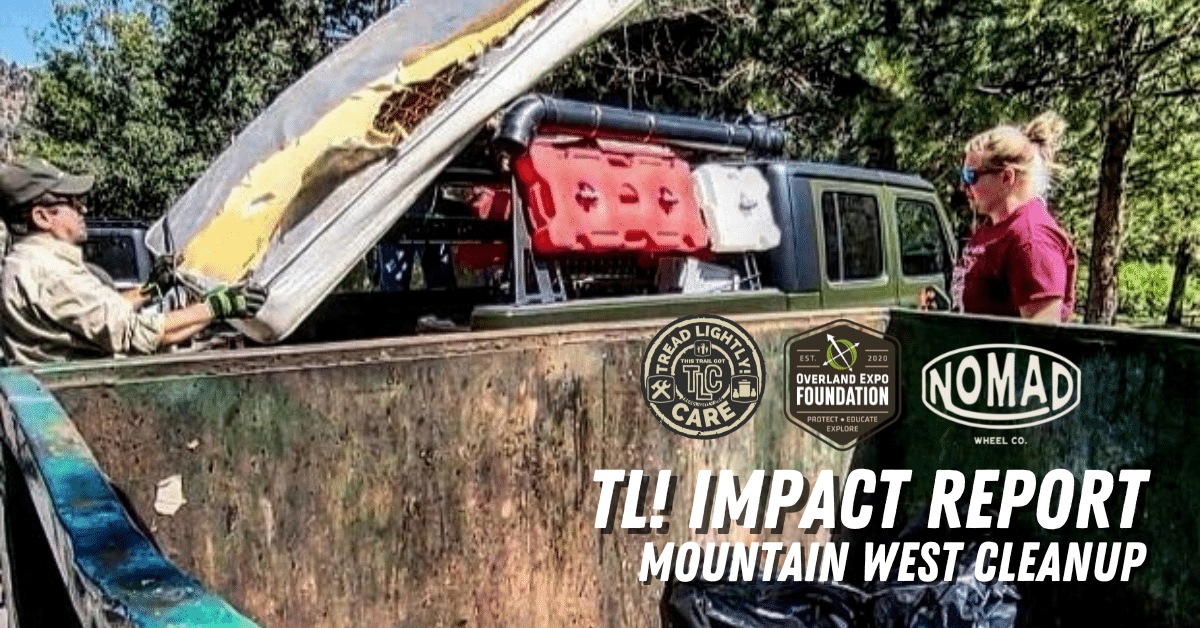 07 Oct

Tread Lightly! Impact Report: Overland Expo Foundation Mountain West Trail Cleanup

Project: Overland Expo Foundation Mountain West Trail Cleanup
Location: Colorado

Description: This project is one of four Tread Lightly! stewardship projects funded by the Overland Expo Foundation in conjunction with Overland Expo events. The Overland Expo Foundation is dedicated to creating partnerships with people and organizations that protect and promote the interests of the overlanders, helping provide education and expert resources that enrich the community, and encouraging responsible 4×4 vehicle- and motorcycle-based exploration of our world.

On September 3, 2022, 10 volunteers from the Colorado 4×4 Girls club along with the Clear Creek Ranger District Staff worked on Montane Mountain in Colorado to clean up trash and debris that had accumulated over the summer.

Together, the volunteers removed 1,549 pounds of trash from the area, improving 12 miles of trail. Along with the cleanup, the volunteers installed four educational Carsonite trail markers and six illegal route makers to help educate trail users on responsible and proper trail use. This project was in conjunction with the Overland Expo Mountain West event to help improving surrounding public lands.

Thank you to the following partners for their support:
The Overland Expo Foundation
Colorado 4×4 Girls
Nomad Wheels
"On September 3rd, volunteers from Colorado 4×4 Girls and the public did a stewardship/cleanup project in the Arapahoe Springs trail system of Clear Creek County. With the help of the Clear Creek County Ranger District, the volunteers placed new Carsonite signage (trail markers, trail closures, etc), picked up large amounts of refuse and trigger trash and made plans for future improvements to the area. Volunteers were able to make contact with recreationists of all types and provide information and education about the area, as well as fire bans and locations for shooting. The Colorado 4×4 Girls will be adopting the wide network of trails in the area in 2023. The volunteers filled a dumpster with trash and met after for a club-paid meal to thank everyone for helping. Colorado 4×4 Girls would like to thank organizations like the Overland Expo Foundation and Tread Lightly! for providing the needed grant funds to continue to do projects like this, making a difference for local communities, as well as the recreational community, both motorized and non- motorized."-Catherine Fanaro, Colorado 4×4 Girls President
Want to get involved in your own Tread Lightly! project? Find upcoming activities, events and grant opportunities at treadlightly.org.