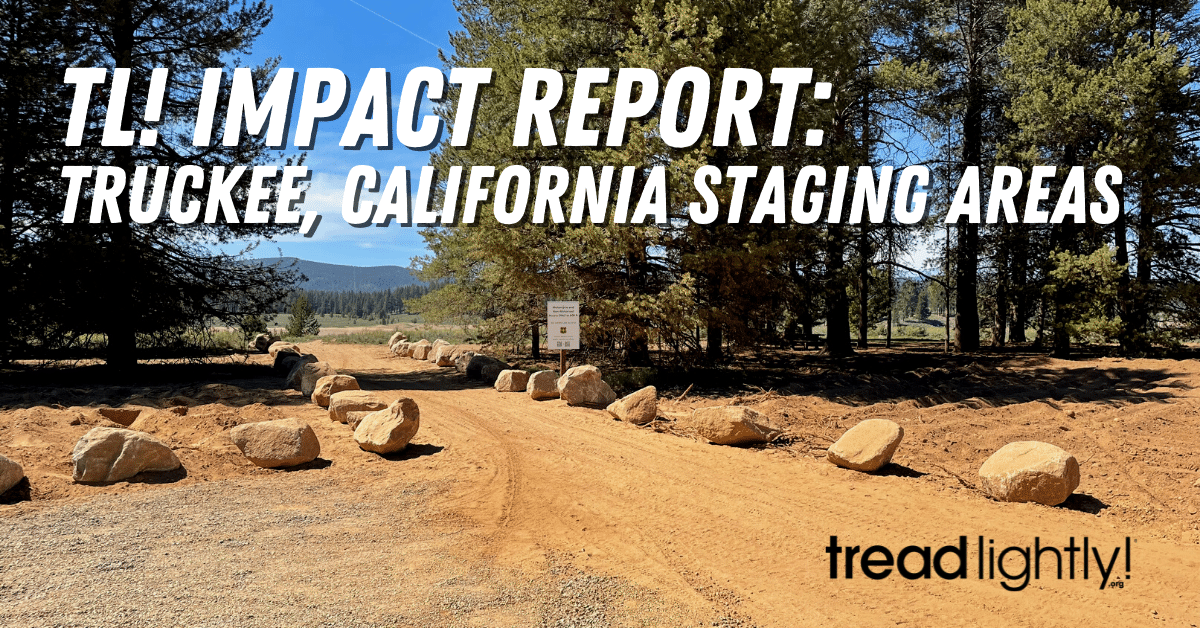 25 Aug

Tread Lightly Impact Report: Truckee, California Staging Areas

Project: Truckee, California Staging Area
Location: Tahoe National Forest

Description: Thanks to Yamaha Outdoor Access Initiative, USFS and the Truckee Dirt Riders, Tread Lightly! was able to support the creation of two new staging areas in Tahoe National Forest, Truckee Ranger District.
The previous highly impacted user-created parking area was an eyesore to the local community and the cause of excessive sedimentation, which impacted the Truckee River watershed. The soil type was creating dust in the summer and silt when it was wet. Tread Lightly! worked collaboratively with the United States Forest Service and Truckee Dirt Riders volunteers to install a road base to eliminate this problem and extend the riding season for those wanting to access the Prosser Pits. Boulders were added to keep natural resources protected. Ethics messaging and maps were added to kiosks to educate riders how to ride responsibly and on designated routes.
"We were able to provide additional parking / staging for multiple user groups while remaining true to our goal of protecting public natural and cultural resources. The improvements have been an overwhelming success and the new kiosks offer users an accurate and informative depiction of the designated routes and riding areas accessed from these two new staging locations. The kiosks also serve the purpose of educating the public with guidelines for trail etiquette and tips for safe and sustainable use. Above all, we feel the project helped significantly to increase safe and sustainable opportunities for recreation in the Truckee Ranger District. The Tahoe National Forest appreciates everyone's effort and cooperation on this collaborative project."

-John Brokaw, USFS Tahoe National Forest
"The temporary signs look great and have a clear informative message. Great Job!…Having the road to the Pits OHV area bladed was way overdue and looks great as well. This will certainly assist with alleviating the parking congestion.

-Bill Pindar, Truckee Dirt Riders