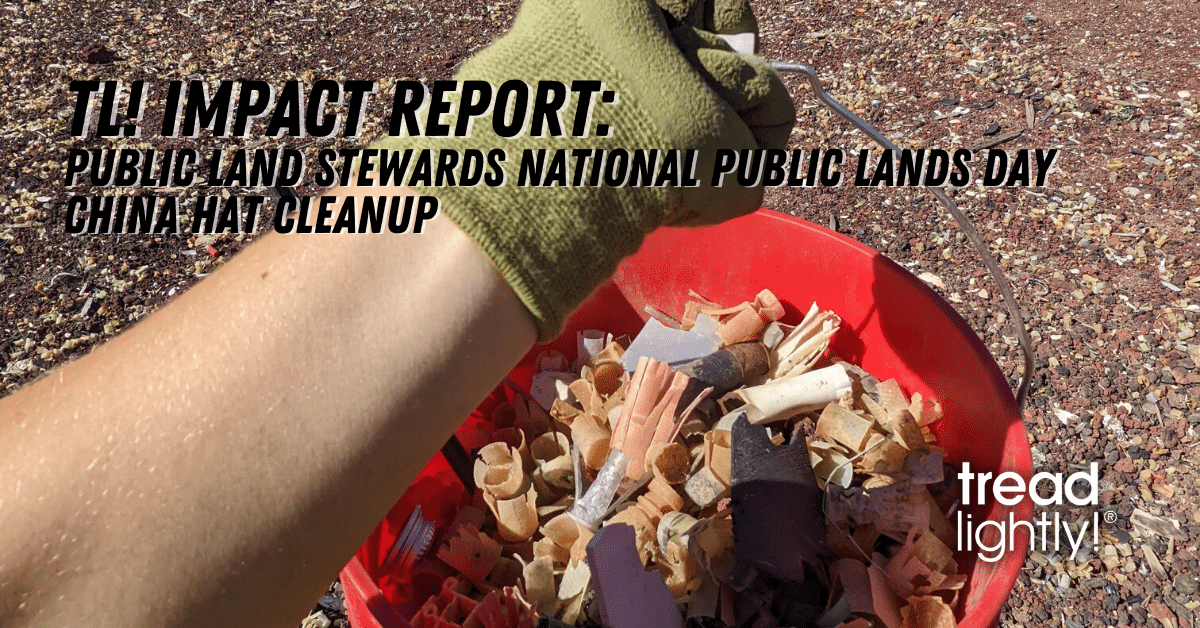 04 Oct

Tread Lightly! Impact Report: Public Land Stewards NPLD China Hat Cleanup

Project: Public Land Stewards NPLD China Hat Cleanup
Location: Deschutes National Forest, Oregon

Description: On September 24, 2022, Public Land Stewards from Bend, Oregon, hosted a National Public Lands Day Cleanup in the China Hat area on the Deschutes National Forest with support from onX Offroad and Tread Lightly! Together, 130 volunteers removed 77,000 pounds of trash from the area, making a huge positive impact on the area.

This is PLS Bend's second cleanup in the area since July. Between the two cleanups, volunteers have removed nearly 210,000 pounds of trash helping to protect access to dispersed camping, hunting, OHV in the Deschutes National Forest.

Thank you to the following partners for supporting this project:
Public Land Stewards
US Forest Service
onX Offroad
Bend Breakfast Burritos
Les Schwab
And many more!
"On National Public Lands Appreciation Day we saw a community come together to preserve our public lands so they stay accessible for all user groups. In total more than 800 volunteer hours moved 41,000 pounds of trash, and 36,000 pounds of abandoned vehicles from the National Forest just south east of Bend, Oregon. The Public Land Stewards appreciate the support from Tread Lightly!, and the sweat equity they provided in leading a large crew of volunteers at Cabin Butte."-Brent Baker, Public Land Stewards
Want to get involved in your own project? Apply for a grant or check out the other projects at treadlightly.org.