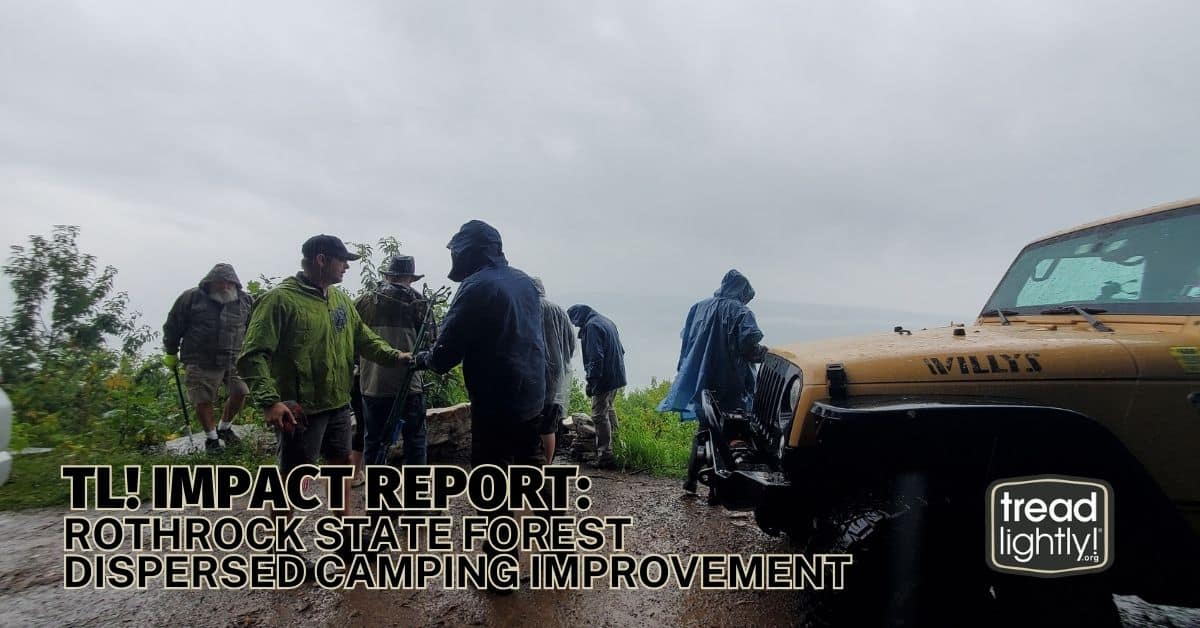 31 Aug

Tread Lightly! Impact Report: Rothrock State Forest Dispersed Camping Improvement

Project: Rothrock State Forest Dispersed Camping Improvement
Location: Pennsylvania

Description: On August 10, 2023, 15 attendees of the Mid Atlantic Overland Festival volunteered to leave dispersed camping sites at Rothrock State Forest better than they found them. Together the volunteers removed 850 pounds of trash from campsites, vistas and trailside areas, along with building materials dumped at a fire tower site. Volunteers also removed five illegitimate firepits and downsized one large pit to a more manageable size to help protect the area from potential wildfire danger. In total, 22 miles of the state forest were improved.

Thank you to the partners who made this possible:
Pennsylvania DCNR Bureau of Forestry
Main Line Overland
Ridgeback Guide Service
Go Fox Adventures
Purple Lizard Maps
Midland Radios
"The Rothrock State Forest Cleanup Project holds a special place in my heart, as this is where my outdoor adventures began. Working with Tread Lightly! gives me hope that future generations can create their own unforgettable memories in this pristine wilderness. Here at Main Line Overland, we are dedicated to preserving Pennsylvania's states forests with these forest fire prevention and cleanup projects."-Joe Kolarik, Main Line Overland
"Rothrock State Forest is near and dear to our hearts – it was the very first Purple Lizard Map way back in 1997, and we live in an 1850s era log cabin less than a mile from the Rothrock State Forest boundary. We have been driving, riding motorcycles, hiking, biking and camping in this forest for over 40 years! When Tread Lightly! organized a cleanup of our home forest we were more than happy to participate. It was an honor to be a part of this group and give back to the forest that has given us so much joy over the years."-Mike Hermann, Purple Lizard Maps
"Teaming up at events like the Mid Atlantic Overland Festival to give back is essential in keeping motorized recreation sustainable. Tread Lightly! projects in conjunction with overland and off-road events help to spread the word on education and opportunities to help the public lands that we recreate in. This project brought together PA DCNR, Mid Atlantic Overland Festival, Purple Lizard Maps, Main Line Overland, Ridgeback Guide Service and many volunteers to clean up campsites and vistas in Rothrock State Forest. Giving back to public lands that are stretched in budgets and time to get to these projects is not only helpful but essential in keeping our public forests clean and sustainable for all."-Ron Harrington, Ridgeback Guide Service
Want to get involved in your own Tread Lightly! project? Find upcoming activities, events and grant opportunities at treadlightly.org.