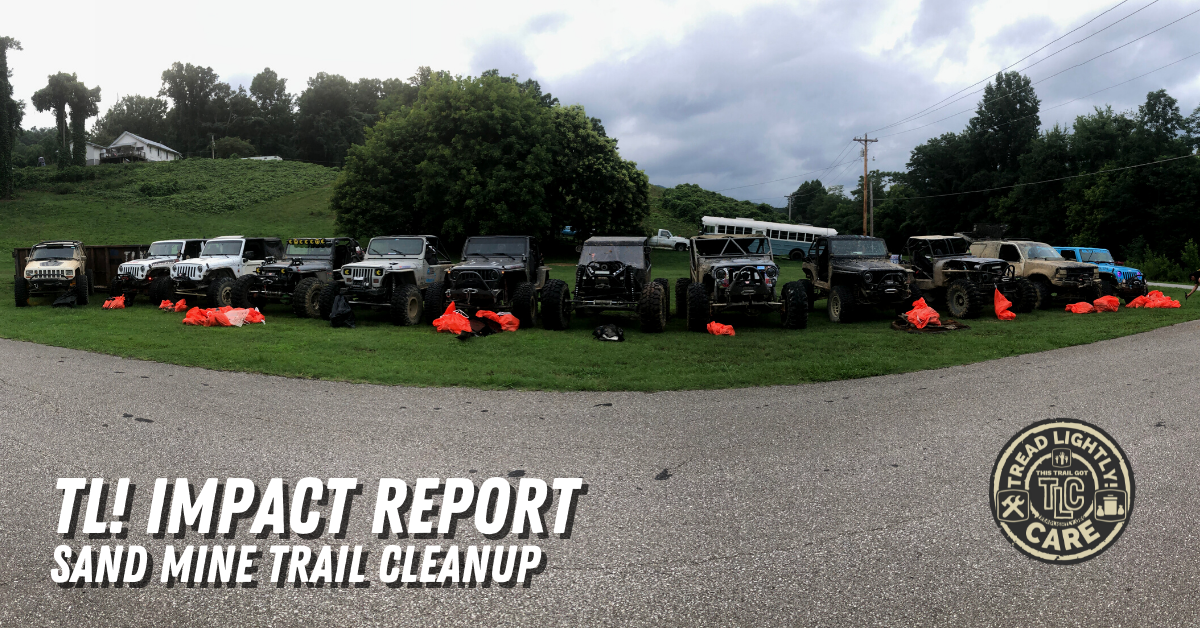 12 Jul
Tread Lightly! Impact Report: Sand Mine Trail cleanup
Project: Sand Mine Trail cleanup
Location: Caryville, TN
Description: On July 9, 35 volunteers joined together to clean up the Sand Mine Trail area near Caryville, TN. This project was organized and hosted by Flex, Rocks and Rollovers with support from Tread Lightly! and other off-road industry partners. Together, volunteers removed 43 bags of trash and an assortment of abandoned vehicle parts from the area totaling 1,850 pounds of trash and 8 miles of trail improvement. Thank you to these incredible volunteers and partners for supporting and improving Tennessee off-roading trail access.
Thank you to our partners who supported this project: Flex Rocks and Rollovers, Tom Wood's Custom Drive Shafts, HP Tuners, BFGoodrich Tires, Smittybilt, Power Tank, Fly Offroad, 4Wheel Parts, Factor 55, Rock Krawler Suspension and the Cambell Country Litter Control Department.
"It was an honor to work with Tread Lightly!, Flex, Rocks, and Rollovers, and all of the volunteers to clean up an area I'm so attached too!! The event was a huge success. Thank you to everyone involved, we were able to make a huge impact on the trail!"-Jason Vanover-Flex, Rocks, and Rollovers
"The trails that wrap around the Sand Mine are rich with history, and remnants of the sand mining operations still exist today. It was such an awesome day seeing so many volunteers show up for what was forecasted to be a very rainy day, including volunteers who came from Ohio! Thank you to Marvin, Jason and the gang from Flex, Rocks and Rollovers for organizing this event and helping to keep trails like these open and accessible for generations to come."-Lowell Eckart, Tread Lightly! Program Manager
Want to get involved in your own Tread Lightly! project? Find upcoming activities, events, and grant opportunities at treadlightly.org.