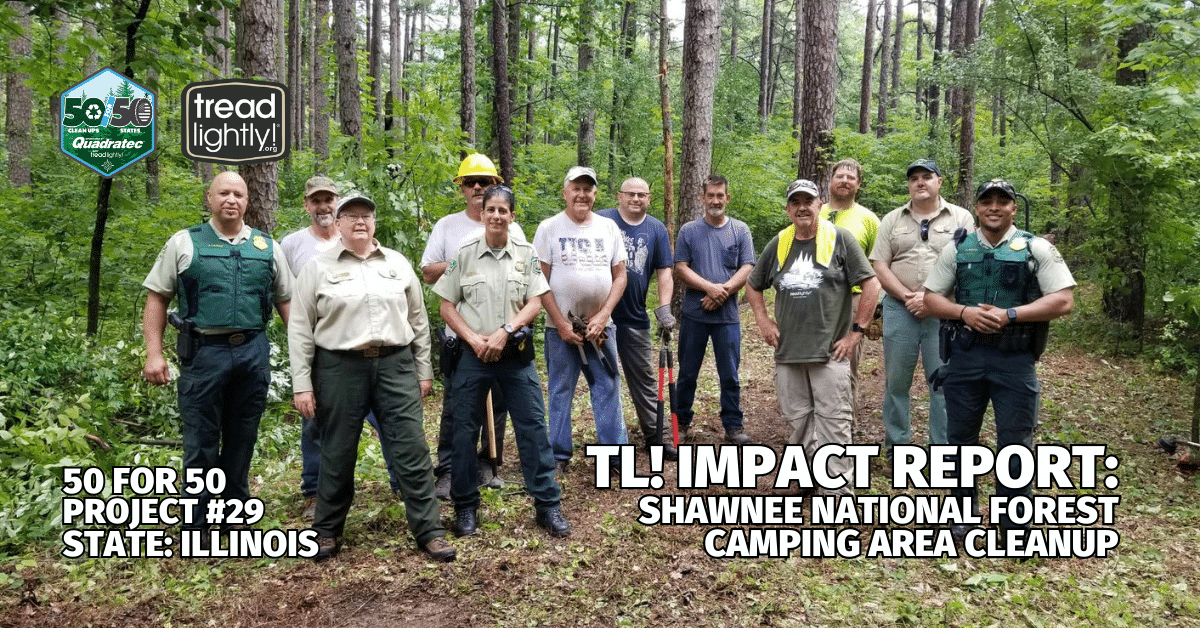 28 Aug

Tread Lightly! Impact Report: Shawnee National Forest Camping Area Cleanup

Project: Shawnee National Forest Camping Area Cleanup
Project #29/50
State: Illinois

Description: This project was funded by the Quadratec 50 for 50 Initiative. Together with Tread Lightly!, Quadratec has committed to fund a project to improve off-road trails and public lands in each state over 24 months.

On July 15, 2023, 12 volunteers gathered in the Shawnee National Forest in Illinois to reopen dispersed camping sites. In total, 15 dispersed camping sites were reopened at Teal Pond.

Together they cleaned out brush from dispersed camping sites that had been closed for over a decade, graded and filled road surface with 12 tons of gravel to promote proper drainage, and removed an old foot bridge and waste asphalt from sites. In total, volunteers removed 2,200 pounds of waste from the area.

Thank you to the following partners for their support:
Quadratec
Jeep'n Shawnee
Shawnee National Forest- Hidden Springs Ranger District
Topo Trek Overland
"Partners and volunteers play a huge role in the mission of the Shawnee National Forest. Increasing our capacity to improve habitat and recreational experiences would not be possible without them. Volunteering provides an opportunity for individuals to participate in efforts to improve portions of the forest that they care deeply about. I think it is very rewarding meeting and working directly with members of our communities and building relationships that can last a lifetime. A great example of this recently was with the dispersed camping improvements that occurred at Teal Pond. Volunteers and a partner showed up, put in the work and an area was improved for dispersed camping. This would not have happened without their help."-Dennis Wilson, District Ranger, Hidden Springs and Mississippi Bluffs Ranger Districts, Shawnee National Forest
"This was an amazing example of how positive conservation efforts by committed volunteers can have a substantial impact on recreation opportunities on public lands. These dispersed campsites were closed due to lack of maintenance over a decade ago and had the members of Jeep'n Shawnee not stepped in, they would still be closed today. Tread Lightly! and the Quadratec 50 for 50 Initiative were able to bring some resources into this effort to amplify the work of an already engaged group and open these sites up for future generations to enjoy. We look forward to working with them again in the very near future!" -Scott Ammerman
"Our goal as a Jeep group helping Shawnee National Forest is to educate the Jeeping public to the rules and regulations of the National Forests, as well as to secure our rights and privileges to these areas for future generations to come. It is a true privilege to be a partner in service with the United States Forest Service and to be able to represent our Jeeping community." -Joe Stanthoff, President, Jeep'n Shawnee
Want to get involved in your own Tread Lightly! project? Find upcoming activities, events and grant opportunities at treadlightly.org.