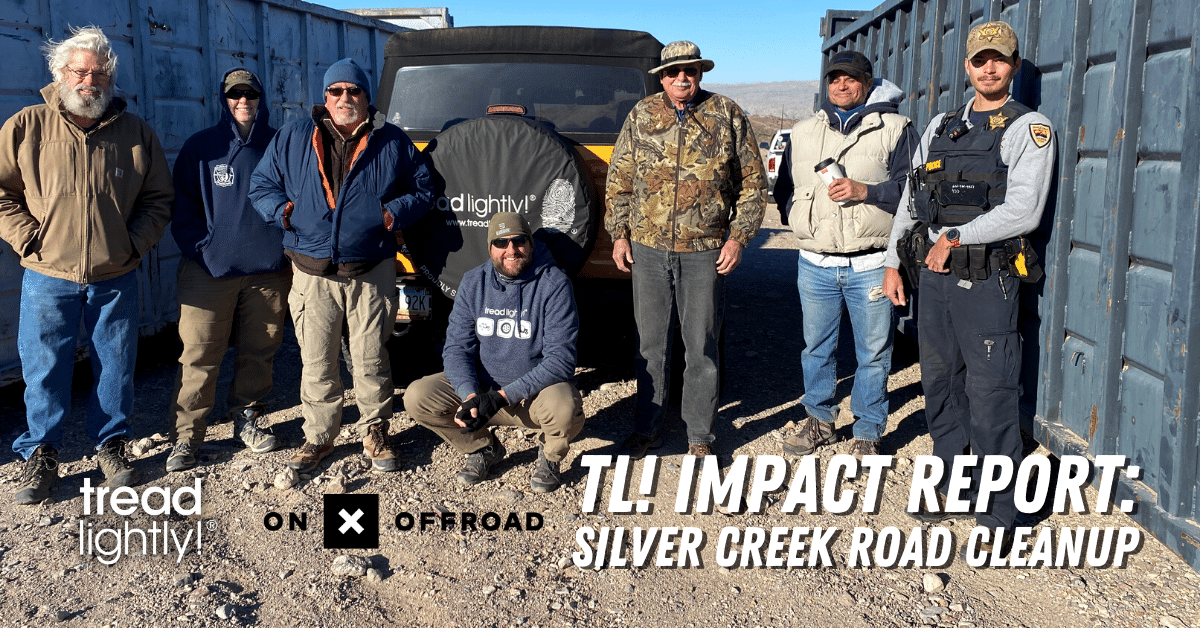 29 Nov

Tread Lightly! Impact Report: Silver Creek Road cleanup

Project: Silver Creek Road Cleanup
Location: Bullhead City, Arizona

Description: On November 19, 2022, seven volunteers along with representatives from BLM and AZ Game and Fish gathered to clean up the Silver Creek Road area on the east side of Bullhead City, AZ. Together, the volunteers braved high winds and bad weather to remove 4,220 pounds of trash from public lands. The accumulated waste removed from a roughly five-mile area and consisted of everything from tires and target shooting debris to household items and furniture.

This cleanup was made possible by onX Offroad, which funded the dumpsters critical to complete this project.

Representatives from the Bullhead 4 Wheeler club, Arizona State Association of 4 Wheel Drive Clubs, Arizona Game & Fish Department, City of Bullhead City, and Bureau of Land Management also assisted.

Thank you to the partners who made this possible:
-onX Offroad
-Bullhead 4 Wheeler
-Arizona State Association of 4 Wheel Drive Clubs
-Arizona Game & Fish Department
-City of Bullhead City
-Bureau of Land Management—Kingman Field Office

"Despite an incredible wind day, this great group of volunteers that came out did an amazing amount of positive work for BLM and the off-road community. Giving back like this is key in keeping our public lands open to motorized recreation for years to come."-Matt Caldwell, Tread Lightly!

"Conserving the health of our trails takes a collaboration of strengths from both businesses and individuals. We believe it's our responsibility as a company to protect the places we wouldn't want to live without. Together, onX and Tread Lightly! are able to positively impact the motorized community and the roads we cruise down, one project at a time."-Becky Marcelliano, onX Offroad

"Partnering with organizations like Tread Lightly! that can leverage the resources of corporate sponsors and seek out a wider range of volunteers over various social media outlets increasing the BLM's ability to get cleanup projects done especially when there are dozens of dump sites across public lands. Prior to partnering with Tread Lightly!, the BLM Kingman Field Office could get about 1 dump site cleaned per calendar year but Tread Lightly! has increased our capacity to complete this work through taking over the planning and recruitment of volunteers. While these tasks may seem minor, it is a huge part of the workload to get these sites cleaned. More importantly, Tread Lightly! is helping the BLM to create a network of volunteers to assist on projects like these and volunteer work is an integral part of managing public lands for multiple use and sustained yield."-Matthew Driscoll, Bureau of Land Management

"Individuals who dedicate their personal time to ensure the health and protection of our public landscapes are not only critical- they are irreplaceable." -Carrie Wostal, Bureau of Land Management

Want to get involved in your own Tread Lightly! project? Find upcoming activities, events and grant opportunities at treadlightly.org.