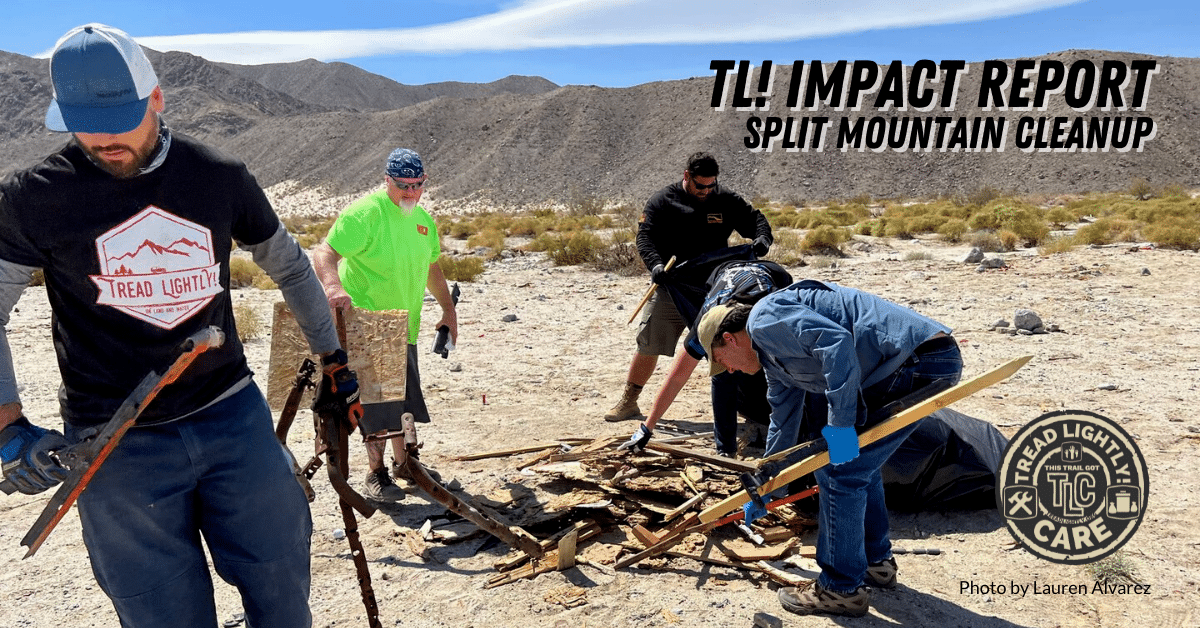 12 Apr

Tread Lightly! Impact Report: Split Mountain Cleanup

Project: Split Mountain Cleanup
Location: Ocotillo Wells, CA

Description: On March 19, 2022, 15 volunteers gathered to clean up the Split Mountain OHV and shooting sports area in Ocotillo Wells, California. Together, volunteers filled a 40-yard dumpster, removing 3.24 tons of trash from the area. This project was funded and supported by Milestar Tires with additional support from the BLM El Centro Field Office and Tread Lightly!

Thank you to the volunteers who showed up to do their part to leave this area better than they found it.

"This was a great opportunity for off-road enthusiasts and other recreationists to lead by example to clean an area of regular, high impact. Thanks to coordination by Tread Lightly! and the BLM El Centro Field Office, we were able to fill a 40-yard container with trash in a little over 4 hours, only stopped due to not having any more space for the trigger trash. I'd like to thank local residents, Motive Gear, AccuTune Offroad, and the Iron Door Bar for their staff and support at this clean up."-Martin Castro, Milestar Tires

"Tread Lightly! appreciates when corporate partners, like Milestar Tires, continually support public lands through cleanups and trail maintenance collaborations." Mindie Walkoviak, Tread Lightly!

Want to get involved in your own Tread Lightly! project? Find upcoming activities, events and grant opportunities at treadlightly.org.