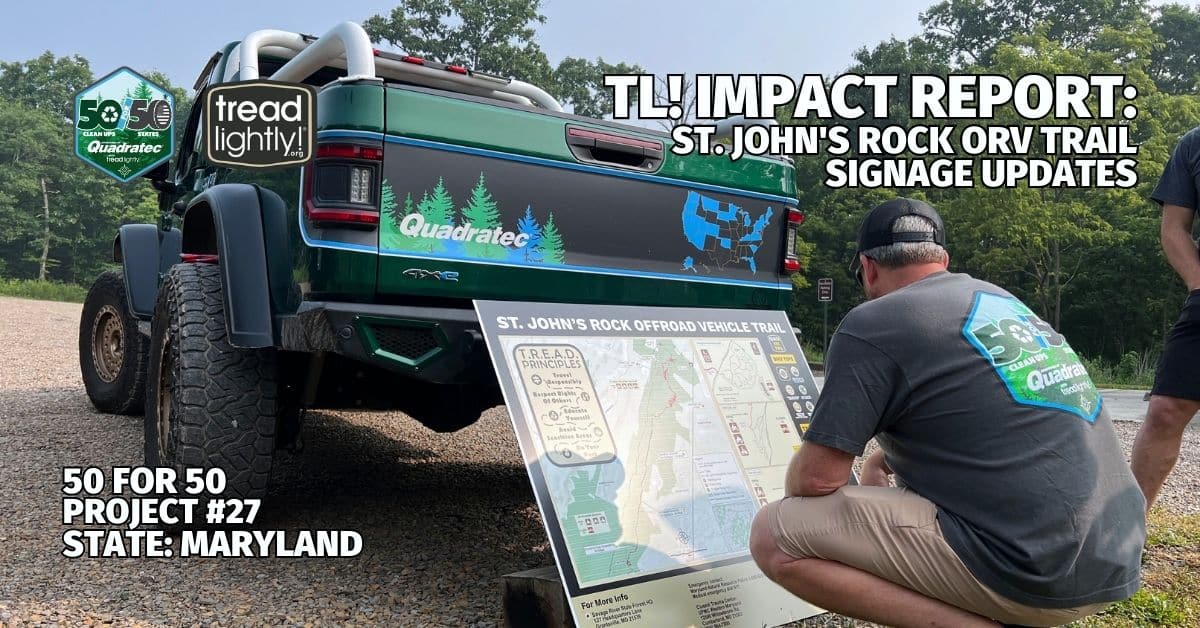 24 Jul

Tread Lightly! Impact Report: St John's Rock ORV Trail Signage Updates
Project: St John's Rock ORV Trail Signage Updates
Project #27/50
State: Maryland
Description: This project was funded by the Quadratec 50 for 50 Initiative. Together with Tread Lightly!, Quadratec has committed to fund a project to improve off-road trails and public lands in each state over 24 months.
On June 29, nine volunteers gathered at the St. John's Rock ORV Trail in Savage River State Forest in Maryland to update signage in the area. The volunteers installed trails signage, assurance markers, and a new kiosk sign with map updates.
Thank you to the following partners for their support:
Quadratec
Maryland Office of Outdoor Recreation
Maryland Forest Service
Maryland Park Service
"The vast majority of employees here at Quadratec are outdoor enthusiasts, not just motorized offroad, but camping, hiking, fishing, kayaking, and hunting, just to name a few. We want to make sure the public lands are maintained and improved so we have somewhere to enjoy all these hobbies we love so much. Any chance we have to give back to public lands, we jump on it." -Eric Ammerman, Quadratec Director of Content
"We thank Tread Lightly! for choosing the Maryland Forest Service as a Quadratec 50 for 50 project partner, which is a grant program that seeks to complete one stewardship project in each state that enhances or improves OHV or public land access. The updated kiosk signs and printed materials will help educate our motorized trail users on responsible and sustainable use of OHV trails on Maryland's State Forests."-Anne Hairston-Strang – Acting State Forester, Maryland Forest Service
"Motorized trail recreation has the potential to stimulate the tourism and outdoor recreation economy but only if the activities are conducted with natural resource ethics and sustainability in mind. We thank Tread Lightly! and Quadratec for providing updated trailhead signage and ethical motorized trail use educational materials through the Quadratec 50 for 50 grant program. These types of public private partnerships are key in our efforts to enhance Maryland's Outdoor Economy."-Daryl Anthony – Executive Director, Maryland Office of Outdoor Recreation
Want to get involved in your own Tread Lightly! project? Find upcoming activities, events and grant opportunities at treadlightly.org.