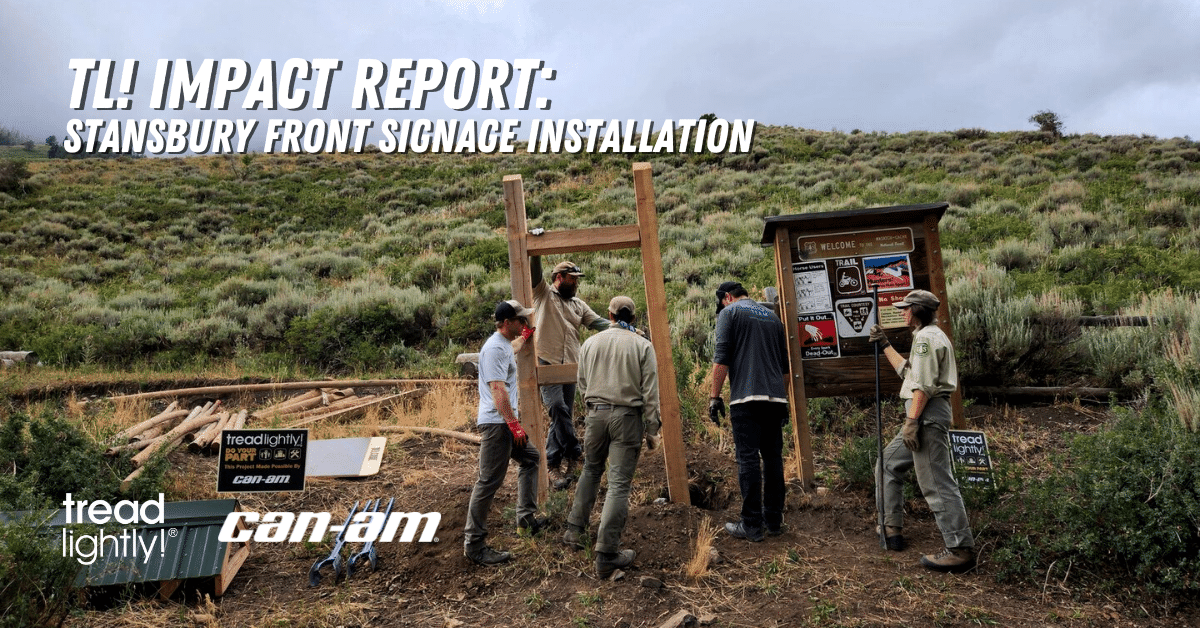 24 Oct
Tread Lightly! Impact Report:
Stansbury Front Signage Installation
Project #4 of 12
Project: Can-Am Stansbury Front Signage Installation
Location: Utah
Description: This project was funded by Can-Am Off-Road. Can-Am has committed to funding twelve trail stewardship projects in the state of Utah in partnership with Tread Lightly! to help maintain and improve access to public lands and off-road trails.
On August 6, 2022, volunteers worked along with the USFS Salt Lake Ranger District and Tread Lightly! to install a new educational signage kiosk at the Stansbury Front singletrack trailhead. A new kiosk was built and new signage with an up-to-date map and Tread Lightly! responsible recreation messaging to help educate riders about how to minimize their impact on the trail was installed. Along with the kiosk installation, the volunteers repaired and rebuilt nearly 150' of buck-and-rail fencing at the trailhead to help better delineate the trail.
The Tread Lightly! Team and USFS staff were also able to deliver supplies to this remote area for future project and repair work.
Thank you to all of the partners that supported this project:
Can-Am Off-Road
US Forest Service, Salt Lake Ranger District
"Thank you to Can-Am for helping us improve trails through stewardship and education throughout Utah. This education empowers off-roaders to take trail conservation into their own hands and keep these amazing trails open for years to come."
-Evan Robins, National Stewardship Manager, Tread Lightly!