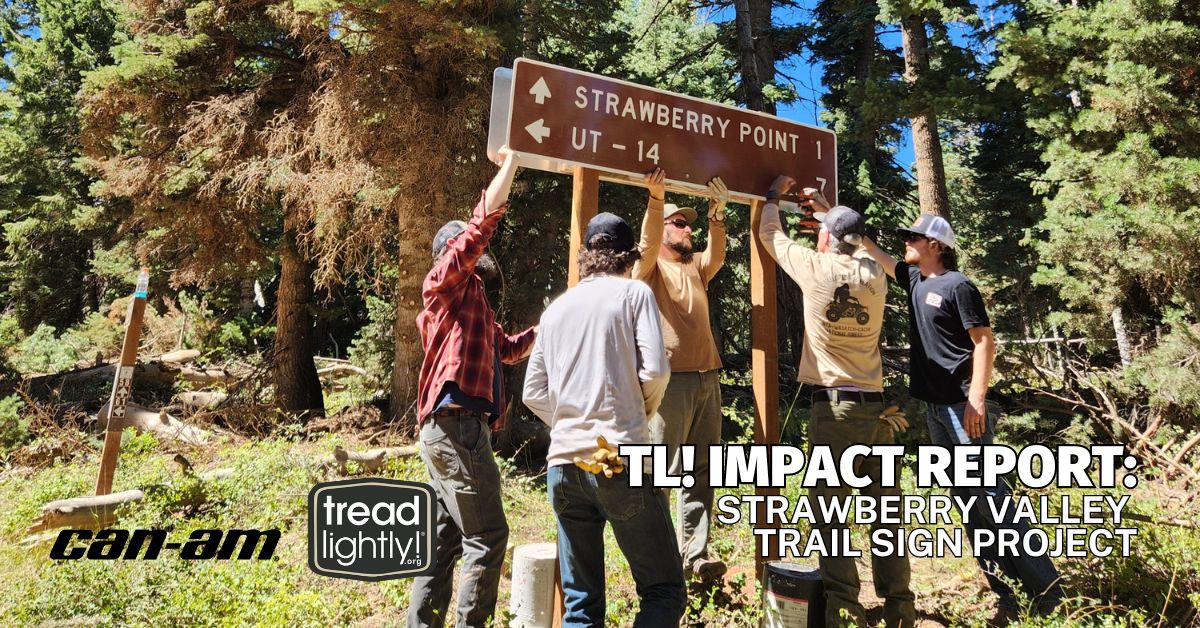 26 Oct

Tread Lightly! Impact Report: Strawberry Valley Trail Sign Project

Project: Strawberry Valley Trail Sign Project
Location: Utah

Description: This project was funded by Can-Am Off-Road. Can-Am has committed to funding trail stewardship projects in partnership with Tread Lightly! to help maintain and improve access to public lands and off-road trails.

On September 7th, 2023, three volunteers worked to install new milage signage along the Strawberry Valley section of the Markagunt Trail System in the Dixie National Forest. With the help of a Can-Am Defender, the Tread Lightly! team was able to haul new signage to the installation points. The focus of the work was around the 72'' trails in the area and the signage will help riders navigate better though this captivating landscape. Along with the signage installation, volunteers also cleared overgrown trails and removed old fire signage.

Thank you to the partners who made this possible:
Can- Am
Dixie National Forest
D&P Performance

"The Strawberry Valley project consisted of purchasing and installing some new signs that direct OHV traffic to Strawberry Point on an alternate route that is a much better ride to get to the destination. The "main" route goes through a moderately developed community. If we can direct the OHV traffic to use the alternate/preferred route, it will alleviate some of the conflict created from OHV dust, noise and traffic in the community.
This project boils down to suggesting a better route to reduce OHV impacts on surrounding communities, which is what tread lightly is all about."-Jess Hancock, US Forest Service
"Thank you to our partner Can Am. The Defender series line of UTV's proved itself as a workhorse again by hauling our material to Strawberry Point. Thank you to the Dixie National Forest and our volunteers. Without the support of the community, these trail conservation projects wouldn't make such an impact for our public lands." -Kabe Wolf, Utah Program Manager, Tread Lightly!
"Today we installed much needed mileage signs in an area that can be a confusing web of public and private roads. These signs will give riders the reassurance they need to get to their destination and back home safely. Thank you Can Am for your help in protecting this amazing trail system and to all the volunteers that dedicated their day to enhancing the trail for all to enjoy." -Evan Robins, National Program Manager, Tread Lightly!
Want to get involved in your own Tread Lightly! project? Find upcoming activities, events and grant opportunities at treadlightly.org.