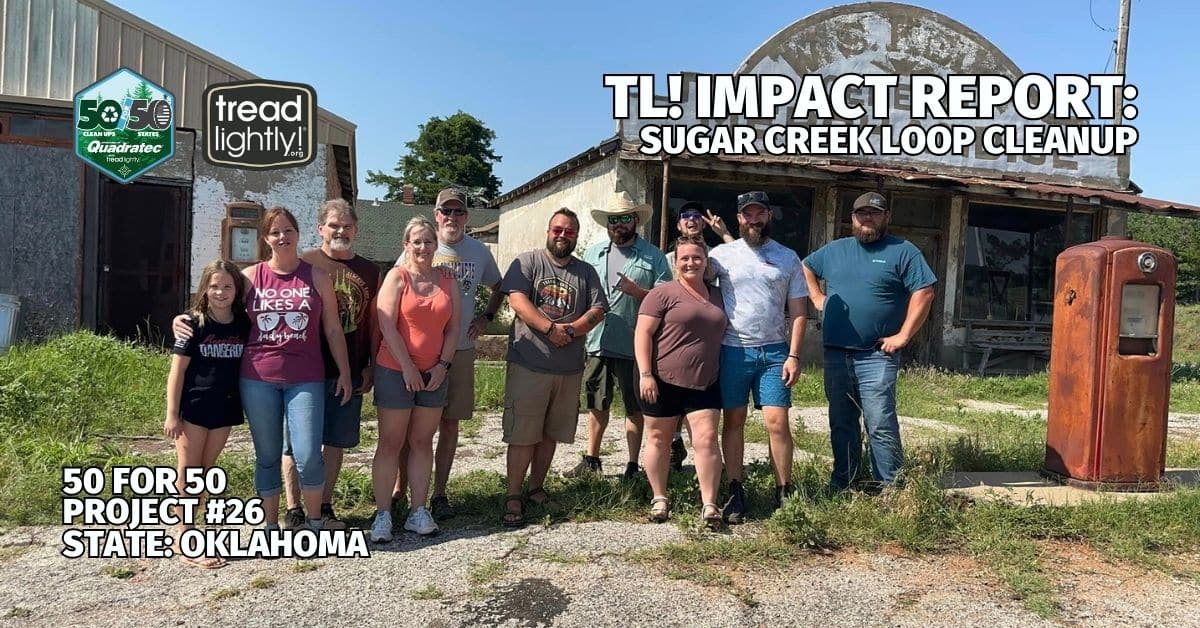 18 Jul

Tread Lightly! Impact Report: Sugar Creek Loop Cleanup

Project: Sugar Creek Loop Cleanup
Project #26/50
State: Oklahoma
Description: This project was funded by the Quadratec 50 for 50 Initiative. Together with Tread Lightly!, Quadratec has committed to fund a project to improve off-road trails and public lands in each state by December 2023.
On June 24, 11 volunteers gathered for a trail cleanup along Sugar Creek Loop trail in Oklahoma. Together they improved 75 miles of trail and removed over 600 pounds of trash from the area, (including multiple tires, a BBQ grill, a plastic 55 gallon drum, lawn furniture, a kiddie pool, and countless cans, bottles, and to-go containers.
Thank you to the following partners for their support:
Quadratec
wrapprosok.com
Overland Spices
onX Offroad
"Our group had an amazing time cleaning up the Sugar Creek Loop. We all felt it was very important to do our part to take care of the areas that we all go out to and enjoy. This also helps to show the local communities that we care about these areas and will leave it better than we found it." Rob Kroupa, volunteer
"Tread Lightly! appreciates the efforts of local volunteer groups all over the country that make these projects come to life. Dedicated volunteers are the lifeblood of conservation, and we are so happy to have supported the Sugar Creek Loop through the generous funding of Quadratec."-Danielle McNiven, Tread Lightly!
Want to get involved in your own Tread Lightly! project? Find upcoming activities, events and grant opportunities at treadlightly.org.