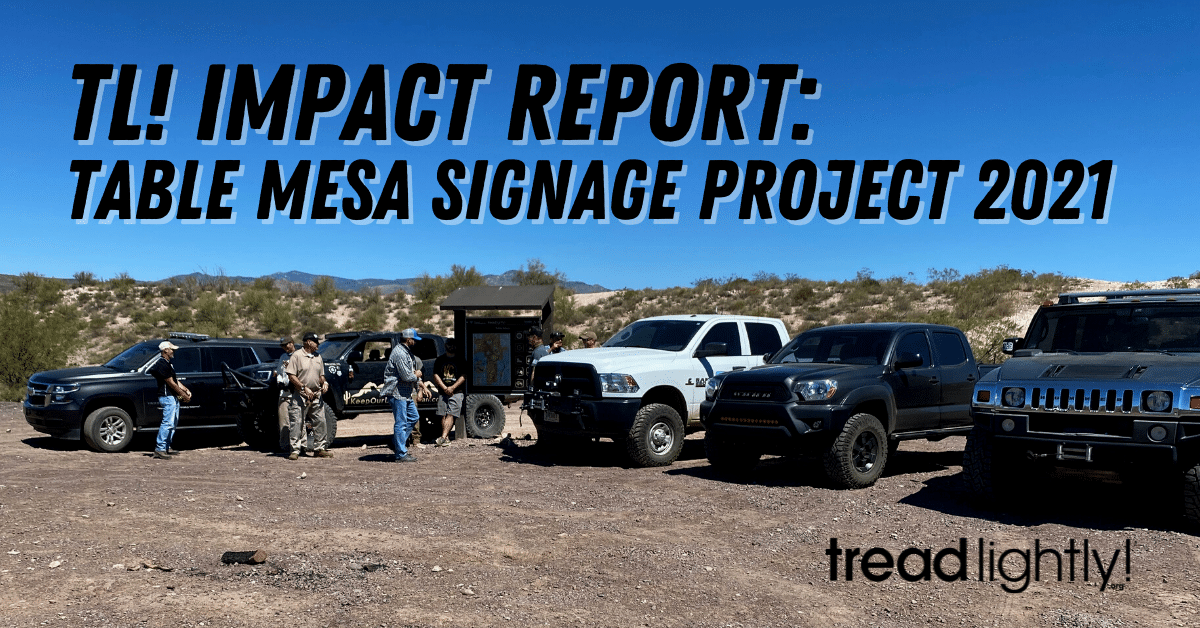 17 May

Tread Lightly Impact Report: Table Mesa Signage Installation

Project: Table Mesa Signage Installation
Location: Table Mesa Recreation Area, AZ
Description: On March 29, 2021 Tread Lightly! employees, partners and volunteers installed educational signage at the Table Mesa Recreation Areas in Arizona

Thanks to volunteer and partner support, Tread Lightly! was able to install 12 new educational signs at the Table Mesa Recreation Area to teach visitors how to minimize their impact and tread lightly when recreating. The kiosk panels display open OHV and vehicle routes, current trails and trail ratings, and responsible recreation tips.

Table Mesa is a very popular off-roading, camping, hiking, and hunting location along the I-17 corridor just north of Phoenix, Arizona. With easy access from the Phoenix Metro Area and its breathtaking views of the Sonoran Desert the area has becoming a destination riding location for locals and visitors alike. Table Mesa is the access point to several challenging trails both motorized and non-motorized. As this unique landscape has increased in popularity the need for resources to manage the area and sustain the access has risen as well.

This year, partners from Overland Expo, KC HiLites, Keep Our Desert Clean and Fieldcraft Survival joined Tread Lightly! and the Bureau of Land Management on the trail to support the project and ensure future access to Table Mesa.

"Tread Lightly is a great partner. They have a strong influence on groups and individuals that care about keeping public lands clean and enjoyable throughout the country, but especially in southern Arizona. This has helped the Bureau of Land Management create meaningful relationships with these groups and individuals. Working together we can keep public land recreation opportunities open and expand those into the future." -Braden Yardley, Arizona Bureau of Land Management

Want to get involved in your own Tread Lightly! project? Find upcoming activities, events and grant opportunities at treadlightly.org.