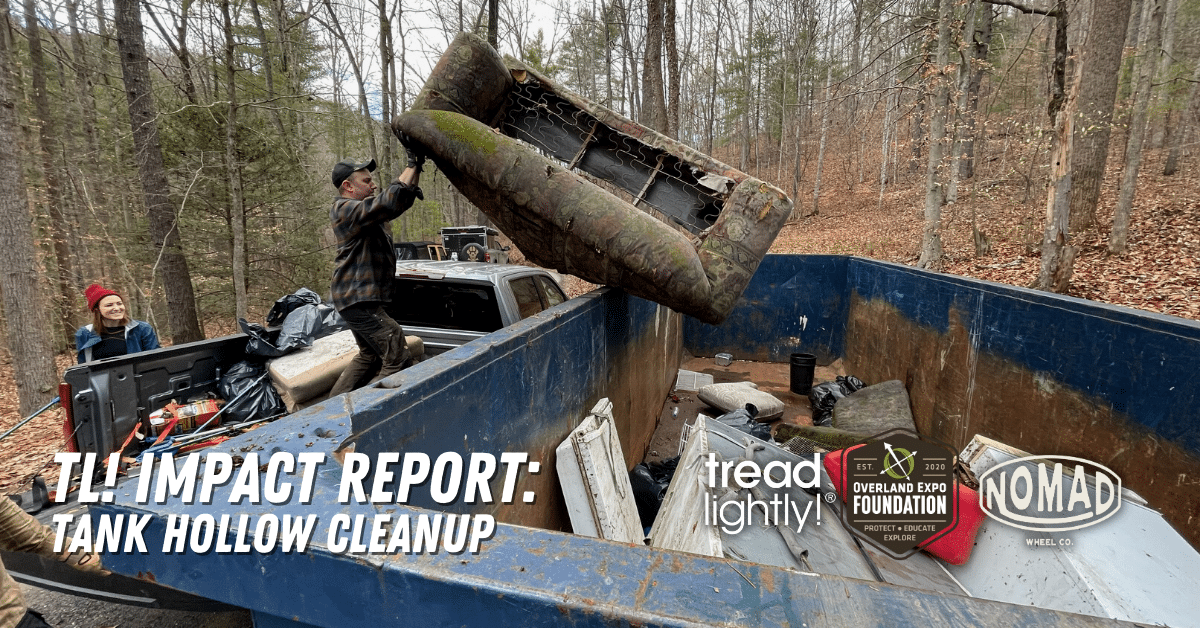 13 Dec
Tread Lightly! Impact Report: Tank Hollow Cleanup
Project: Tank Hollow Cleanup
Location: Virginia
Description: The Tank Hollow Cleanup project is one of four Tread Lightly! stewardship projects funded by the Overland Expo Foundation and Nomad Wheels in conjunction with Overland Expo events. The Overland Expo Foundation is dedicated to creating partnerships with people and organizations that protect and promote the interests of the overlanders, helping provide education and expert resources that enrich the community, and encouraging responsible 4x vehicle- and motorcycle-based exploration of our world.
On December 3, 2022, 7 volunteers cleaned up Tank Hollow Road and campsites in the Jefferson National Forest. The volunteers cleaned up just under a ton of trash from the trail, tributary creek and dispersed campsite that were being used as illegal dump sites. The trash included a fridge, chest freezer and two couches. The volunteers also dismantled two illegal fire pits.
In total, the volunteers removed 1,920 lbs of trash from the forest, doing their part to protect this area and leave it better than they found it. Finally, they installed six signs and two Carsonite dispersed camping posts to help educate other outdoor users who visit the forest in the future. For the second year, GFL Environmental hauled away the trash Tread Lightly! volunteers removed from Jefferson National Forest and covered the cost in full.
The East Coast Overland Adventures crew covered the cleanup in their own blog, check it out here
Thank you to the following partners for their support:
-Overland Expo Foundation
-Nomad Wheels
-Go Fox Adventures
-East Coast Overland Adventures
-GFL Environmental
"It was an honor to help clean our national forest! It was so rewarding to see a noticeable difference in just one afternoon. I can't wait for the next Tread Lightly! meet-up!"-Cory Stoner, Volunteer
"Though I always make it a point to leave trails and campsites better than I found them, doing my first clean-up with Tread Lightly really fulfilled that desire to make a noticeable impact.  Despite best efforts, it's simply not possible for my wife and I to pack out tires, appliances, and some of the more "questionable" items that litter our forests and public lands.  With the power of TL! behind a group of like-minded lovers of open lands, however, I was blown away by what we could do.  Huge kudos to the USFS coordinator, Plinio Beres, for getting dirty with us while directing us to the most impacted areas.  His enthusiasm and appreciation were evident which only fueled our efforts.  I can't wait to do more events and pull more people into Tread Lightly!'s orbit.  It's not enough to simply not litter and clean up after yourself, unfortunately."-Casey Arnold, Volunteer