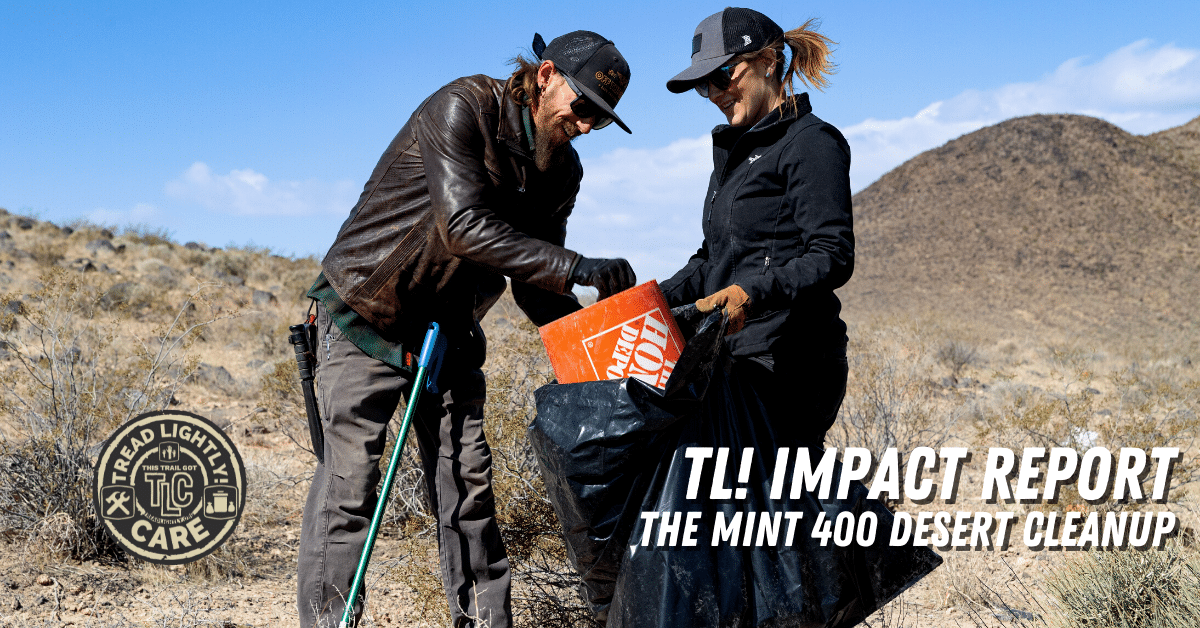 09 Mar

Tread Lightly! Impact Report: The Mint 400 Desert Cleanup

Project: The Mint 400 Desert Cleanup
Location: Jean, NV
Description: On March 5, 2022, dozens of volunteers gathered ahead of the 2022 Mint 400 Desert Race to remove illegally dumped trash from the desert spectator area in Jean, Nevada. 16.41 tons of trash was removed from the desert by off-road and racing enthusiasts who volunteered.

This was the Mint 400's sixth annual desert cleanup event in conjunction with the race. The project was supported by BFGoodrich Tires, Republic Services and Tread Lightly! The results of the 2022 edition of the event allowed the partnership to surpass 125 tons, or 250,000 pounds, of waste removal from popular areas commonly used for off-road race events and other recreational activity. At least 15 tons of trash have been collected in each of the past five years, illustrating both the substantial amount of work still to be done to keep the desert clean, and the importance of the Desert Cleanup in maintaining these beloved natural spaces.

"We're incredibly grateful to both our partners at Republic Services and our fleet of amazing volunteers for their efforts in Saturday's Mint 400 Desert Cleanup. Over the years, sustainability efforts have become an essential part of our planning around the Great American Off-Road Race, and the support of Republic Services has been crucial to our efforts to leaving things better than we've found them, from our time downtown at the Mint 400 Off-Road Festival to our time on the race course itself. Every bit of trash removal counts as we look to keep our race course clean for generations to come to be able to enjoy. As we always say, Don't Trash The Desert!"-Matt Martelli, Mint 400 CEO  

"This cleanup is a testament to the fact that many off-roaders are responsible land users who are dedicated to leaving these areas better than they found them. Thank you to The Mint 400 for continuing this important work for it's sixth year and embodying what it means to Tread Lightly."-Matt Caldwell, Tread Lightly! Executive Director

Want to get involved in your own Tread Lightly! project? Find upcoming activities, events and grant opportunities at treadlightly.org.