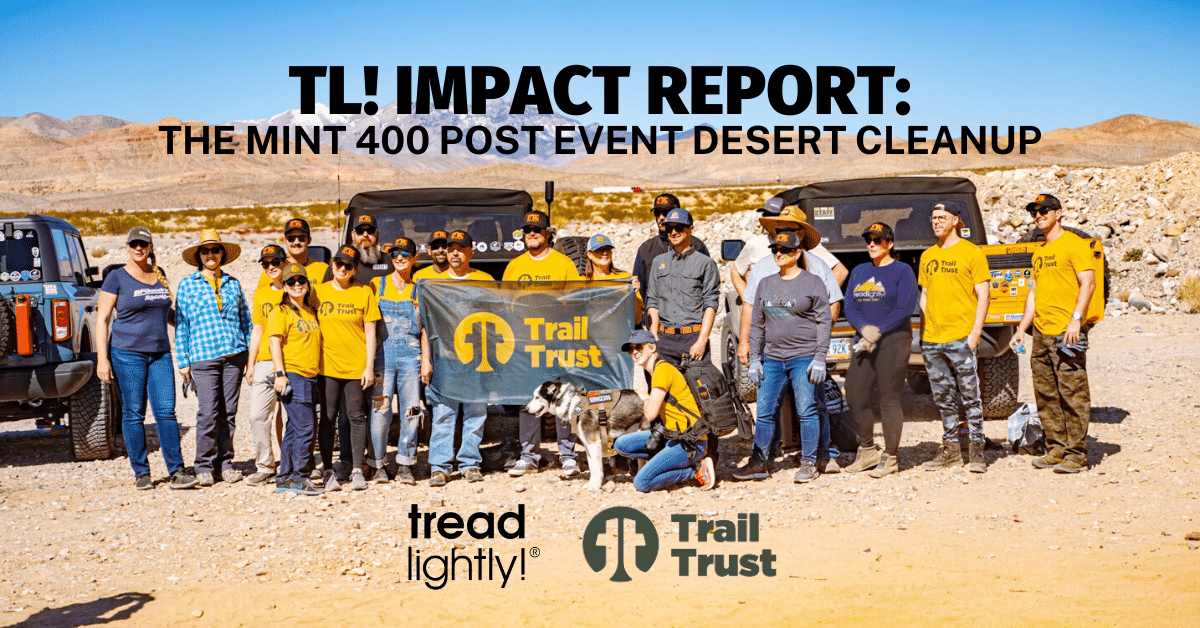 30 Mar

Tread Lightly! Impact Report: The Mint 400 Post Event Desert Cleanup

Project: The Mint 400 Desert Cleanup
Location: Las Vegas, Nevada

Description: For seven years running, The Mint 400 has hosted an annual desert cleanup before the race starts to give back to public lands and improve the area. The 2023 race was no exception, but for this year's event, two cleanups were organized—one before and one after, organized by Tread Lightly! and the FOX Factory Trail Trust teams.

On March 12, 2023, 56 volunteers gathered to helped clean up spectator areas after the 2023 Mint 400 race wrapped up, removing 1,800 pounds of trash from the desert, improving 15 miles of public lands.

Thank you to the partners who made this possible:
FOX Factory Trail Trust
Ladies Off-Road Network
Bureau of Land Management, Las Vegas Field Office
The Mint 400
Bronco Off-Roadeo
Finishline IV Hydration
"We were thrilled to partner with Tread Lightly! on the Mint 400 post-race clean up. Minimizing the environmental impact of outdoor adventuring is a key tenet of Trail Trust. We're grateful to all the enthusiasts who came out and helped preserve our playground to ensure that future generations can experience the thrill of off-road racing."- Amanda Scott, Sustainability and Social Impact Senior Manager at Fox Factory
"This year's Mint 400 Desert Cleanup, in partnership with Tread Lightly!, was a resounding success. Our dedicated off-road volunteers removed 46.56 tons of illegally dumped trash, bringing our seven-year total to 188 tons! Together we are making a difference and protecting OHV access in the Ivanpah Valley for years to come. Thank you to everyone from Tread Lightly! for your support of The Mint 400 and off-road racing."-Josh Martelli, Mint 400
"Bronco Off-Roadeo is proud to be partnered with such a passionate group of outdoor and off-pavement enthusiasts such as Tread Lightly! It's phenomenal to see an organization not only encourage their members to take the time to participate in an event such as the Mint 400 Desert Clean-Up but to have all levels of company leadership pitching in, well, that is truly inspiring!"-Greg Nikolas, Bronco Off-Roadeo
"As a racer I believe it is our responsibility to care for the very land we race upon. Keeping our deserts free of trash and debris will enable our sport to continue to prosper. Every person has a direct impact on how we utilize our recreational areas. My vision is for every racer to assume responsibility and become a steward of the desert. It was my pleasure to help in the cleanup efforts after The Mint 400."-Julie Boyer, Racer
Want to get involved in your own Tread Lightly! project? Find upcoming activities, events and grant opportunities at treadlightly.org.