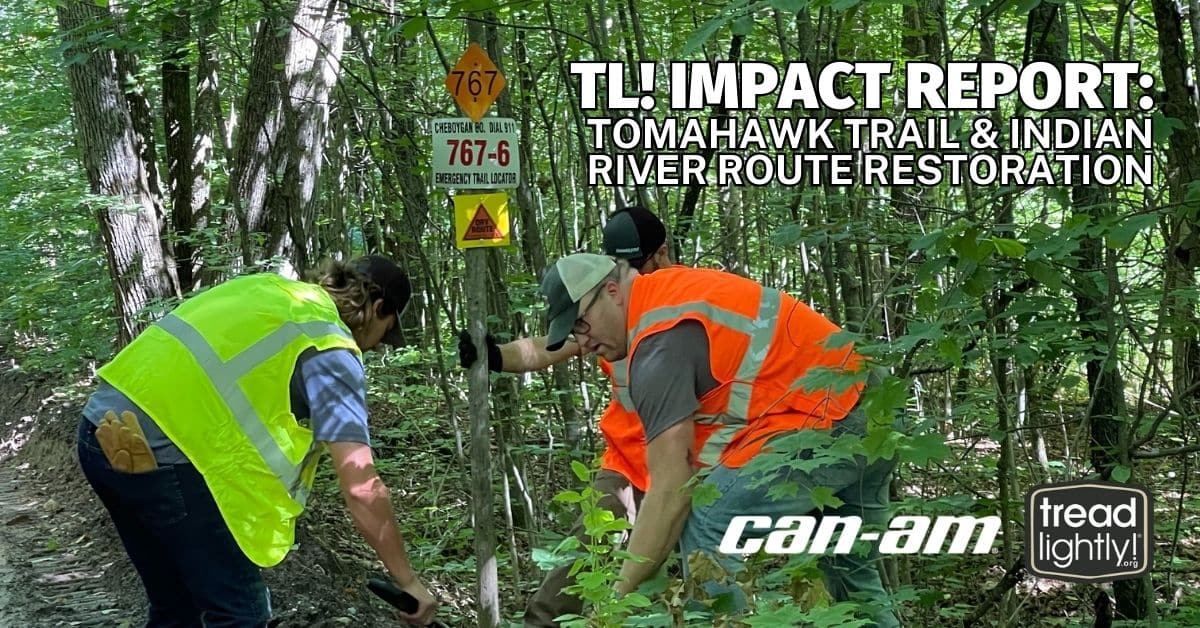 13 Sep

Tread Lightly! Impact Report: Tomahawk Trail & Indian River Route Restoration

Project: Tomahawk Trail & Indian River Route Restoration
Location: Michigan

Description: This project was funded by Can-Am Off-Road. Can-Am has committed to funding trail stewardship projects in partnership with Tread Lightly! to help maintain and improve access to public lands and off-road trails.

On August 31, 2023, eight volunteers assembled to remove illegally dumped trash and perform maintenance on the Tomahawk Trail & Indian River ORV Route in Michigan. The project was organized by Discover 4×4 Adventures in conjunction with Can-Am Off-Road, the Great Lake Four Wheel Drive Association and the Michigan DNR. Volunteers from Burt Lake Marina and Glass City Crawlers also joined in to assist.

Together the volunteers removed nine bags of trash and illegally dumped items including a sofa, mattress, sheets of plywood, livestock containers, 40 large solid cement blocks. Volunteers trimmed back brush, low hanging limbs and removed downed trees. They also reinstalled multiple trail identification, warning and stop signs. In total, volunteers removed 2,085 pounds of trash and improved 36 miles of trail.

Thank you to the partners who made this possible:
Can-Am Off-Road
Discover 4×4 Adventures
Burt Lake Marina
Glass City Crawlers Club
Great Lake Four Wheel Drive Association
Michigan Department of Natural Resources

"Burt Lake Marina decided to send out two of our employees to participate in this project that was sponsored by Can-Am. Being the local Can-Am dealership in the area of this project's location it was very important to show up on behalf of Can-Am and Burt Lake Marina. Our customers hit the local trails on a daily basis, it was a great experience to help out and see where our customers ride!"-Avery West, Burt Lake Marina
"Discover 4×4 Adventures is excited to do our part as frequent trail users and partners of Tread Lightly! We feel it's important to encourage good stewardship of the land and at the same time it feels good to come together as a community to give back."-Keri Porter, Discover 4×4 Adventures
Want to get involved in your own Tread Lightly! project? Find upcoming activities, events and grant opportunities at treadlightly.org.