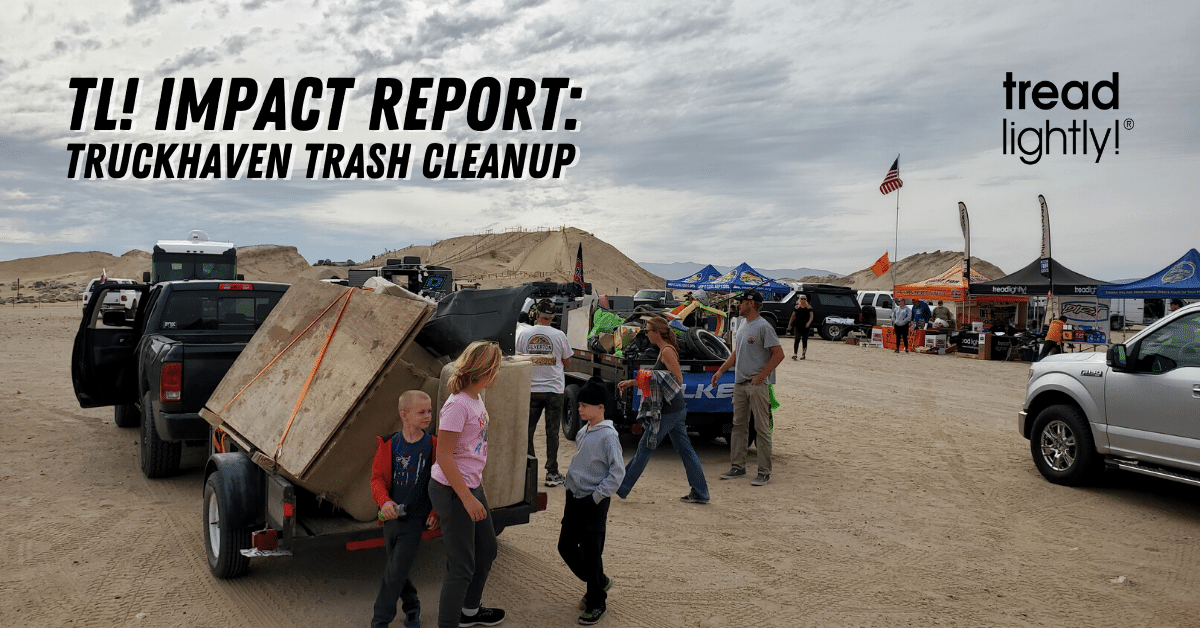 14 Dec

Tread Lightly! Impact Report: Truckhaven Trash Cleanup

Project: Truckhaven Trash Cleanup
Location: California

Description: On Saturday, December 3, 2022, 80 volunteers came together at the Truckhaven 4×4 training area to do their part and leave the Ocotillo Wells SVRA better than they found it. They roamed far and wide, collecting trash leftover from the long Thanksgiving holiday weekend where recreation impacts were heavier. Over the course of 4 hours, the volunteers managed to gather 3,000 pounds of trash, including 12 pallets and 2 sofas. Their efforts were rewarded with lunch by the Tierra Del Sol 4×4 club and a raffle hosted by Clean-Dezert.

Thank you to the partners who made this possible:
SDORC-San Diego Off-Road Coalition
Tierra Del Sol 4×4 Club
Clean-Dezert
Desert Cleanse Project
Dirt Designs
Fox Factory
ORW
South Coast RV
Dirt Design
Napier Outdoor
Crazy Industries
"For our 2022 Truckhaven event, we had the pleasure to link up with 2 other great companies who put on clean-up events in Southern California. This is exactly what our sport revolves around is joining teams and doing our part to keep our public lands open. Without the hard work and dedication put on by SDORC and Desert Cleanse our public lands would be in total disarray. Joining teams allows us to bring unique skillsets together to create a larger impact and take on new areas of the desert where we dont always recreate. Look forward to new and unique collaborations through 2023."-Adam Filbin, Clean-Dezert
Want to get involved in your own Tread Lightly! project? Find upcoming activities, events and grant opportunities at treadlightly.org.