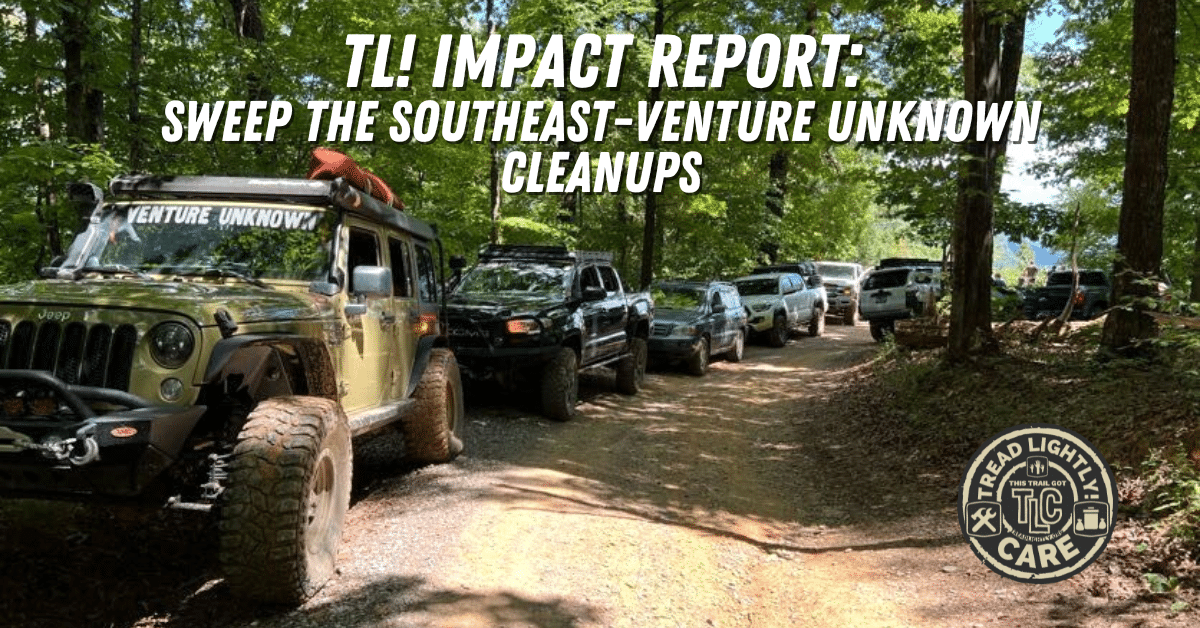 14 Sep

Tread Lightly! Impact Report: Venture Unknown "Sweep up the Southeast" Multi-State Cleanup

Project: Sweep up the Southeast Cleanups
Location: MS, AL, GA, SC, TN, NC, FL

Description: On August 27 and 28, 2022, volunteers joined across seven states to clean up nine trails for the first annual Venture Unknown Sweep Up the Southeast Cleanup event. Together 210 volunteers on 9 teams removed over 12,000 lbs of trash, improving 135 miles of trails across the Southeastern United States.

Volunteers cleaned up the following areas: Desoto National Forest in Mississippi, the Talladega National Forest in Alabama, Earl's Ford in Georgia, Burrels Ford and Sandy Ford near South Carolina/Georgia, Tray Mountain in Georgia Hurricane Creek in North Carolina, Graffitti Rock in North Carolina, Prentice Cooper in Tennessee, and the Citrus WMA in the Withlacoochee State Forest in Florida.

Thank you to the partners that supported this project:
Venture Unknown
Warn Industries
Yotamafia
TEQ Customs
US Forest Service
Withlacoochee State Forest

Want to get involved in your own project? Apply for a grant or check out the other projects at treadlightly.org.
"One fine day, one of our members said "Sean, how cool would it be to have the group divide and conquer a cleanup event for not just one target area, but several??" I said to him, "You know what I love it… Let's do it!"
We immediately went to work organizing team captains to head up what probably was one of the biggest cleanup rides any of us had ever seen! We determined areas most in trouble of being trashed or shut down due to misuse. Every one of us are very passionate about keeping our lands accessible. But we also know that it takes us unifying, it takes effort, and determination. From the idea till the day it came into fruition, we were all excited to get out for some camping, cleaning, and camaraderie! Sweep up the Southeast was born! We had over 200 volunteers sign up to spread out across 9 different forest all over the Southeast! We removed an estimated 12,000 pounds of trash from our forest! From tires to mattresses and everything in between. Over 135 miles of trails are now spotless across 7 states! 
We could not be prouder of the passion our volunteers from Venture Unknown demonstrated during this event. It was such a joy seeing families come out with so much enthusiasm! Passing down to the younger generation how to be good stewards is how we inspire change within our culture! Many have asked me "when we are doing it again? My answer…" Sweep up the Southeast will be an annual event that we all look forward to year after year!" We look forward to the time we don't need to pick up after others but until then we intend to educate and encourage the proper way to enjoy our beautiful public lands! One child, one forest, one beer can at a time! 
We are extremely grateful to the organizations and companies that continue to support and educate the offroad community. We would like to thank Warn Industries, TEQ Customs LLC, Yotamafia, and last but not least Tread Lightly! in all they do!"
-Sean Clark, Venture Unknown