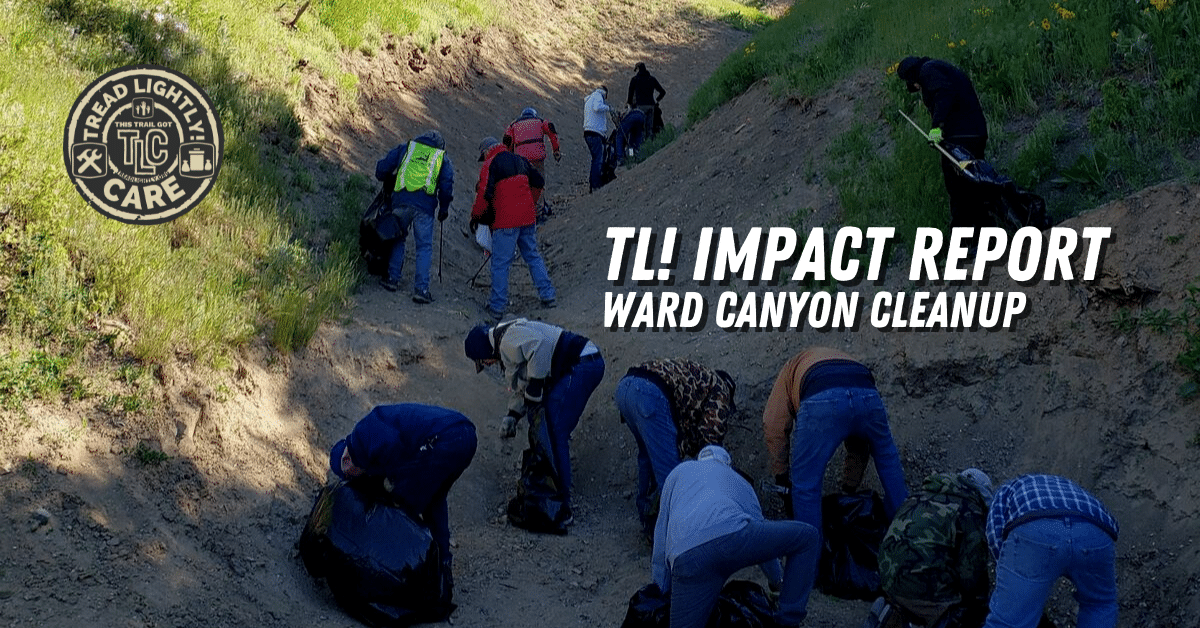 26 Jul

Tread Lightly Impact Report: Ward Canyon Cleanup Project

Project: Ward Canyon Cleanup Project
Location: Bountiful, Utah

Description: On May 21, 2022, 26 volunteers along with 4 Forest Service staff worked on the Old Ward Canyon Rd Corridor in Bountiful, Utah to clean up trash and debris that had accumulated in the canyon over the winter. Together they removed over 1,500 lbs of trash, including nails from burned pallets. Volunteers also improved fencing to help delineate the trail near Buckland Springs.

The project site is near the Tread Lightly! headquarters in North Salt Lake, Utah. Tread Lightly! Stewardship Programs Manager, Evan Robins, began the project with an overview of the Tread Lightly! ethic and a thank you to the volunteers for showing up to help improve this popular OHV area. Many volunteers were members of the Northern Utah Trail Association and giving back to their community trail.

Thank you to the following partners for their support: USDA Forest Service, Northern Utah Trail Riders Association

"Thank you to the US Forest Service and volunteers for their efforts to protect off-road trails in Northern Utah," said Evan Robins, Tread Lightly! Program and Stewardship Manager. "These off-roaders know the value of giving back and keeping trails open and we are proud to have done this work in our own backyard."

Want to get involved in your own Tread Lightly! project? Find upcoming activities, events and grant opportunities at treadlightly.org.