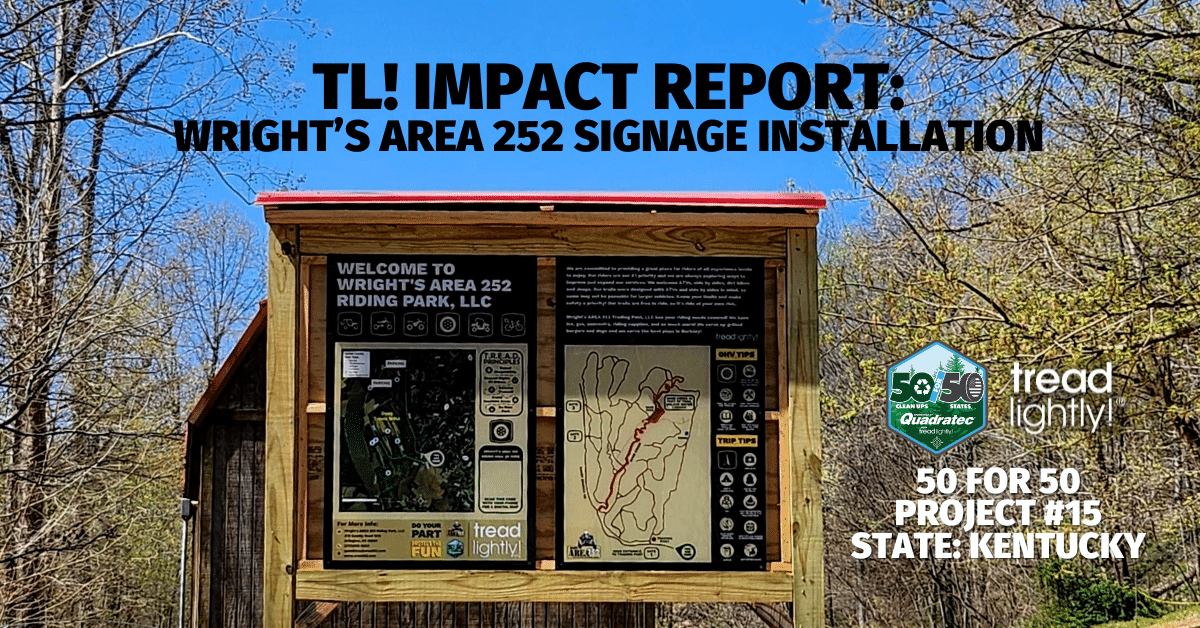 10 Apr

Tread Lightly! Impact Report: Wright's Area 252 Signage Installation

Project: Wright's Area 252 Signage Installation
Project #15/50
State: Kentucky

Description: This project was funded by the Quadratec 50 for 50 Initiative. Together with Tread Lightly!, Quadratec has committed to fund a project to improve off-road trails and public lands in each state by December 2023.

On April 1, 2023, Wright's Area 252 in Southwest Kentucky kicked off its 2023 riding season by unveiling new educational signage provided by Tread Lightly! and the Quadratec 50 for 50 program. Eight volunteers worked to install the signage to help educate off-roaders about responsible riding. The park is primarily used by UTV and ATV riders, but owners are working to grow full-size 4×4 utilization. Previously, the park had no educational signage on-site, so these new signs will help remind riders about riding with minimal impact and protecting it's the 12 miles of trail in the park and the trails in the surrounding area.

Quadratec supported the debut of the new signs with a Jeeps and Java event, offering free coffee and donuts to over 100 attendees who brought approximately 50 Jeeps. After the event, attendees were able to ride the trails and see the signs firsthand.

Thank you to the partners who made this possible:
-Wright's Area 252 Riding Park
-Quadratec

"Trail riding has been a staple in my life since I was a small child. I have so many great memories of being on the trails with my family & friends. Many of these experiences and memories have contributed to who I am today. We are happy to be able to provide an opportunity for others to enjoy riding and making memories of their own.
Wright's Area 252 Riding Park has been open to the public for over 10 years. As knowledge of our trails have spread, the number of riders has increased. This has unfortunately led to an increase in the amount of litter, trailblazing & trespassing. The installation of our new signage that was provided by the Quadratec 50 for 50 program will help us keep responsible trail riding on the forefront of our riders minds. It has also provided an opportunity to keep the conversation going by sharing the Tread Lightly! message through various resources at our Trading Post & hosting additional trail clean up events. We hope that our riders will truly understand the message and adhere to responsible off-roading tips so we will all be able to enjoy the trails for years to come."- Dee Wright, Area 252

"Remember it takes ALL of us to keep and maintain areas we love to ride on. Thanks to Tread Lightly! and Quadratec for their support in protecting motorized recreation areas and helping to Protect the Adventure!" – Michael Brewer, Tread Lightly! Master Tread Trainer

Want to get involved in your own Tread Lightly! project? Find upcoming activities, events and grant opportunities at treadlightly.org.