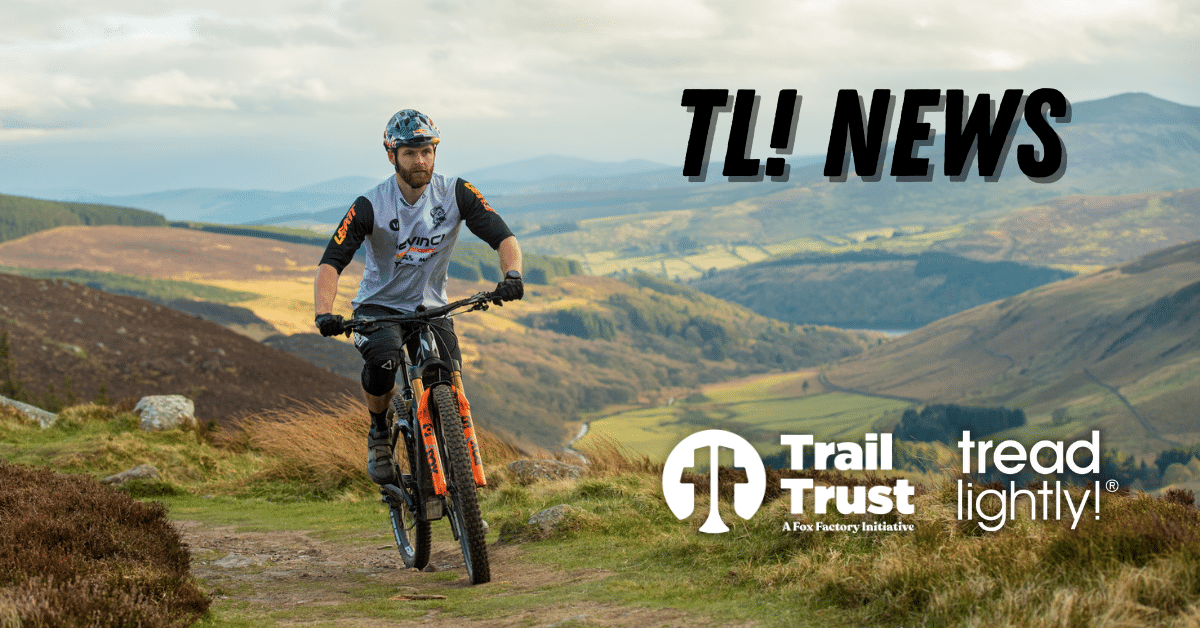 03 Dec

Tread Lightly! Partners with Fox Factory to Launch Responsible E-Bike Campaign

NORTH SALT LAKE, UT. (Dec 3, 2021)— Tread Lightly!, a U.S.-based nonprofit dedicated to promoting responsible outdoor recreation through stewardship and educational programs today announced a new responsible e-bike education campaign in partnership with the Fox Factory Trail Trust Initiative.

The campaign consists of two new public service announcements, educational videos and an online educational course to teach new and seasoned e-bike riders the importance of riding with minimal impact, how to yield on a shared trail, what safety gear to wear and more. The PSAs and course highlight the T.R.E.A.D. Principles, an easy acronym that highlights the tenants of the Tread Lightly! ethic:

Travel responsibly
Respect the rights of others
Educate yourself
Avoid sensitive areas
Do your part

"As e-bikes grow in popularity, it's imperative that we teach users where to ride and how to ride responsibly," and said Matt Caldwell, Tread Lightly! Executive Director. "Thank you to Fox Factory for partnering with us through Trail Trust to help address these issues head on so we can educate riders on how to protect trails and access to those trails."

Fox Factory's Trail Trust program provides grants to organizations helping to preserve outdoor places and bring together communities to build, maintain and expand trail access.

"Fox Factory believes in the safe and responsible use of trails and educating the public about minimizing the environmental impact of outdoor adventuring," said Amanda Scott, Social Impact Program Manager for Fox Factory. "We're proud to partner with Tread Lightly! to promote minimal impact recreation."

For more information on Fox Factory visit www.ridefox.com. To learn more about Tread Lightly! visit www.treadlightly.org.

About Tread Lightly!
Tread Lightly! is a national nonprofit organization with a mission to promote responsible recreation through stewardship programs and ethics education. Tread Lightly!'s educational message, along with its unique training and restoration initiatives are strategically designed to instill an ethic of responsibility in outdoor enthusiasts and the industries that serve them. The program is long-term in scope with a goal to balance the needs of the people who enjoy outdoor recreation with our need to maintain a healthy environment. Tread Lightly!'s award-winning materials, programs and services are solutions to some of the nation's most pressing recreation issues. Individuals and businesses can commit to Tread Lightly! and protect outdoor access by becoming a member at www.treadlightly.org.
About Trail Trust
Trail Trust is Fox Factory's signature community investment program. Fox Factory's products are an integral part of outdoor adventuring from mountain biking and motorcycling, to off roading and snowmobiling. With that, comes the responsibility to promote the conscientious use of land amongst outdoor enthusiasts and protect our shared playground. Trail Trust also aims to expand access to outdoor sports, acknowledging the importance of providing underrepresented groups with opportunities to participate in activities that have historically engaged a fairly homogeneous population. Learn more at www.trailtrust.com.
For more information contact:
Jerrica Archibald
jerrica@treadlightly.org
801-627-0077