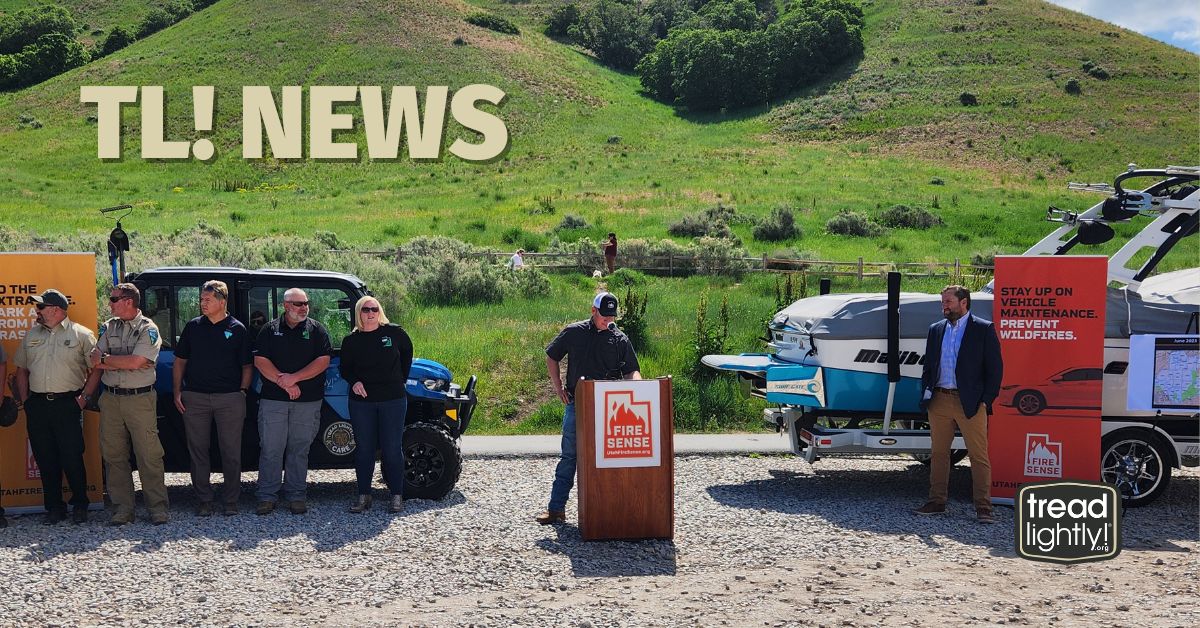 09 Jun

Tread Lightly! Teams up with Fire Sense to Help Protect Utah from Wildfires

NORTH SALT LAKE, UT. (June 09, 2023)— Tread Lightly!, a U.S.-based nonprofit dedicated to promoting responsible motorized recreation through trail conservation and educational programs, teamed up with Fire Sense, a Utah-based collaborative campaign dedicated to promoting responsible recreation to prevent the start and spread of wildfire throughout the state. Together the organizations are working to educate outdoor enthusiasts and off-roaders about potential fire starts from motorized vehicles.

"Nearly 85% of wildfires are human caused, which means it's up to us to work together to protect our outdoor spaces," said Matt Caldwell, Tread Lightly! Executive Director. "When riding off-road, it's imperative to do your part to prevent wildfire and protect the adventure."

Tread Lightly! and Fire Sense are asking Utahns to:
Maintain vehicles and be aware of tire pressure
Never park a hot vehicle or off-road machine on dry grass
Secure any dragging trailer chains that could spark a fire
Use spark arrestors on off-road vehicles
On June 5, Matt Caldwell of Tread Lightly!, Utah Governor Spencer Cox and other local officials gathered for a press conference to address potential hazards and warn Utahns against complacency this recreation season. Utah's heavy snowpack this past winter may mean more moisture in the early summer months, which means a potentially later start to wildfire season and more vegetation later that has the potential to burn.
To learn more about Tread Lightly!'s mission and work, visit treadlightly.org. For more tips on wildfire prevention in Utah, visit https://utahfiresense.org/.
About Tread Lightly!
Tread Lightly! is a national nonprofit organization with a mission to promote responsible recreation through stewardship programs and ethics education. Tread Lightly!'s educational message, along with its unique training and restoration initiatives are strategically designed to instill an ethic of responsibility in outdoor enthusiasts and the industries that serve them. The program is long-term in scope with a goal to balance the needs of the people who enjoy outdoor recreation with our need to maintain a healthy environment. Tread Lightly!'s award-winning materials, programs and services are solutions to some of the nation's most pressing recreation issues. Individuals and businesses can commit to Tread Lightly! and protect outdoor access by becoming a member at www.treadlightly.org.
For more information on Tread Lightly!, contact:
Jerrica Archibald
jerrica@treadlightly.org
801-627-0077